Indira Malwatte – Sri Lanka The Lifetime Achievement Award (Business)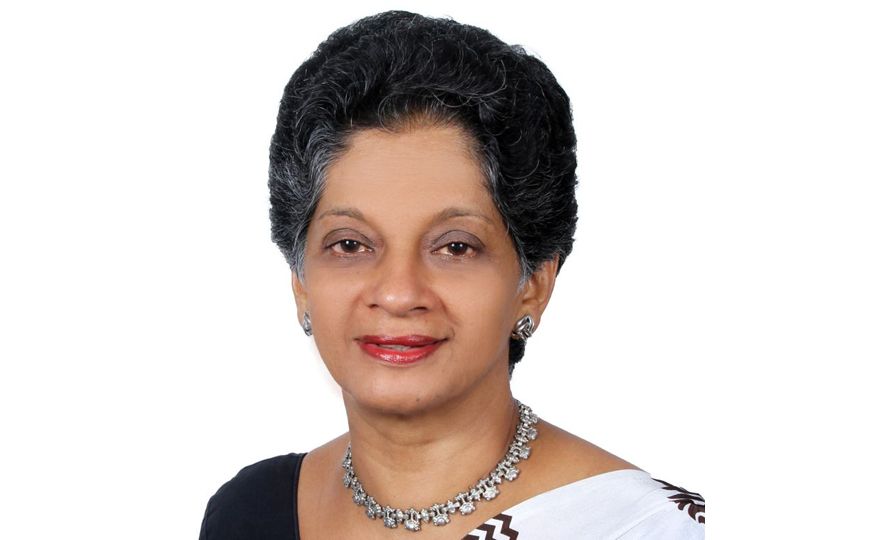 2016-07-05
Indira Malwatte
Chairperson & Chief Executive
Sri Lanka Export Development Board

In recognition of a lifetime of dedication, underpinned with a bold vision and a strong sense of integrity, Indira Malwatte is awarded TheWIFTS Foundation Lifetime Achievement Award 2016 (Business). Her groundbreaking appointment and mandate as the first woman to serve as the Chairperson and Chief Executive of the Sri Lanka Export Development Board (EBD) is to stimulate Export Development and International Trade. The EBD is the apex institution vested with national responsibility for Export Development across Sri Lanka.

Indira Malwatte hails from a middle class family in Colombo, Sri Lanka. Her parents, both high-school teachers, instilled a strong value system in their children and emphasized the importance of investing in a good education and pursuing community engagement as a foundation to becoming a responsible citizen and contributing to the development of the motherland.

This upbringing strongly shaped Indira's sense of self and purpose and became the core of her lifelong commitment to public and community service.

Indira excelled during her primary and secondary education at Visakha Vidyalaya, a leading girls' school in Sri Lanka, ending her school career as a leader of the student body and, together with her sister, Preethi, achieving the landmark distinction of becoming the first Queens' Guides in Sri Lanka, the highest honour within the worldwide Girl Scout-Girl Guide movement.

Following her graduation from the University of Ceylon, Peradeniya in 1974 with a Bachelor's degree in Economics and Geography, Malwatte joined the Sri Lanka Tea Board in its mission of promoting Sri Lankan tea internationally.

Indira's first assignment was to promote Sri Lankan tea exports in Japan – a two pronged challenging mission, given both Japan's historical, cultural, preference for green tea (rather than the black tea of Sri Lanka) and the fact that Indira had never travelled alone or lived outside Sri Lanka and did not speak Japanese or know anyone in Japan at the time she took on the assignment!

However, she rose to the challenge, successfully marketing value-added teas at a time when this was a nascent development in international marketing and branding, teaching herself Japanese, and also opening and running a successful Sri Lankan-cuisine restaurant in Tokyo in her "spare time," in the four years she spent in Japan.

When Indira returned to Sri Lanka after her time in Japan, government service continued to hold an appeal and she joined the Sri Lanka Export Development Board (EDB), then a newly-established institution with the mission of promoting export products under the country's new liberalized trade policy, the first such policy in the South Asian region.

Being a member of the EDB's first cadres of professional officers gave Indira Malwatte a chance to shape the organization over the course of what ended up being a 26-year initial term with the organization. The EDB gave Indira a national platform, diverse sector experience and the exposure to product design, development, production, and marketing for the international consumer and B2B markets that enabled her to develop into a recognized professional and international trade and export development expert, moving up the ranks of the organization from a Project Officer to the position of Director - Product Management.

In this latter role, she held overall responsibility for industrial sector exports, spanning apparel, rubber, gems and jewelry, leather and footwear, information communications technology (ICT) and also spearheaded many World Bank, ITC, JETRO, ADB and other international donor-driven programs in supply, design and product development.

It was her perseverance and initiative that led to the EDB introducing the "Professional Services Sector" to diversify the national export base at a time when professional services was still an largely unknown sector in the export development arena.

The close collaboration she achieved between the public sector and the private sector on projects and for her work facilitating small and medium enterprises (SMEs) access to international markets is the cornerstone to her renowned ability and success.

It was at this time that Indira's work and appointments at the EDB were subject to political interference. Following a great deal of soul-searching and in the face of vigorous protest from the export community she served, on a matter of principle and moral protest, she made the difficult decision to resign, from the organization to which she had dedicated two-plus decades.

Following her resignation from the public sector, Indira took up a new challenge – and joined a newly-formed private-sector agricultural exporting company that was conducting pioneering work growing an extremely perishable and difficult agro-product for the first time in Sri Lanka.

Serving as Director - Sales and Marketing and then Chief Operating Officer, Indira Malwatte, in her capacity as a private exporter, shepherded the company's product through achieving high international levels of quality standards, certification and packaging, including being the first agricultural entity in Sri Lanka to be Global G.A.P.-certified, and spearheaded its successful entry into several regional and international markets.

Her growing reputation and experience both as a pioneering public-sector official and a leading market private-sector exporter led to Indira being sought out for leadership roles in the private-sector export-related associations and business councils, and she assumed leadership positions in the Sri Lanka Exporters Association and the Sri Lanka Fruit and Vegetable Growers and Exporters Association.

Despite her successes in the private sector of industry, the call to public service remained resolute, and Indira Malwatte moved back from the private-sector agro export industry to her longstanding passion of developing small and medium enterprises (SMEs) and supporting and training local entrepreneurs, as a Consultant – Product Development and Export Promotion for the Sri Lanka Handicraft Board.

Continuing with her visionary projects, Indira innovated the inaugural "Swarna Warna" national design competition, which was the first in the Sri Lanka Handicraft Board's 50-year history to recognize and reward innovation among traditional, rural crafts community and established the inaugural exhibition focusing on female entrepreneurs.

Most recently, Indira's work as an innovator and leader in the international trade and export sector of Sri Lanka came full circle back to the EDB. On the recommendation of several private- and public-sector organizations and export-related associations, she was appointed by the Sri Lankan government as one of its top public officials and the first Woman in the role of Chairperson and Chief Executive of the Sri Lanka Export Development Board. As a testament to Indira's strong relationships and stellar reputation her appointment was enthusiastically endorsed across the spectrum of industry both in the private and public sectors.

Indira Malwatte's broad national and international experience and background of working on both sides of the table brings a unique perspective to her role, and the faith and expectations of the key stakeholder communities have since been rewarded by her leadership in initiating and revitalizing several key and new initiatives in the export sector of Sri Lanka.

A personal point of commitment for Indira amidst her professional achievements has been the ongoing service to her community and dedication to her family. She has remained actively involved as a past pupil of her primary and secondary school, serving on the past pupil's association in various capacities including as the Secretary and most recently as the Vice President – achieving another first – as this position has never being held by a past student.

Her family has thrived alongside her, with her two children attending Harvard College, Macalester College, Cornell Law School, and University of Colorado - Boulder for undergraduate and graduate study and working for several leading international, regional and national organizations, and her husband managing a leading consultancy company based out of Sri Lanka.

"You cannot change the direction of the wind, but you can adjust your sails," is Indira's firm belief and the general principle that has shaped and continues to shape her life. "With faith, capability, dedication, a strong sense of self and a willingness to follow new opportunities wherever they might lead, there is nothing that cannot be achieved."