Coir Brushes; cleaning the natural way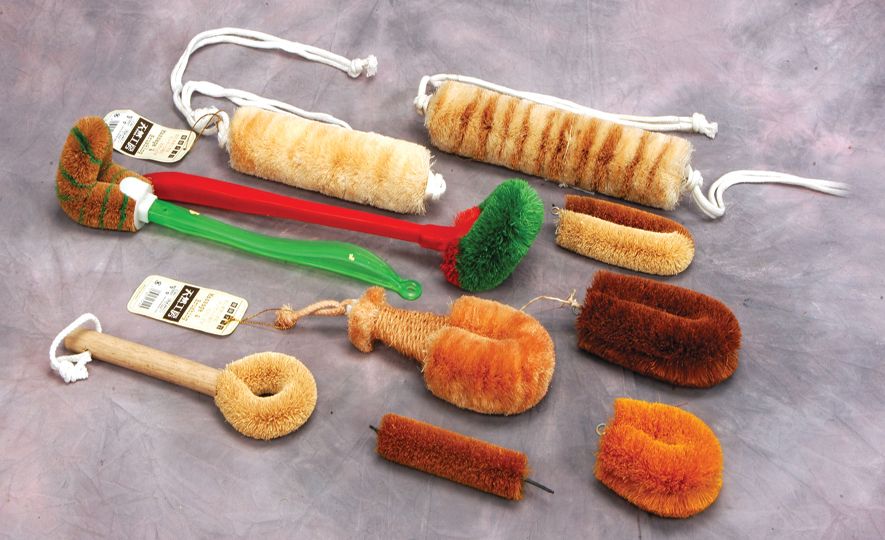 2015-07-29
Sri Lanka is among the main coir manufacturers in the world with Sri Lankan coir and coir based product manufacturer catering to nearly 40% of the global demand. Sri Lanka is also the largest supplier of brown fibre to the world with an annual exportation of 100,000 mt.
Coir fibres could be categorized based on the raw material used or whether they are recovered from ripe or immature coconut husks. The husks of fully ripened coconuts yield brown coir.
Brown coir fibre which is strong and highly resistant to abrasion is used primarily in brushes, floor mats, and upholstery padding. On the other hand, white coir comes from the husks of coconuts harvested shortly before they ripen. Light brown or white in colour, this fibre is softer and less stronger than brown coir. It is usually spun into yarn, which may be woven into mats or twisted into twine or rope.
The other method of categorization is based on the length of the fibre. Both brown and white coir consist of fibres ranging in length from 4-12 inches (10-30 cm). Those that are 8 inches or more in length (20 cm) are called bristle fibre. Shorter fibres, which are also finer in texture, are called mattress fibre. A 300-g coconut husk yields nearly 80 g of fibre, 1/3 of which is bristle fibre.
Natural Coco fibre is inexpensive and is liable to crush and distort, and is used mainly in the cheaper household and industrial brooms. Black dyed coco fibre obtained by dying natural coco in black has the same properties as natural coco, but is more expensive.Flagged Black Fibre is a specially treated dyed coco fibre, where the ends have been flagged or split. It sweeps better than plain coco fibre, especially in drier dusty conditions, looks much more attractive and has a softer feel.
Although most of Sri Lankan made coir, is exported as coco fibre bails to be used as coir fillings in bedding and upholstery and as floor covering in soil management and agriculture, Sri Lankan coir and coir based product manufacturers are also breaking ground in producing value added materials including natural rugs, coir door mats, coco peat blocks, basket liners, coco pots and natural coir brushes for the global market.
Sri Lanka's coir manufacturers specialises in producing various types of natural coco fibre brushes and brooms with long bristle fibre produced through the Ceylon drum pair system, which gives them an edge over the other fibre manufacturers in the region.
Although most of Sri Lanka's coco fibre product manufacturers depends on small holders and home based industries for raw material, Sri Lanka's brush manufacturers are medium level producers employing a permanent army of workers skilled at coir processing and brush manufacturing.
Sri Lankan broom and brush manufacturers produces high end coco fibre brushes, brooms and boot scrapers for export markets in USA, Europe and Asia. Although the market for brushes and brooms made out of natural fibre sources has been under the constant threat of expanding plastic and other artificial fibre markets, the rising concerns over the environmental effects caused by synthetic fibres have given Sri Lanka's natural coco brush manufacturers an edge in the global brush and broom markets.
Coir's eco-friendly characteristics combined with fresh and sea water resistant qualities makes them ideal cleaning material, that can be paired with any detergent or cleaning agent on any given surface or location.
Today a handful of Sri Lankan brush and broom manufacturers, who have been mastering the art of producing quality natural fibre brushes with coconut and Palmyra fibres for decades, have set on a journey to conquer North American, European, Middle East and Japanese markets.
With their production process and raw materials certified by ISO 9001, 14001 procedure, most of these producers manufacture a large range of brushes and brooms to suit the requirement of the global market. The product range includes Banister brushes, sweeping brooms, yard brooms, mixed fibre masonry brushes, platform brooms, scavenger brooms, scrub brushes, street brooms, window wash brushes and tar brushes.
Sri Lanka is also famous for its' Tawashi brushes used for toilet cleaning, bottle cleaning, body cleaning and industrial purposes.
Backed by modern carpentry units and workman knowledge, Sri Lankan brush manufacturers , produce Coco and Palmyra fibre brushes with high water retention quality making them the most ideal for cleaning and sweeping purposes.
The fine combed natural bristles, are most suitable to clean rough or soft surfaces of grit and dirt without rough scratching or bruises and provides easy cleaning at home, garden or at workplace.
With a projected growth rate of 1.2% and government funded research and development fuelling new innovations; the coir industry of Sri Lanka is on a journey to earn greater revenue and global market share.