Radical new boat 'will significantly boost Sri Lanka's tuna exports'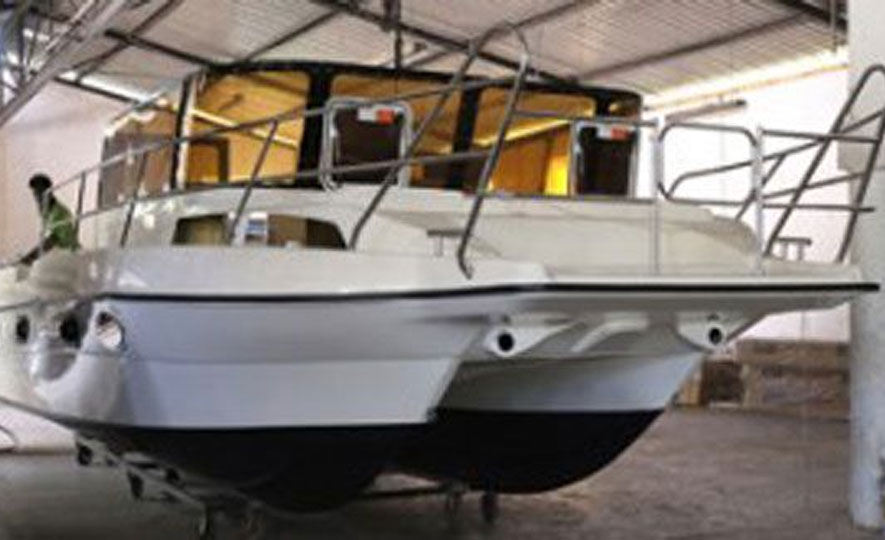 2013-09-18
Negombo – A radical new, locally built high-speed catamaran fishing boat is poised to significantly boost the number of top-price tuna available for export from Sri Lanka to markets in Japan, China and the Middle East.
It will also help ensure tuna sustainability in Sri Lankan waters by reducing by up 70 per cent the number of fish needed to be caught in order to ensure maximum profitability.
Sri Lanka's Ministry of Fisheries and Aquatic Resources Development has expressed keen interest in the new vessel, which will help put the country at the forefront of next-generation fishing-boat development.
It is hoped that a prototype, currently on the drawing-board at the Viksund boatyard on the Negombo lagoon, will be ready for sea trials later this year.
The new boat combines a hull design based on G3 offshore racing powerboats with high-tech refrigerated fish holds that eliminate spoilage and get fresh tuna back to port at speeds of up to 40 knots.
The ministry has said it will allow the new venture to be based at the recently completed state-of-the-art fishing harbour between Negombo lagoon and Colombo, where land will be made available for a factory to build the new boat.
It has also brokered agreement from the Sri Lanka Navy for Viksund, a Norway headquartered company, to use powerful 200-plus horsepower outboard engines, which are currently banned for use on civilian vessels.
Deputy Fisheries Minister Sarath Kumara Gunaratne has pledged to attend the launch of the prototype, which he hopes will spearhead the kind of entrepreneurial innovation that is essential to the long-term survival of Sri Lanka's fishing industry.He says: "Fish and seafood represent a significant proportion of our GDP and export markets, and we welcome any development that will help our fishing industry stay ahead of the game." At present, as much as 80 per cent of tuna landed in Sri Lanka is 'spoiled' because current vessels lack adequate refrigeration and handling technology to maintain the fish in Grade 1 condition for the long periods the boats are forced to remain at sea.
Grade 1 sushi bluefin tuna currently fetches up to US$1,000 per kilo wholesale in Tokyo. Prices for yellowfin tuna, which is more commonly found in Sri Lankan waters, range from $500 to $700.
Prices are dramatically lower for Grades 2 and 3 tuna, which are considered spoiled and thus not fit for sushi – and with the latter often contemptuously dismissed as 'pet-food' by tuna marketers.
Boatyard owner Yostein Viksund says he is looking forward to helping Sri Lanka develop its fishing fleet to meet the challenges it must overcome if it is to thrive over the next three to five years.
He says: "Stocks of tuna and other staple species are being depleted at alarming rates across the Indian Ocean. Our new boat will mean higher profits from fewer fish, which will greatly benefit tuna-stock sustainability as well as the Sri Lankan economy."
Remenzie Fernando, who has extensive experience providing top-quality sushi tuna to Japanese markets and is now a livestock and fisheries consultant, is optimistic that with the right planning and logistical support the new boat will more than prove its worth in its first season of operation.
He says: "We have a state-of-the-art fishing port on one side of Negombo lagoon and an international airport with daily direct flights to Tokyo and the Middle East on the other. All we need are the right fish in the right condition at the right time, and that's what this new boat will give us. It will be a classic win-win situation all round."
(Nick Hart is a British travel and business writer based
in Negombo)