Tender Coconut Water - All Natural Isotonic Drink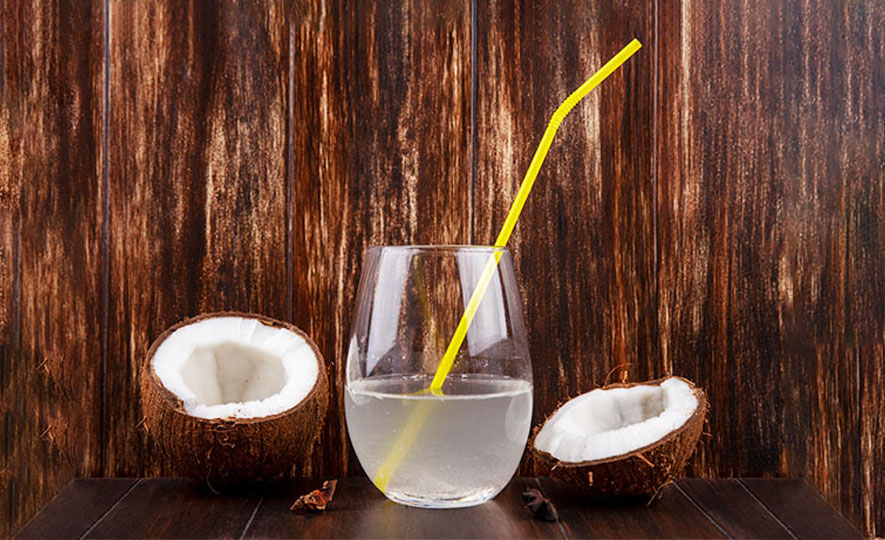 2020-08-20
Coconut water is a natural, healthy, and nutritious drink derived from the coconut tree, a permanent food staple and export crop in Sri Lanka.
Rich with various nutrients, minerals, vitamins, antioxidants, amino acids, enzymes, and growth hormones, Tender Coconut Water (TCW) is also a rich source of L-arginine, which is a free form of amino acid and vitamin C that can prevent heart disease and lipid peroxidation.(1)
TCW also reduces oxidative stress and improves antioxidant status. It improves mitochondria and protects against free radicals. Its refreshing taste, combined with these health benefits, has created an international demand for this product.
Much of the demand for TCW comes from the countries in the EU block as well as the UK, and the USA, where tender coconut water and its value-added version which include flavoured and fizzy TCW, are consumed as a hydrating sports drink.
Benefits of Coconut Water Consumption
The rising demand for coconut water is driven by the health benefits that it has to offer.
Rich in antioxidants - Coconut water reduces the number of free radicals produced during metabolism that leads to oxidative stress and cell damage.
Reduces the risk of diabetes. - Rich in potassium, magnesium, manganese, vitamin C, and L-arginine, coconut water improves insulin sensitivity(4)(5)
Reduces kidney ailments - Kidney stones are formed when calcium, oxalate, and other compounds combine to form crystals in urine. Coconut water prevents crystals from sticking to the kidneys and other parts of the urinary tract.(6)
Supports heart health - Low in fat and rich in carbs and fibre, coconut water has high cholesterol-lowering properties and reduces the occurrence of liver fat.
Coconut Water Products in the Market
The rising market demand for coconut water-based products, including pasteurised TCW, sparkling coconut water, flavoured coconut water and pure coconut vinegar, has given rise to an industry that has optimised the use of a resource that has long gone to waste.
Sri Lankan coconut water-based product manufacturers combine a local resource with the latest packaging technology to supply pasteurised TCW in Tetra Pak with a longer shelf life to global and domestic consumers.
Produced using vacuum evaporation method, bulk concentrated coconut water is another form of TCW that is made in Sri Lanka. Concentrated to save the costs of transportation, the product is reconstituted with water at its destination when packed in consumer packaging. The frozen version of the concentrated coconut water has a very long shelf life when compared to the other forms of TCW based export products.
A good source of probiotics, coconut vinegar, is produced by the alcoholic fermentation of matured coconut water by adding sugar. A permanent fixture in local kitchen pure coconut vinegar and its organic version are popular exports from Sri Lanka.
Despite the abundance of many coconut water-based products in the export market, none matches the popularity of TCW as an all-natural electrolyte drink in the global market. Naturally rich with potassium, sodium, and manganese and low in sugar, bottled coconut water has only 46 calories per cup, and is a healthy alternative to sodas, juices and sports drinks.(8)
Product Quality for International Markets
When addressing the demand, the suppliers have to follow precise specifications such as the flavour, colour, taste, and the BRIX level. The flavour of the coconut water may depend on the terroir, which makes certain varieties of coconut to contain more aromatic and sweeter water while the maturity of the coconut also affects the sweetness.
There is a growing global demand for TCW with high levels of Sorbitol that are clearer and transparent in colour. However, the duration of storage tends to have an impact on the turbidity or its cloudiness.
The BRIX level is the sugar content in the juice solution, which stands in between 3 and 7 degrees in natural coconut water. In concentrated coconut water, the BRIX level tends to be higher where it is usually between 30 to 60 degrees before dilution.(9)
Challenges and Obstacles for Growth
While Sri Lanka has the potential to increase its global market share for water-based coconut products, it is essential to address the underlying issues that limit the local industry in achieving its industrial objectives.
The low yield of coconut plantations and the fast diminishing area of cultivated land are the two significant barriers faced by local coconut product exporters. Most of the traditional plantation lands show this shortage of resource due to reasons such as aggregated land fragmentation, presence of pests and diseased and extreme weather events. The scarcity of skilled labour within the industry is another major challenge faced by the industry. Most workers also have alternative income methods where the salaries are more attractive when compared to the coconut industry.