Coconut tree, the wonder tree of Sri Lanka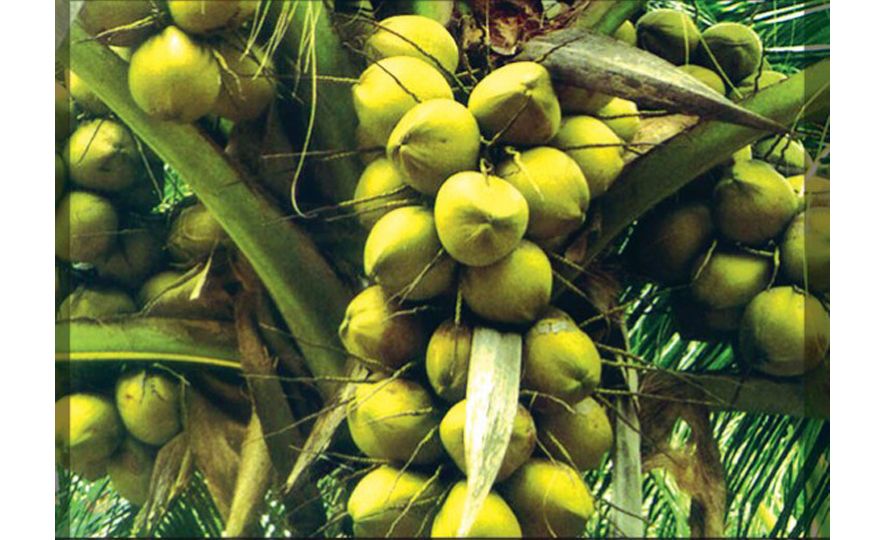 2015-07-10
Coconut is also one of Sri Lanka's three major export crops, bringing home a total revenue of US$ 537.52 millions last year. Known for its great versatility, coconut tree is one of the most important trees in Sri Lanka, may the guidelines be economical or cultural.
Forming the general vegetation that covers the grounds of Sri Lanka, it is hard to notice a sky patch not crowded by the towering majestic figures of coconut trees with a crown of leaves spreading towards the heavens.
Sri Lankan lifestyle has been inextricably intertwined with the coconut tree, not just for the milk, water and oil giving nut, but to the leaves to the trunk to the fibrous husk that surrounds the coconut. There is no part of the coconut tree that goes to waste in a Sri Lankan household.
In ancient Sri Lanka, people used coconut milk and scraped coconut extensively in their daily preparation of main dishes, desserts, beverages and medicine. Even today, Sri Lankans hardly pass a few hours without consuming food or drink made with coconut milk. Water inside the young coconut is a favourite thirst quencher among the locals and coconut water has even found its way into modern cocktails and mock tails.
Other products like coconut treacle, jaggery and vinegar made out of the sap of the cut coconut flower has been a large part of Sri Lankan lifestyle and is still in use largely in preparation of our favourite desserts, pickles and preserve. While natural coconut vinegar is widely used as a low glycimic and low-sugar option to wine or cedar vinegar powdered coconut jaggery is being celebrated worldwide as coconut sugar.
With a view to catering to the changing trends of the global cuisine, Sri Lankan coconut product manufacturers have developed a range of coconut milk based products including coconut milk powder, coconut milk cream and coconut butter that can be easily mixed into coconut milk to add texture, flavour and thickness to dishes.
Coconut oil too has been a part of Sri Lankan life style since time immemorial; we fry and temper our food with it, light oil lamps with it and apply coconut oil on our hair for extra conditioning. Although coconut oil no longer provides us with the only source of illumination, coconut oil lamps are lit in thousands daily across Sri Lanka at Buddhist Temples and Hindu Kovils by devotees seeking enlightenment. Sri Lankan coconut oil manufacturers provide the markets with virgin coconut oil as well as RBD coconut oil to suit the requirements of local and global buyers.
The fibre found in the coconut husk belongs to two coir fibre types, namely, bristle fibre (long Fibre) and omatt fibre (short fibre). A unique traditional technique known as 'Ceylon drum system' is being used to extract bristle fibre, producing long pure fibre, mostly suited for the brush industry. Long pure fibre mainly belongs to two main categories; brown and white fibre, which contributes to 80% and 20% respectively of the world coir fibre demand.
Other products made of coconut fibre such as coir twine, brooms & brushes, doormats, geotextiles, rubberized coir products including mattresses and horticulture products. The coco peat, a by-product of the local fibre production process has a great demand in the international market as a natural growing medium for various types of plants.
Today, Sri Lanka is one of the largest coir exporters to the world and coir rope & twine manufacturing is a home based industry that is prevalent in the coastal cities of Sri Lanka.
Not even the empty coconut shell is discarded at Sri Lankan homes. They too are made into simple spoons with a wooden handle for use at the kitchen or burnt at stove for cooking. Sri Lanka exports active carbon and active carbon solution made out of coconut shells, used for a wide range of uses in households, farms and industries.
Although not as celebrated as other conventional hardwood found in SrI Lanka, coconut wood is rapidly catching up as a strong alternative to traditional hardwood varieties like teak and ebony. Used to produce kitchen utensils and used as rafters and roofing material, coconut wood is widely used in the production of furniture and ornaments today. Sri Lankan coconut wood and coconut shell suppliers export raw materials to several leading designer houses across USA and Europe.
Coconut leaf too is widely used as animal feed and is woven into an eye catching pattern to be used for thatching and to prevent soil erosion. It is also used as firewood while the ekel in the middle of the leaf is used to make the brooms used to sweep the gardens clean.
With many a benefit derived from many parts of the coconut tree, it is no wonder coconut tree and its flowers are considered a sign of prosperity in the South Asian region.