SL has set an 'ambitious' 2020 export target: State Minister Sujeewa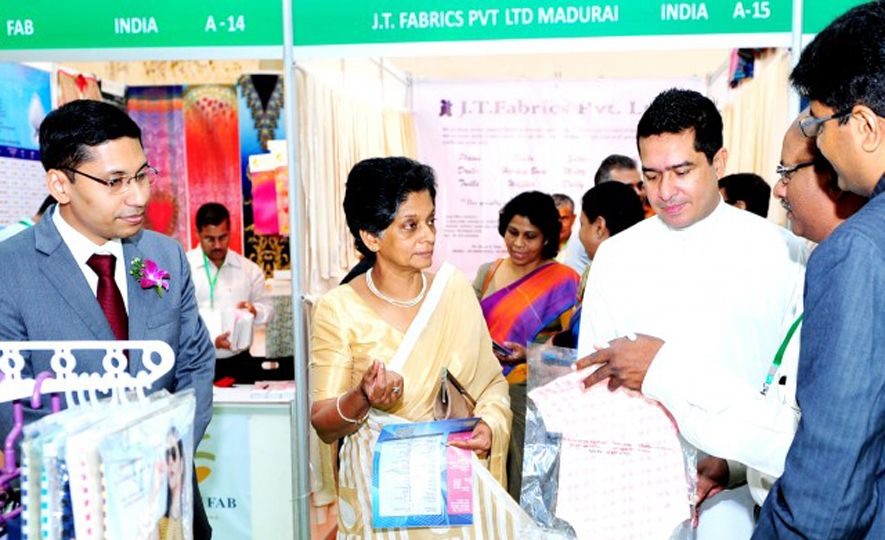 2015-11-16
Notwithstanding the global trade decline, Sri Lanka exports sector is highly ambitious aiming for a five-fold jump of its top export of repute, apparels while China's premium knitting sector is gearing up to partner with surging Sri Lankan apparel sector.

"We are looking to increase total apparel exports by five-fold, to $ 20 Bn. And by 2020 we are aiming at $50Bn national exports, which is an ambitious goal," said Sujeewa Senasinghe (State Minister of Development Strategies & International Trade) on 16 November.

State Minister Senasinghe was addressing the inaugural event of Intex South Asia, the only exclusive international textile sourcing show of the South Asia held this time in Colombo. The Colombo exhibition at Sri Lanka Exhibition and Convention Centre, brings together textile manufacturers and exporters of Yarns, Apparel Fabrics and Clothing Accessories from India, Pakistan, Bangladesh, Sri Lanka, China, Korea, Taiwan, Hong Kong, and Indonesia. A strong contingent of Indian material suppliers-more than 50-are taking part at this event. EDB is a co-organiser of this year's intex South Asia in Colombo.

"Sri Lanka's apparel sector has done well even in bad times. Years ago this sector had a value addition of only 20%, but now adds 60% and we aim to increase this to 80% in future" said State Minister Senasinghe and added: "To enhance our exports, we are looking to start 5000 new factories in five years, 45 new industrial zones designated to each area and also we are working on GSP and trade agreements with other countries, and with all such, our aim is to increase total apparel exports by five-fold, to $ 20 Bn and by 2020 while we are also aiming at $50Bn overall national exports by 2020, which is an ambitious goal."

Sri Lanka's apparel exports of all types-the main contributor in country's total exports basket claiming 40%-stood at $4.5Bn in 2013 and surged by 9% to $ 4.9Bn in 2014. January-September 2015, apparel exports of all types grossed $3.6 Bn.

Many international participants at the Colombo Intex praised Sri Lankan apparel sectors' inroads to global brands and expressed readiness to partner with the sector. Notably, Hong-Kong based David Li (Chairman of Exhibition Affairs Committee of Hong Kong General Chamber of Small & Medium Business, who is an exhibitor participant representing the mainland's China Knitting Industrial Association, Beijing) at the Colombo event, revealed:

"The Intex Colombo event has got the attention of China Knitting Industrial Association's (CKIA) and there is likelihood of very big delegation from CKIA heading to Colombo next year, headed by top CKIA officials including Chairman and Secretary General. They will first head to New Delhi and are then scheduled to arrive here next. This is the first such specialised apparel delegation from China to Sri Lanka. CKIA would look to partner with Sri Lanka's lingerie manufacturers, closely. CKIA members supply premium knitting material for top global lingerie makers." CKIA has 500 mainland manufacturers as members, with direct contacts of another 5000 knitting enterprises across the mainland and supports manufacturing of Chinese apparel, home textile and industrial textiles.