Bangladesh, Sri Lanka near to historic trade pact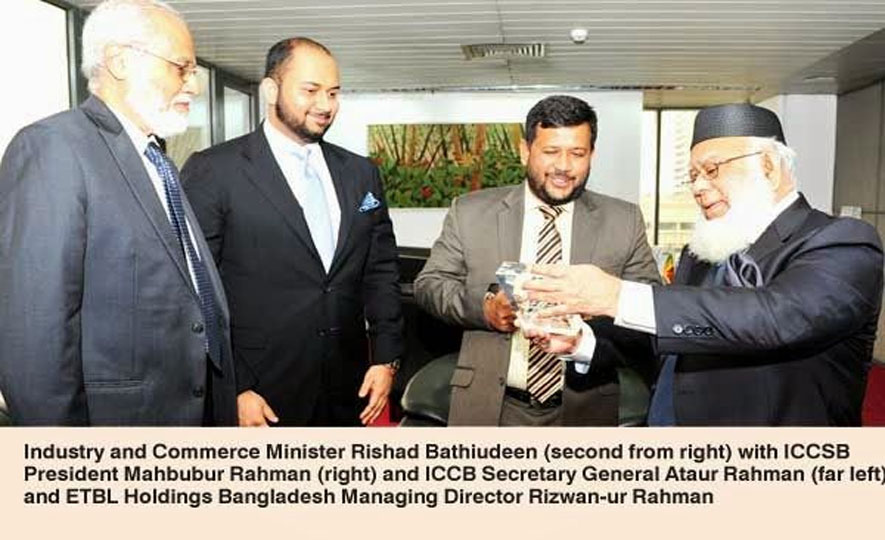 2014-11-27
As both Bangladesh and Sri Lanka moved closer to their historic trade pact, the process took a new turn as a keen Bangladeshi private sector itself stepping in to accelerate it on 27 November, a rare development in an on-going Lankan trade negotiations-and bilateral trade between both countries has jumped by a strong 67%.
"I will meet our Commerce Minister who is very well meaning and serious, and inform him to expedite the FTA process" said Mahbubur Rahman (President, International Chamber of Commerce of Bangladesh ICCB) on Thursday (27) in Colombo. ICCB President Rahman was addressing Rishad Bathiudeen.
Minister of Industry and Commerce of Sri Lanka on 27 November during his courtesy call on Minister Bathiudeen at EDB, Colombo. Considered as a pioneer of Bangladeshi private sector, ICCB President Rahman, who started his business activities in 1960s, was the founder of the diversified group ETBL Holdings Ltd, and also Eastern Trading (Bangladesh), ETBL Development Construction, ETBL Securities & Exchanges Ltd., Progressive Investments (successors to the National Rubber Industries), and Century Cold Storage Ltd. He was also the leading sponsor of Bangladesh' Eastland Insurance Co, International Publications (Publisher of the Daily Financial Express), National Bank Ltd and National Housing Finance & Investments Ltd. Also present at the session were Bandula Egodage (Chairman and CEO-EDB) and Ataur Rahman (Secretary General, ICCB).
"I am also pleased to say that many Lankan investments in Dhaka are doing very well. For example, the Commercial Bank of Sri Lanka is doing so well there that even our businesses seek its assistance always",said ICCB President Rahman, According to the Department of Commerce of Sri Lanka, Bangladesh is the 25th export destination of Sri Lanka in 2013. Bilateral trade between both countries jumped by a strong 67% in 2013 to $ 139.23 Mn (from 2012's $ 83.19 Mn).
Responding to ICCB President Rahman, Minister Bathiudeen said: "We welcome your intervention and this will greatly boost bilateral efforts. In fact, we too agree that it is the private sector at both sides that would finally drive trade. I am pleased to inform you that the Department of Commerce under me has already completed the Trade agreement study report on our side and both parties have now exchanged their respective reports. We are ready for the nature of Agreement that you look forward to-whether a Preferential Trade Agreement (PTA) or a Free Trade Agreement (FTA). Whatever the form, our government led by the committed HE the President Mahinda Rajapaksa would be positive on the requirements that you have. In fact we welcome a Free Trade Agreement if you so choose. Despite increase in trade, there is still great unrealised trade potentials and a trade agreement will be the way forward towards bigger bilateral volumes."
On 23 September, Sri Lanka and Bangladesh successfully inked their second bilateral Joint Working Session in Colombo while also coming to a consensus on creating a prospective Trade Agreement between the historic partners, but stopped short of the exact nature of the Trade Agreement to be reached 'for a while'. Sri Lanka's leading exports to Bangladesh in 2013 were apparel (cotton, fabrics, Narrow woven fabrics and other articles of apparel) and enzymes. Leading imports from Bangladesh in 2013 were medicaments, apparel, electric accumulators, and potatoes-in fact, most of Sri Lankan exports to Bangladesh relate to the garment industry.