Meet with Sri Lankan Organic food product Exporters at BioFach 2020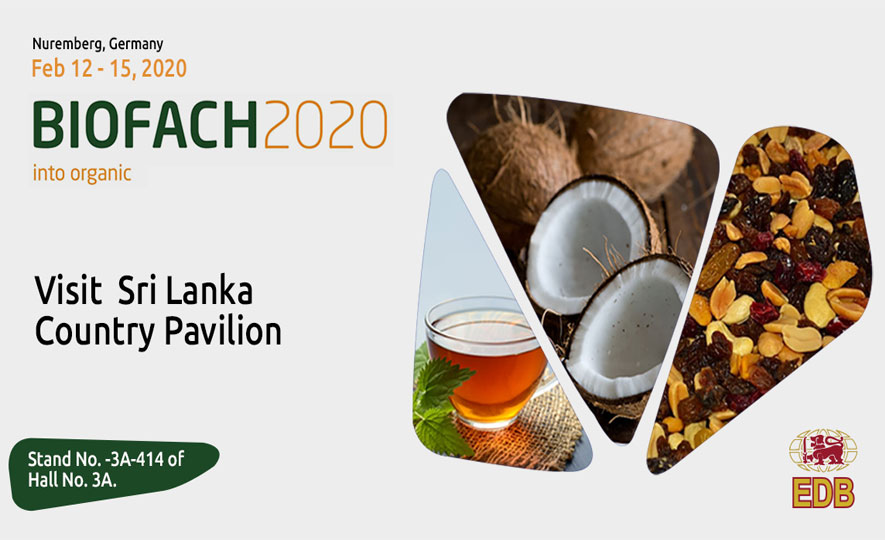 2020-02-03
BioFach, the world's leading Trade Fair for Organic Food, combined with VIVANESS International Trade Fair for Natural and Organic Personal Care, is an important business event, an emotional event for the sector, and both a get-together and an opportunity for positioning.
Sri Lanka Export Development Board is organising Sri Lanka country Pavilion at BioFach 2020 to be held from February 12-15 at Nuremberg Exhibition Centre, Nuremberg, Germany. Fifteen (15) Food & Beverage Exporters from Sri Lanka will be showcasing their products at Sri Lanka Country Pavilion to be housed at "Stand No. -3A-414 of Hall No. 3A.

List of Companies participating to Biofach 2020
HJS Condiments Limited
Metshu Exports (Pvt.) Ltd.
Empire Teas (Pvt.) Ltd.
SRS Fruit N Spices (Pvt.) Ltd.
VSS Products (Pvt.) Ltd.
L.S.P. Natural Food Products (Pvt.) Ltd.
Ceylon Coconut Company (Pvt.) Ltd.
Waguruwela Oil Mills (Pvt.) Ltd.
Joint Agri Products Ceylon (Pvt.) Ltd.
Kandetiya Agro Products (Pvt.) Ltd.
E Silk route ventures (Pvt.) Ltd.
Dtriangle (Pvt.) Ltd.
Worga Naturals (Pvt.) Ltd.
Lihini Nature Products (Pvt.) Ltd.
Pasanka (Pvt.) Ltd.
Download the profile summary of Sri Lankan Exhibitors
Also, all the organic food products to be exhibited are certified to the International organic requiernments.
Food & Beverage in Sri Lanka's Export Basket
F&B Sector (including Organic Foods) is one of the 06 focus sectors identified in the National Export Strategy (NES) to achieve national export targets set by the Government. The sector was selected for development & promotion focusing on the increasing demand and new trends in the international market for health-conscious & convenient Food & Beverage products.
Why Visit Sri Lanka Country Pavilion at BioFach 2020?
Meet and network with Sri Lankan organic food product exporters to spark off fresh trade opportunities
Find out what organic food products you can source from Sri Lanka
Discover the fresh trends and developments in Sri Lanka's Organic food product sector
Enhance your international supply chain further
The Global Organic Food products Landscape
The global market for organic food has reached more than 97 billion Euros in 2017 and the market for organic products is ever growing showing a growth of 15% during 2011-2016, the USA is the leading market with 90 billion Euros, followed by Germany (10 billion Euros), France (7.9 billion Euros) and China (7.6 billion Euros). In 2017, most of the major markets continued to show a double-digit growth rate. The French organic market grew by 18% in 2017. The total land area under organic agriculture in the world was around 69.8 million hectares in 2017 which is a 15% increase compared to the year 2016. Organic producers in the world has increased by 5% from 2016 to 2017 and account for 2.9 million organic producers. 57% of world organic agro production is imported by the EU. The total land area cultivated under organic certification in 2017 in Sri Lanka was 165,552 hectares and the total export value was 258.67 million Euros in 2017(FiBL report 2018).
Why Visit BioFach?
Meet interesting people and discover new markets
Discuss trends and developments in the organic sector
Find out for yourself – with all five senses
Take a look into the future of the sector
Seize the opportunity for playing your part
This time, 3787 exhibitorsfrom across the globe are displaying their products at BioFach 2020. The Vivaness 2020 is an international fair for natural and organic personal care products, which is also held parallel to BioFach exhibition. According to the empirical statistics, 68% of all trade visitors to BioFach are from the European Union, which is considered the world's second-largest market for Organic food products.
Further, the BioFach & Vivaness conferences held at the congress hall of the exhibition venue will create a platform for the participants to improve and share the knowledge on new trends and developments in the organic agriculture as well as natural and organic personal care products.
Through organising the Sri Lanka country pavilion at BioFach 2020, Sri Lanka intends to increase the exports of organic agriculture products to the international market in particular the EU region, strengthen relationship with existing buyers, promote national products, brands, image building, capture new market opportunities, meet new buyers and to find possible investors/ distributors to expand the market share in Europe.
Sri Lanka Export Development wishes to extend a cordial invitation to the prospective visitors to show up at BioFach 2020 and walk into Sri Lanka Country Pavilion to open up a world of fresh trade opportunities.