CEMS-Global's 3 intl. expos for textile and garment sector kick off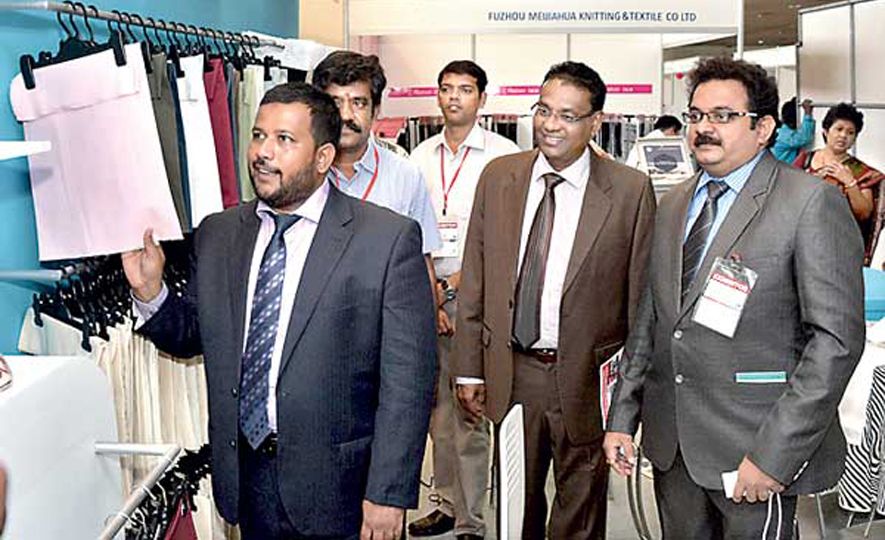 2015-03-13
CEMS-Global USA's three comprehensive international exhibitions focused on the entire textile and garment sector of Sri Lanka – '6th Textech Sri Lanka 2015 International Expo,' an international exhibition on textile garment technology and machinery,' along with concurrent exhibitions '20th Dye+Chem Sri Lanka 2015 Int'l Expo,' an int'l exhibition on dyes and fine and specialty chemicals, and '6th Colombo Int'l Yarn & Fabric Show 2015' kicked off yesterday at the Sri Lanka Exhibition & Convention Centre (SLECC), Colombo. The exhibitions will run through 14 March.
Industry and Commerce Minister Rishad Bathiudeen was present as the Chief Guest at the opening ceremony held at the venue to formally inaugurate the exhibitions. Also present as special guests were Sri Lanka Export Development Board Chairman Bandula Egodage, Sri Lanka Convention Bureau CEO Vipula Wanigasekera, Sri Lanka Apparel Brands Association Chairman Indradatta Dharmawardane, CEMS Lanka Country Director Ejaz Sarwar and CEMS-Global USA and Asia-Pacific Group CEO S.S. Sarwar.
CEMS-Global USA launched its operations in Sri Lanka in 2009 with most of its important international branded trade exhibitions for the trade and industry of Sri Lanka with a vision to further expand into the fast booming Sri Lankan industry sector and bringing most reputed international manufacturers and suppliers through its exhibitions to Sri Lanka. Textech, DyeChem and Yarn & Fabric are CEMS-Global's international series of exhibitions which are held in the same name in Sri Lanka, Brazil, Bangladesh and Indonesia.
Since its inception in 1992, CEMS-Global, in this span of over 23 years has made a commendable presence as a multinational exhibition organiser in South and South-East Asia with its operations in seven countries. CEMS organises over 40 exhibitions per annum on all important sectors of the trade and economy.
With its Global HQ in USA, CEMS carries out its activities from CEMS-Global USA based in New York, its own operated offices – CEMS Lanka, CEMS-Global Asia-Pacific Singapore, CEMS Bangladesh, CEMS China, CEMS India, CEMS Indonesia along with 10 Associate Offices around the world.
The '20th Dye+Chem Sri Lanka 2015 Int'l Expo' is targeted not only to the textile and apparel sector but also to the entire manufacturing sector of Sri Lanka.
The textile and apparel industry of South Asia has the key position in the export sector. Keeping in mind the potential of this sector and to further boost the exports, CEMS-Global has been organising the Textech series of exhibitions since 16 years in South Asia and brought this International branded exhibition to Sri Lanka in 2010 as there is a need for such exhibition in Sri Lanka which displays the latest technology that the country can obtain to update with the quality of the competitors in the world market.
With the ever-increasing competition in the world market, the industries of Sri Lanka can expand their share in the market abroad and at the same time could attract more foreign investment in the highly potential industry, specially the garment and textile industry and CEMS-global has brought international manufacturers/suppliers right here to Colombo.
Exhibitors from over 10 countries are participating in these exhibitions, which are targeted in one go to the entire business community and play an important role by assembling worldwide technology, machinery and material manufacturers at the doorsteps of the manufacturers of Sri Lanka under one roof to appraise them of the latest developments and technology available, enabling Sri Lanka to further compete in the world market.
The exhibitions will be open for trade/business visitors from 10 a.m. to 6 p.m. upon registration at the expo venue.