Ceylon Spice Condiments - the Exotic Taste of the East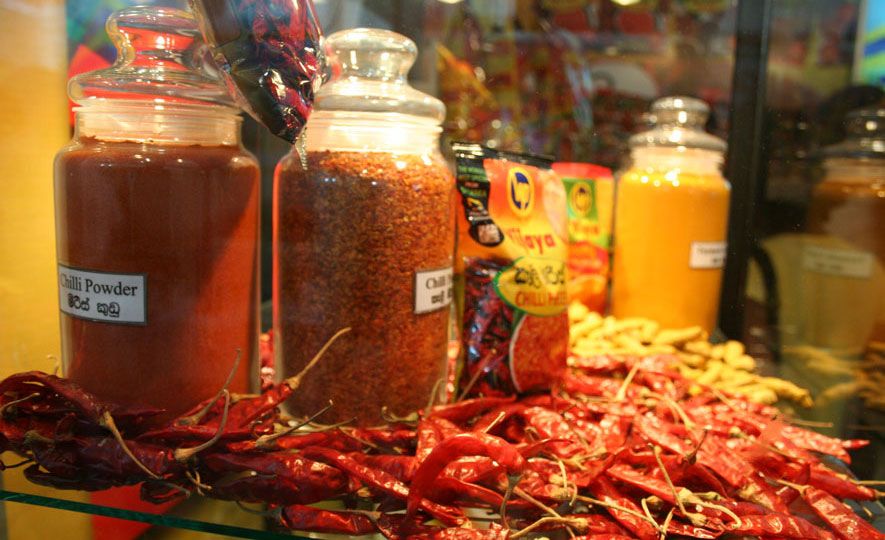 2015-07-02
Sri Lanka, India and many other Asian countries have a history of concocting spice condiments with home-grown spices to enhance the flavour of their ethnic dishes. Made mainly with fresh ingredients, these spice mixtures include numerous curry powders, curry pastes and sauces, made to a time-tested recipe.
Most of Eastern curry powders are made by grinding coriander, cumin, turmeric, cinnamon, dill, sweet cumin, chilli, ginger, curry leaf, mustard, garcinia, clove, black pepper, garlic, screw pine, lemon grass and cardamom into a mixture, and are usually used in preparation of vegetables, lentils and yams.
Mild in taste and fragrance, the Sri Lankan version of curry powder is available in more than a few variations including roasted curry powder, which is dark in colour, and is prepared by roasting all the ingredients before grinding; Madras curry powder made with coriander, cumin, curry leaf, turmeric, black pepper, chilli, ginger and mustard, which is stronger and hotter in flavour and Jaffna curry powder, a stronger mixture of chilli, coriander, cumin, black pepper, dill, turmeric and curry leaf.
While roasted curry powder is ideal for the preparation of meat and sea food curries, Madras curry powder is commonly used in mixed vegetable dishes and sea food-based curries to deliver a stronger flavour. Used exclusively in the Northern regions of Sri Lanka, Jaffna curry powder complements crab, prawn and mutton curries.
Although the preparation of these condiments were once a labour and time consuming pursuit of local housewives, Sri Lankan spice manufacturers now produce various combinations of these curry powders to suit the taste of local and global culinary enthusiasts.
Another essential part of Eastern cooking are the varieties of curry pastes used in preparation of rice, vegetable, meat and seafood dishes.
Sri Lankan cooking boasts of a large number of curry pastes including red curry paste, green curry paste and yellow curry paste, that are made with vinegar, salt, cumin, tamarind, ginger, onion, chilli, garlic, vegetable oil, coriander, sweet cumin, black pepper, clove, cinnamon, cardamom, dill, turmeric, garcinia, curry leaf, mustard, lemon grass and screw pine.
Used as a base for many local dishes, these pastes are now prepared by Sri Lankan Spice manufacturers and are available in local and international markets.
In addition to the curry powders and curry pastes of local origin, Sri Lankan spice and condiment manufactures have also been producing a large variety of sauces of traditional and non-traditional base for global and local markets.
Among them are the tamarind sauce, mango sauce, pineapple sauce, lemon and mustard sauce and Chill and garlic sauce made out of locally sourced products, according to traditional recipes.
Made out of locally sourced fresh produce, Sri Lankan spices and condiments complement any dish from the world, adding a unique touch of exotic flavours.