Creating art with coconut wood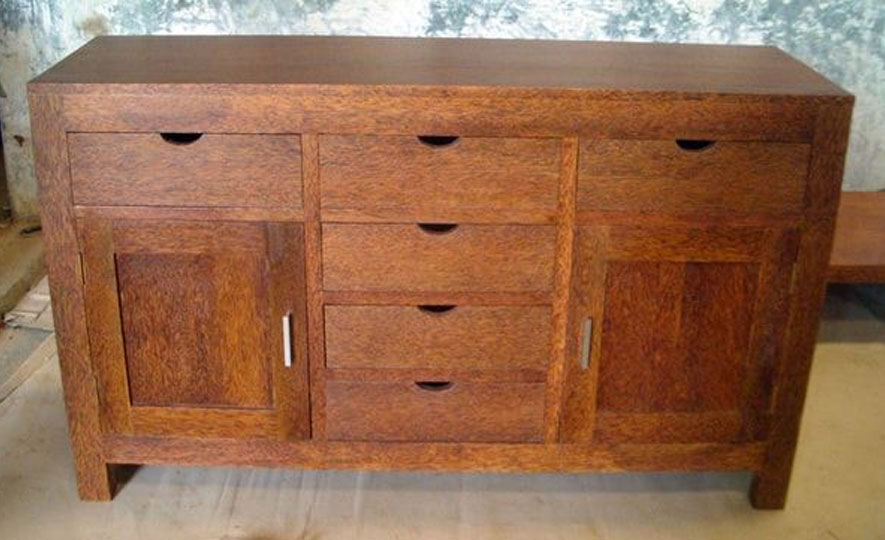 2015-07-14
Due to lack of regenerative tissues, the coconut tree does not increase in width with age and maintains a trunk diameter of 20cm to 30cm with an average height of 25 meters. The composition of the coconut timber is similar to conventional hardwood and performs well as a substitute for hardwood.
With a colour and texture quite similar to Mahogany yet with more fibrous grain, the colour of coconut wood ranges from golden to ebony with a multitude of freckles.
Although coconut timber was slighted by a generation of developers and wood-craftsmen who doubted its quality, coconut wood has proven to be tougher than many other varieties of hardwood in use and its freckled looks have won the hearts of many designers lately.
The unconventional characteristics of coconut timber used to limit its use in the production of basic kitchen utensils and roof rafters; yet, a new generation of Sri Lankan wooden craftsmen are expanding the horizons of coconut wood with the combination of creativity and new technology.
Today high- density coconut wood is widely used in structural construction in the form of coconut wood pillars, trusses, rafters, windows & door frames, coconut flooring, coconut tile decking, stairs & railings and floor joists while furniture manufacturers locally and globally have adopted coconut timber in various designs such as flooring and wall panelling in exteriors and interiors.
In Sri Lanka, furniture makers are developing various functional and decorative items with coconut wood including modern and traditional furniture ranging from reclining chairs, ornamental stools and outdoor furniture to modern kitchen cabinets and contemporary dining room furniture, suitable for local and export markets.
Meanwhile coconut palm panels with enhanced natural freckles and colours are being celebrated across the world and are being utilised to its maximum by global designers, promoting green design technologies.
Coconut wood furniture and novelty items command premium prices in the export markets. Exporters are willing to buy high-quality and very attractive coconut wood products that include furniture, decorative interior walls, parquet floors, novelties and curio items like walking sticks, ash trays, hammer handles, egg cups, plates, bowls, vases and other items.
There are also products called composed panels produced from small-diameter coconut logs for use as inner cores for block boards and for small furniture items like small cabinets, trays and plant hangers.
However, back home in Sri Lanka, coconut timber is yet to reach the heights it has climbed in the global interior design and architecture circuits. While some local manufacturers are producing coconut wood furniture and handicraft aimed at global markets, most of Sri Lanka's coconut wood based products are exported as raw materials to be made into designer masterpieces abroad.
Experimenting with coconut wood and coconut shell is yet to be popular and dernier cri in Sri Lanka due to the prevalence of other hardwood like satin, teak and ebony in the market and lack of technology and knowledge on modern finishing techniques.
As coconut wood and other coconut-based material becomes the chic in furnishing and architecture, leading furniture designers like Nusa, Kirei, Omarno and Plyboo have come up with innovative designs and methods to incorporate coconut wood and coconut shells into modern home designs, setting precedence to a host of global designers to maximize the use of coconut tree.
Coconut wood has properties that make it ideal for furniture & handicraft. With effective promotion of coconut as a new "exotic" material for furniture, it can potentially have a high share of domestic and world markets.