DSI Dominates Design Awards, bagging Best Design Award at Footwear and Leather Fair 2015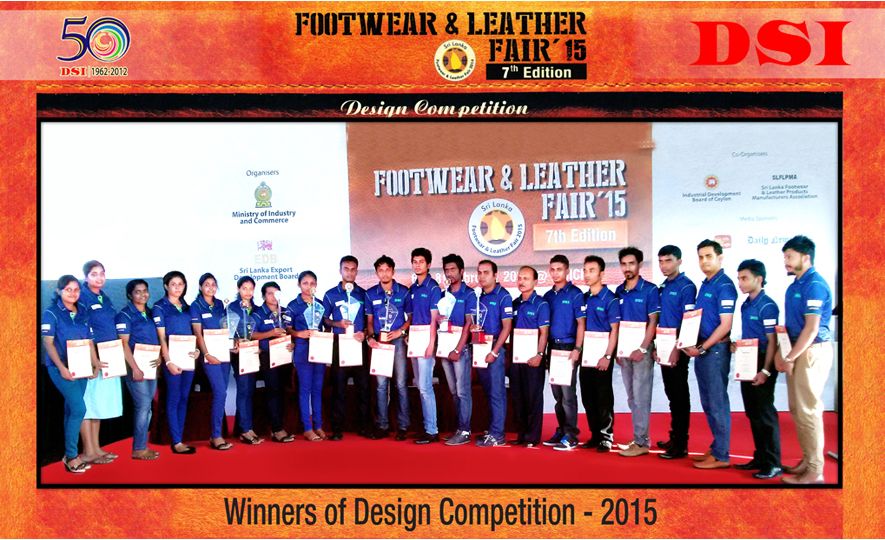 2015-02-20
The Sri Lankan footwear market leader, DSI dominated the Design Award Ceremony held on 8th February 2015 at BMICH. Held parallel to the Footwear and Leather Fair 2015, which was held from 6th to 8th February at the BMICH, the Awards Ceremony celebrated the best and brightest of the industry. The exhibition was organised jointly by the Sri Lanka Export Development Board (EDB) and Industrial Development Board (IDB) in collaboration with the Footwear and Leather Goods Manufacturers Association in Sri Lanka as an endeavour to assist and upgrade the local manufacturers and designers.
The Awards Ceremony aimed to reward innovative designs and quality products, in a bid to raise creativity and standards of the industry in Sri Lanka. In keeping with this goal, a design competition was organised in the categories of gents' footwear, ladies' footwear, leather goods, and special goods with the aim of enhancing the creativity in the footwear and leather goods. It is the hope of the organisers that such competitions will help raise local standards to a level where Sri Lankan manufacturers and designers can compete regionally and globally, with more established manufacturers and designers. Hon. Champika Piyadasa, Deputy Minister of Industries and Mr. Bandula Egodage, Chairman, Export Development Board (EDB) presented the awards.
At the Awards Ceremony, the design team of DSI won in many of the categories, including both Gold and Silver awards in the categories of ladies' footwear and gents' footwear, the first three awards (Gold, Silver, and Bronze) in the special goods category, and the Gold award in the leather goods category. These eight main awards were complemented by the addition of another 19 merit awards, which brought the total of awards DSI won to 27 of the total 40 available.
A spokesperson for the DSI Samson Group attributed this success to a shift in focus to new product development in the footwear cluster of the group. He says that this shift in focus created and afforded many opportunities to new, up-and-coming designers, allowing them to upgrade their skills through the newly initiated design lab. He added that DSI has maintained its position as the market leader in the footwear cluster since 1998.
DSI currently exports footwear to over forty (40) countries, and has plans to establish the brand in Australia, the UK, and India.
Having been in business for 52 years, the DSI Samson Group has a positive reputation spanning many decades, and is the country's premier business conglomerate and leading manufacturer of footwear and bicycle tyres. It is also the local representative for many international brands such as Reebok, Fila, Puma, Dell, Avira, Disney, Marvel, Warner Brothers, Clarks, etc. The DSI Samson Group owns 200 retail outlets across the country and employs 9,000 people directly and 30,000 people indirectly.
The DSI Samson Group continues to add value to Sri Lanka's economy and contributes overwhelmingly to the betterment of the society at large, while upholding social and cultural values of the country.