"FACETS Sri Lanka" To Sparkle For The 24th Year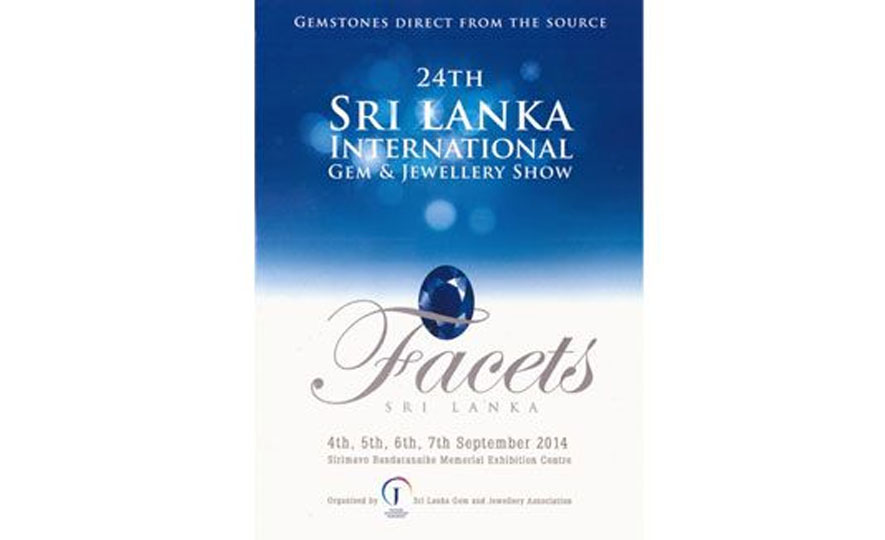 2014-08-06
FACETS Sri Lanka 2014, the prestigious International Gem and Jewellery Show that showcases hundreds of local and foreign exhibitors, will be held from 4th - 7th September at the Sirimavo Bandaranaike Memorial Exhibition Centre.
This year's exhibition will comprise over 150 booths with a variety of Gem and Jewellery that include precious and semiprecious gems.
Organized by the Sri Lanka Gem and Jewellery Association (SLGJA), FACETS Sri Lanka enables all Gem & Jewellery Traders to display market collections and also help create awareness about the importance of the Gem and Jewellery industry in Sri Lanka. Additionally, the event will consist a seminar on "Gem and Jewellery in Sri Lanka" conducted by an expert panel of local and International panelists.
FACETS Sri Lanka 2014 encompasses individual exhibitor pavilions from Myanmar, The National Gem and Jewellery Authority (NGJA) and an SME pavilion from the Sri Lanka Export Development Board (EDB). In addition, buyer delegations from USA, China, Russia and India will also be arriving. Stall holders from Singapore, Dubai, Myanmar and India will be participating at the event.
Speaking about the event, Juzar Adamaly, Chairman of FACETS Sri Lanka 2014 stated, "Over the past 23 years, this exhibition has steadily grown to become a world-renowned show with active participation by Gem & Jewellery importers, wholesalers, manufacturers, retailers and collectors worldwide." He added that buyers looked forward to purchasing some of the world's finest gems and jewellery directly from the source at this event. "This year we are expecting a record number of exhibitors and visitors as well," Adamaly added. "With the industry looking at reaching US$ 1 Billion by the year 2015, this exhibition will continue to boost local sales and improve the brand of Sri Lankan Gem and Jewellery globally," he further stated.
Established in 1984 as the Sri Lanka Gem Traders Association, and changed its name to Sri Lanka Gem & Jewellery Association in 2002, the Sri Lanka Gem and Jewellery Association (SLGJA) is the apex private sector organisation representing the interests of all industry sub-sectors from mining to manufacturing, wholesale and retail. SLGJA was amalgamated with three of the industry's top trade associations: Sri Lanka Jewellery Manufacturing Exporters Association, Sri Lanka Lapidarists and Exporters Association and Sri Lanka Jewellers and Gem Merchants Federation.
In the 2003 Budget, the Government of Sri Lanka declared SLGJA as the Apex industry body and charged it with a leadership role to formulate industry-level strategies to increase productivity and competitiveness. Since then, the Association works closely with the government's National Gem & Jewellery Authority and the Sri Lanka Export Development Board to advocate national policy and give input for the industry's regulatory framework. Currently, SLGJA has over 350 members who together account for over 75 percent of the country's gem and jewellery exports.