Gem and jewellery exports increase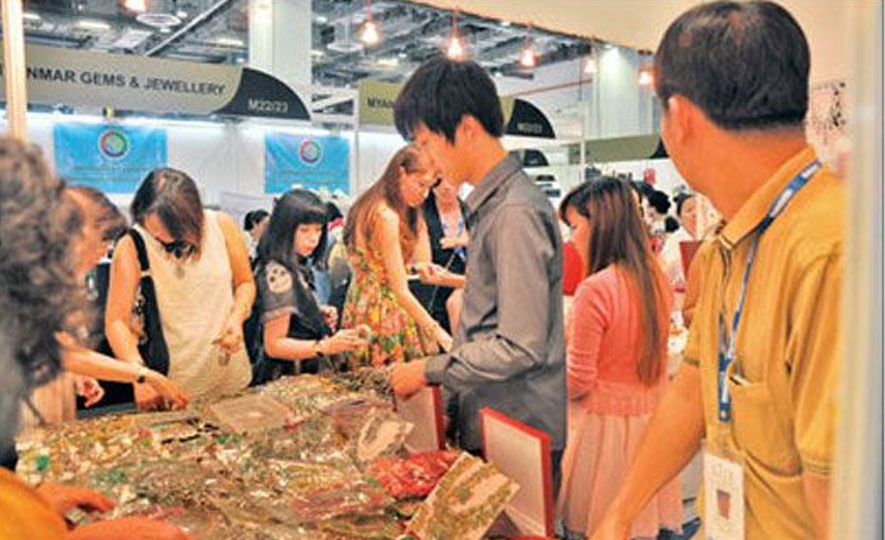 2013-07-04
Sri Lanka's gem, diamond and jewellery export sector has recorded an overall growth of more than 50 percent as at end of 2012. Revenue has increased significantly in comparison to the corresponding year's figure of Rs.24,459 million in 2011.Therefore, Sri Lanka could be promoted as a gem and jewellery hub in the region, a senior official said.
The export of gemstones brought in revenue of Rs 1,635 million recording a 39 percent growth while jewellery exports generated revenue of Rs 301 million showing an impressive 121 percent growth. The service cutting industry showed signs of recovery by recording an Rs 26 million income with a 50 percent growth.
"Sri Lanka is exporting gems to several countries which have shown a keen interest in fine quality blue sapphires of large sizes and the prices fetched by unheated sapphires were unprecedented.
Therefore participating for an event like "Singapore International Jewellery Show" for the seventh consecutive year would help to promote our gem and jewellery products internationally" National Gem and Jewellery Authority (NGJA) Director General R.M.Janaka Udaya Kumara Daily News Business. Sri Lanka retains a world market position as a producer of fine quality gems and has some of the greatest varieties of gems in the world.
Therefore, Singapore being the fourth largest importer of Sri Lankan gems has given the country partner status at this exhibition from its inception, which is one of the big opportunities to strengthen trade links, he said.
In the export market promotion programme this year, the NGJA intends to organize "Sri Lankan Pavilions" in a number of international gem and jewellery events including this event "Gem and Jewellery Show Singapore 2013.In this event we got a very spacious pavilion to exhibit our gem and jewellery, he said.
According to Janaka Udaya Kumara ten countries and 200 exhibitors are participating in the event, which is a good opportunity for Sri Lanka to enhance trade links and promote our gem and jewellery in order to position Sri Lanka as a gem hub in the region. Further, the government has identified the gem and jewellery industry as one of the thrust areas of development, which has given unprecedented incentives to the sector through the last budget, which helps the country to promote itself as a hub in the region in future, he said.
The Director General said with this development they are now in the process of promoting eco friendly mining practices among local gem miners, which was the need of the hour to promote this sector in a more sustainable way.
The U.S.A., Thailand, Hong Kong, Switzerland, Italy, France, India, Malaysia, Singapore, China, Canada and Germany are among the top export destinations for Sri Lankan gems and Jewellery.
Today we are promoting our products in world class trade fairs and exhibitions held in many countries such as the U.S.A., Japan, Hong Kong, Switzerland, Thailand, Malaysia, Singapore, China, India and France, he said.
There will be several mega events such as the Jewellery Shanghai Show, Hyderabad Jewellery, Pearl and Gem Fair, Hong Kong International Jewellery Show, Malaysia International Jewelex, China International Jewellery Show (Beijing) and China International Gold, Jewllery and Gem Fair (Shanghai) during this year.