Global Connectivity/Connecting the World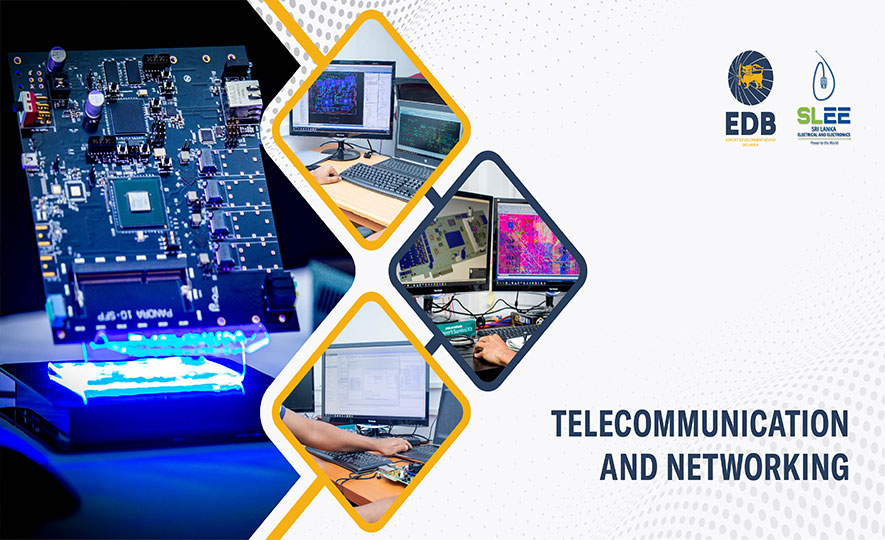 2023-03-28
The technological revolution of the 21st Century has driven the Telecommunications and Networking sector to surge in leaps and bounds. In general, there are three main segments within the industry, namely manufacturers of telecom equipment, telecom services and wireless communications. The industry is dynamic and ever evolving, driven by factors such as economic growth, technological innovation, increased demand for communication services, and growth of internet and wireless communication.
The ever-evolving nature of the sector ensures that the demand is also ever-growing. Sri Lanka has the opportunity and capability to capture this sector in the global market through the export of related products as well as services.
While fixed-line telecommunication appears to be on the decline, currently, there are more mobile connections than there are people on the planet. Cisco Systems projects that by 2023, over 70% of the world will be connected to the internet by a mobile device, and there will be 14.7 billion machine-to-machine connections supporting applications like connected cars and smart home devices. Thus, paving the way for huge opportunities to export equipment and services to meet the telecommunication and network needs of consumers on a global scale.
In 2020, according to the International Trade Administration, USA, the Sri Lankan ICT industry, of which Telecommunications and Networks is a part of, was one of the highest growth areas in the economy. With an approximate revenue of $1.5 billion, it was the fifth largest export segment for the country. While impressive, this value is minor compared to the potential available to the country. So great is the global demand for telecommunications and networks that the National Export Strategy of Sri Lanka has targeted a revenue of $5 billion, as early as 2025.
Currently Sri Lanka is involved in the export of a diverse range of products such as Modems, Ethernet switches, Wireless Data Monitoring Systems, GPS, and Vehicle Timers. In addition, we manufacture high quality component equipment such as coils, fibre optic cables, fine mechanical components, and precision engineering parts. We are even involved in the development and export of network products focusing on network intelligence and control of usage.
To deliver world class products for the global market, our manufacturing plants are equipped with state-of-the-art manufacturing methods and cutting-edge technologies from renowned global partners. To guarantee premium quality for the discerning consumer, the plants adhere to numerous international and local standard certifications.
Often people regard the Telecommunications and Networking sector as being dominated by mobile phone manufacturers. However, the products consumers use, cannot operate unless they are supported by numerous unseen components, software solutions and services. The off-shore capability and skills-based nature of software development, allows Sri Lanka to easily export telecommunication services without any need for physical factories and large overheads. The hardware features of telecoms products are generally becoming more and more similar, to help international companies differentiate themselves, Sri Lanka can place greater emphasis on exporting software-based functions and services.
Currently we export a wide range of high-end electronic design solutions tailor-made to customer specifications. For example, telecommunication solutions that assist in customer interactions with call centres, as well as develop mobile content using Artificial intelligence and machine learning algorithms.
We have achieved global recognition and acceptance through the creation of ground-breaking solutions in this sector. In addition, by encouraging academic institutions to focus on this sector, Sri Lanka has been able to develop a steady stream of professionals to the industry who are able to meet the ever evolving and sophisticated R&D requirements. These skilled professionals are able to adapt and customize products and solutions to meet the differing needs and expectations of global consumers.
Given the intangible, service-related nature of much of the Telecommunication and Networking industry, it is eye-opening to see the wide-ranging export potential of this sector. Firstly, there is cross-border supply when telecommunication services are used to deliver services to consumers in another country such as e-learning from foreign Universities and on-line shopping, both of which have seen a surge in recent years. There is also the consumption of services abroad, where we supply our services to foreign nationals, such as international roaming services used by visitors to Sri Lanka. In addition, by establishing a commercial presence in another country via subsidiaries or branches we can export our telecommunication services overseas. Further, given the highly skilled pool of talent, Sri Lanka can also export services by offering our qualified professionals to provide their expertise on overseas projects.
The local manufacturing plants are certified under CE, FCC, ROHS, ISO 9001-2008 and ISO 14000 certifications and it is equipped to manufacture telecommunication and networking components and products including PCs, catering to diverse demands in various verticals. Several other international and local standard certifications such as DNV - ISO 9001, BMQR - ISO 14001, CE - BMQR, FCC – UK Certification, ROHS - BMQR, SLS certification as well as Sri Lanka Sustainable Energy Authority's certifications and approvals have been received by these manufacturers.
As a high-quality software engineering hub, Sri Lanka stands to gain from the integration of software components to the global Telecom and Networking space. True to this phenomenon, several start-ups in Sri Lanka have designed and built ground-breaking solutions in this sector and have achieved global recognition and acceptance. The focus placed on this sector in the academic institutions has resulted in an endless throughput of professionals to the industry and in high calibre research personnel who are able to meet sophisticated R&D requirements.
Further, not only can we export our Telecommunication and Network equipment and services, but the nature of the industry is also such that it has the added value of being a supportive pillar to numerous other export sectors. It provides the framework for our traditional export industries such as tourism and agriculture, to use digital communication to more efficiently service and interact with global consumers.