Meet with Sri Lankan Food and Beverages Exporters at Gulfood 2020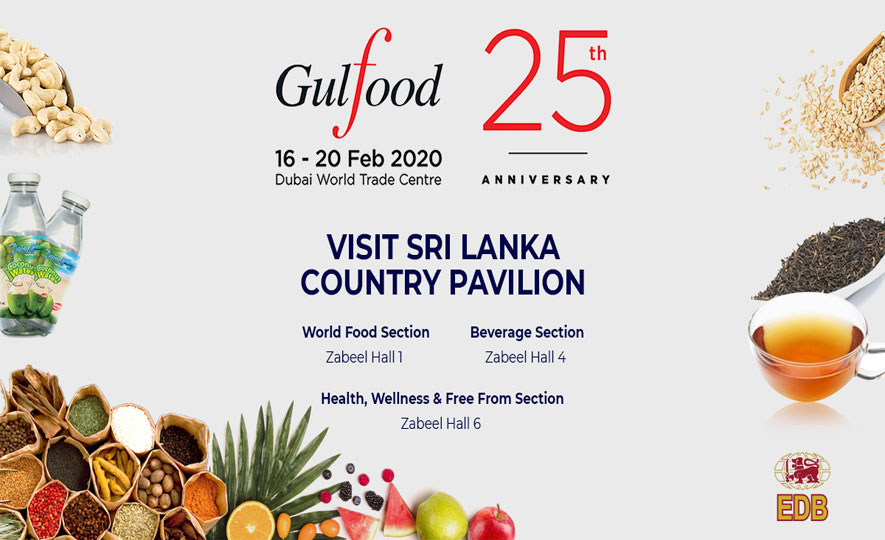 2020-02-03
Proclaims the official website of Gulfood (https://www.gulfood.com/), "From fascinating new flavors to industry-shifting innovations and multi-million dollar export deals, Gulfood is the place to experience all the key moments driving the F&B industry forward and to see all the mega-trends come alive, like never before." And 2020 marks the 25th edition of Gulfood to be hosted with the timely theme "Rethinking Food" from February 16-20, 2020 at the Dubai World Trade Centre.
Sri Lanka Country Pavilion at Gulfood 2020
Sri Lanka Export Development Board together with Sri Lanka Consulate in Dubai is organising 03 National Pavilions at Gulfood 2020 to promote 26 Sri Lankan Food & Beverage (F&B) product manufacturing/ exporting companies. The EDB has been organizing Sri Lanka's annual participation at Gulfood exhibition since 2008. EDB has reserved 210 sqm for the Sri Lanka Country Pavilions at Gulfood 2020 in 03 halls as follows:
World Food Section – 102 sqm
Beverage Section – 54 sqm
Health, Wellness & Free from Section – 54 sqm
The Sri Lankan participants at Gulfood 2020 will promote Value added Coconut Products, Spices, Tea, Confectionary, Processed Food, Fresh & Dehydrated Fruits and vegetables, Oats, cashews, Super Foods, Food Supplements etc. Sri Lanka Export Development cordially invites the visitors to Gulfood 2020 to pay a visit to Sri Lanka pavilions in the "World Food" Section – Zabeel Hall 1, "Beverage Section" – Zabeel Hall – 4 and "Health, Wellness & Free From Section - Zabeel Hall 6.
Sri Lankan Exhibitors at Gulfood 2020
Ceylon Biscuits Limited
Maliban Biscuit Manufactories (Pvt) Ltd.
HJS Condiments Limited
Pulses Splitting & Processing Industry (PVT) Ltd
S A Silva and sons Lanka (Pvt) Ltd
BIO Extracts Pvt Ltd
A.S. Agri Exports (Pvt) Ltd
Rancrisp Cashew
Expolanka Pvt Ltd
NDC Export Pvt Ltd
Adamjee Lukmanjee Exports Pvt Ltd
Nestle Lanka PLC
D & R Exports Pvt Ltd
Ellawala Horticulture Pvt Ltd
Wichy Plantation Company Pvt Ltd
Aussee Oats Milling (Pvt) Ltd.
Manchiee De Coco Products
Saaraketha Holding Private Limited
Adamexpo
A.F. Jones Exporters Ceylon (Pvt) Ltd
Watawala Tea Ceylon Ltd
Kandrick Tea Beverages Lanka
Minah Tea Exports (Pvt) Ltd
Pioneer Tea Exports (Pvt) Ltd
Download the Profile Summery of Sri Lankan Exhibitors
Why Visit Sri Lanka Country Pavilion at Gulfood?
Meet and network with Sri Lankan food & beverage exporters to spark off fresh trade opportunities
Find out what food and beverage products you can source from Sri Lanka
Discover fresh trends and developments in Sri Lanka's food & beverage sector
Enhance your international supply chain further
Gulfood 2020
The Gulfood 2020 show floor is segmented across 8 food & beverage sectors, namely, Beverages, Dairy, Fats & Oils, Health, Wellness & Free from, Meats & Poultry, Power Brands, Pulses, Grains & Cereals and World Food. More than 98,000 professionals will attend to explore the production of over 5,000 exhibitors from more than 200 countries.
The Gulf region has built a strong brand identity in the Food and Beverage space, which has benefited its food service market and strengthened its foothold in the F&B industry in recent years. UAE is blessed with a strategic location between East and West which makes its accessible to major emerging economies, linking shipping routes in Middle East, Asia, Europe and Africa. Gulfood Exhibition is has launched in 1987 and understanding the preciousness of the location and presently this has become the World's largest annual food and beverage trade show. The 2019 edition of the show attracted more than 100,000 visitors & 5,000 exhibitors from 200-plus countries seeking business opportunities and exploring the latest F&B products and innovation.
Trade Visitors to Gulfood 2020
Gulfood is the foremost event of the year for food professionals looking to source the latest products, assess market developments and connect with global suppliers:
F&B and HORECA (Hotel Restaurant & Café) Professionals
Government, Associations and Trade Bodies
Food Procurement Officials
Hospitality
Caterers
Restaurant, Café and Hotel Owners
Distributors
Food Industrialists and all other food industry players and stakeholders
At Sri Lanka Export Development Board, we believe you'll be keen to step into Sri Lanka country pavilions so that you can meet with prospective suppliers from Sri Lanka and pursue fresh growth opportunities.