Jan-Nov exports at $10 B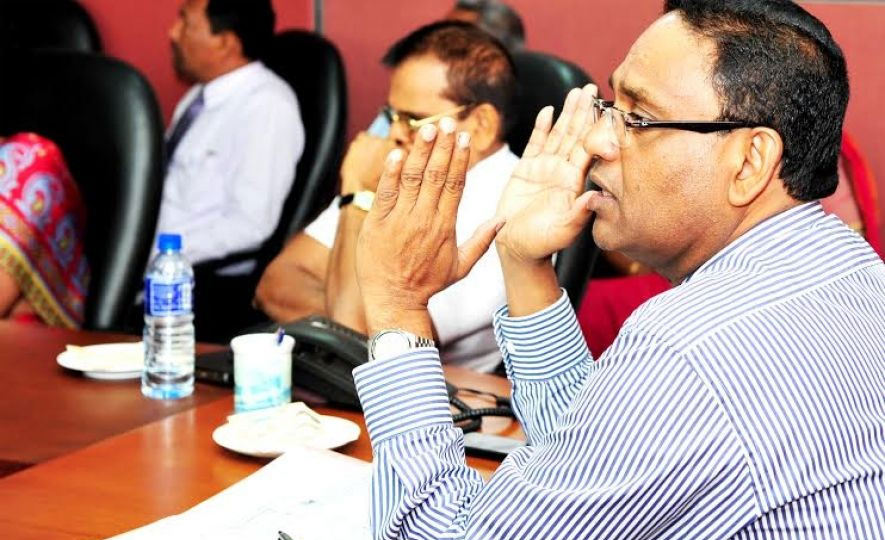 2014-12-31
Sri Lanka's January–November exports have notched $10.1 Bn driven by 'across the board' surge and specifically led by apparel and industrial products and the crucial apparel volumes appear to be almost on its annual earnings target. "Several sub sectors including apparel and fishery have delivered and sustained our year on year growth" said Bandula Egodage, Chairman & CEO of EDB on 30 December.
EDB Chairman Egodage was commenting on the provisional top-line export data presented to him by his Directors in Colombo on 30 December at EDB.
"Our November 2014 monthly provisional exports are at $923.7 Mn, which is a 2.8% increase from this October's exports. Our January – November exports are at $10.1 Bn growing by 7.5% from 2013 January – November exports. This is only merchandise exports without taking into account of service revenue such as ICT. Several sub sectors including apparel and fishery have delivered. Apparel exports are on track while fishery and several other exports exceeded its annual target and sustained our year on year growth, as per the vision of HE the President Mahinda Rajapaksa" EDB Chairman Egodage said.
Accordingly, January-November provisional merchandise (only) exports this year topped $10.108 Bn, rising by 7.5% from 2013 January-November exports. Service exports values such as ICT/BPM exports are not included in Jan-November 2014 totals and are awaited by EDB as they are still being processed by relevant agencies. Except for 'export crops', 'natural rubber' and 'diamonds', growth is seen 'across the board' in all other export sectors. Thus, 2014 YoY Jan-Nov apparel exports surged by a strong 10.35% to $4.458 Bn, which is 94% of annual apparel exports target set for this year (base formulated in 2011). Also annual targets of such sectors as coconuts, fruits & vegetables, and floriculture have also now been achieved by Jan-November '14 totals.
In this period, overall, industrial exports surged by 6.13% to $7.275 Bn, agricultural exports surged by 9.42% to $2.46 Bn, tea exports surged by 6.62% to $1.471 Bn, manufacturing increased by 8.82% to $2.205 Bn, Coconut exports up by 53.5% to $497 Mn, unclassified products increased by 67% to $132 Mn and fisheries surged by 9.99% to $242 Mn. As of November, fisheries exports have exceeded their annual exports target.
The leading five markets for Sri Lanka in Jan-November 2014 have respectively been United States, UK, Italy, India, and Germany. US continues to remain as the largest export market for Sri Lanka with 24% of Jan-November 2014 exports ($2.43 Bn) heading to it.
All the sub sectors in fisheries-an export that recently faced volatile EU markets, but now showing a promising turnaround-have surged; in that, in Jan-November 2014, provisional ornamental fish exports have grown by 17.33% to $11.51 Mn, crustacean exports have grown by 29% to $51.10 Mn and edible fish surged by 5.25% to $179.76 Mn.
Of Sri Lanka's 75 medium and large scale fishery export companies, 32 utilize EU-approved processing plants.