Meet Sri Lankan Tech Exporters at Japan IT week Intex Osaka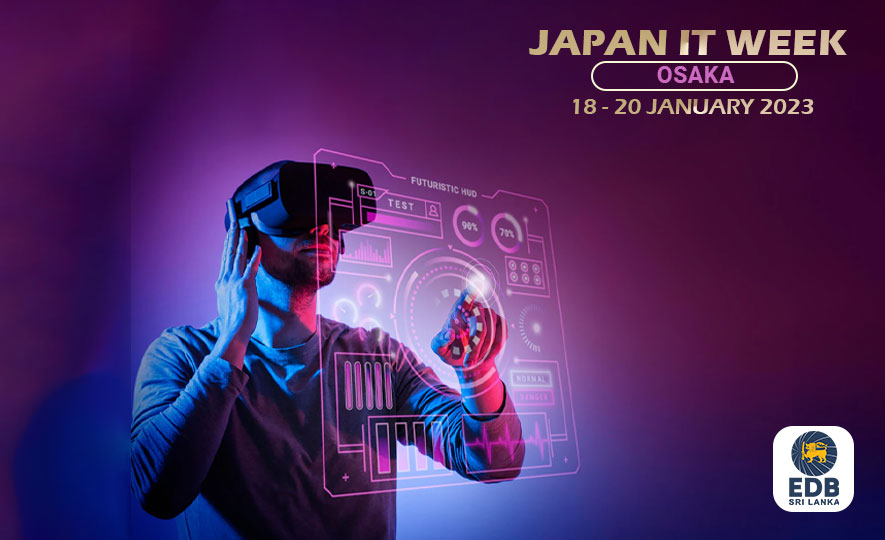 2022-12-16
Sri Lankan ICT companies to explore new opportunities in Western Japan through Japan IT Week Osaka -2023
Sri Lanka Export Development Board in collaboration with the Sri Lanka Embassy in Japan is organizing Sri Lanka pavilion at Japan IT Week at Intex, Osaka from 18th to 20th January 2023 to promote Sri Lanka ICT/BPM sector. Eight leading ICT export companies will participate this trade event, and they will present their software products and services at the Sri Lanka Pavilion. They will be exhibiting at the Software & Development Expo Area of Hall no 4 & 5 at Intex.
Tech Companies you could meet at Hall No: 4 & 5 at Japan IT Week in Osaka are as follows;
Company
Description
Contact Details
LOLC Technologies Limited
852, Kotte Road,
Sri Jayawardenepura Kotte,
Sri Lanka.


+94 076 463 7474


+94 076 533 4995


+94 011 286 5606


www.lolctech.com
LOLC Technologies was formed in 2011 as a fully owned subsidiary of LOLC Holdings PLC. Their vision is to be a strategic partner in the customers' value chain by providing end-to-end business technology solutions. The strategic thrust for the Company therefore is to leverage on the latest global IT developments to provide customers with a total solutions package.

Furthermore, they continued to comply with globally accepted ISO standards in Service Delivery (ISO 20000), Information Security (ISO 27001) and Service Quality (ISO 9001), making LOLC Technologies the only conglomerate ICT unit to be backed by all three standards.

They have grown to be an Oracle Gold partner since 2009 serving corporate customers in Sri Lanka and globally.

Ms. Chamini Attanayake


Chief Operating Officer


+94 077 757 5663


[email protected]

Axiata Digital Labs (Pvt) Ltd
11th Floor, Parkland,
33 Park Street,
Colombo 02,
Sri Lanka.


+94 076 676 6300


www.axiatadigitallabs.com
Axiata Digital Labs is an innovative software service provider, working with enterprises offering solutions towards their digital transformation journeys.

With over 1300 employees offering solution in various segments such as DevOps, SecOps, Cloud, AI & Analytics, IoT, API Management, MicrO Services Solutions, Digital Market Place Solutions, Fintech related solutions etc.

Mr. Eric Winston


Senior Manager - Sales


+94 074 068 7511


[email protected]

Metatechno Lanka Company (Pvt) Ltd
Level 6,
"Millennium House No. 46/58,
Nawam Mawatha
Colombo 02,
Sri Lanka.


+94 011 230 4440


+94 011 286 5606


www.metalanka.com
Fully owned subsidiary of Metatechno Inc. of Japan and operate under BOI of Sri Lanka. Specialized in Embedded Software development for Electronic device manufacturers around the world and Cashless Payment Solution development using NFC (Near Field Communication) technology. Further the company provide Outsource/Offshore software development, IoT Solution Development, RPA (Robotic Process Automation) Solutions, QA & Testing and IT Consultancy services to its clients.

Mr. Jeewana Waidyaratne


Director and General Manager


+94 011 230 4440


+94 011 286 5606


[email protected]

hSenid Software Lanka (Pvt) Ltd
No. 46/58, Level 6,
"Millennium House"
Nawam Mawatha,
Colombo 02,
Sri Lanka.


+94 011 269 9754


+94 011 268 6751


www.hsenid.com
hSenid Software Lanka is a leading outsourcing service provider specialized in Software Development, Mobile App Development, Web & Digital Marketing. hSenid Outsourcing, offers both onsite resource outsourcing & offshore development services in order to meet the needs of our clients. The practiced areas include Java, PHPFlutter, React and other Open-Source technologies.

Mr. Saman Kumara


Director


+94 011 269 9754


+94 011 268 6751


[email protected]

Zincat Technology (Pvt) Ltd
No 100/1/1,
Galle Road,
Mount Lavinia,
Sri Lanka.


+94 011 449 7969


www.zincat.net
Zincat Technology is an IT company which was established in 2010 and delivered more than 65+ major level products so far for 350+ customers all around the world. They are having more than 200+ professional IT team work for full time basis. Their next goal is to establish a cooperate office in Dubai in 2023 for expansion of operations.

Mr. N W J Arachchi


CEO


+94 077 733 1066


[email protected]

DMS Software Technologies (Pvt) Ltd
No. 207/2,
Dharmapala Mawatha,
Townhall,
Colombo 07,
Sri Lanka.


+94 011 267 3973-5


+94 011 269 6640


www.dmsswt.com
As a leading and pioneering IT solution provider, DMS Software Technologies create solutions that will help the client's digital journey in a constantly emerging digital world. They are an information technology solution provider with a proven track record and 25+ years of industry experience in solving business challenges and leading business transformation by leveraging the power of technology. DMS Software Technologies are pioneers in building sustainable business relationships with 'best of breed' hi-tech global companies in the stature of Oracle, Tableau, Google, TCSBaNCS , RedHat and Etc.

Mr. Aruna Basnayake


Assistant General Manager - Digital Engineering & Strategic Solutions


+94 011 267 3973-5


+94 011 269 6640


[email protected]

Evensel-IT (Pvt) Ltd
No. 12/3,
Liyanegama,
Dompe
Sri Lanka.


+94 071 229 6080


www.evensel.com
Evensel-IT is a products based software development company. Products include mobile applications for any mobile platform, game development for mobile, desktop and web/cloud. Implements new high-speed and secured communication and security protocols/frameworks to support mobile and web applications to reach the next level of performance, stability and security.

Mr. Chandima Daswatte


Director


+94 071 532 4824


+94 071 229 6080


[email protected]




[email protected]

Entgra (Pvt) Ltd
No. 106, (2nd Floor)
Bernard's Business Park,
Dutugemunu Street,
Nugegoda,
Sri Lanka.


+94 011 282 7770


www.entgra.io
Entgra is WSO2's (https://wso2.com/) Technology Partner for developing IoT Platform (https://wso2.com/iot/). Entgra's key focus areas are Mobile Device Management (MDM), IoT Platform and Smart Grid backends. We also help customers with digital transformation efforts around production / assembly floors and developing custom IoT / device integrated solutions.

Mr. Sumedha Rubasinghe


CEO


+94 011 282 7770


+94 077 301 7743


[email protected]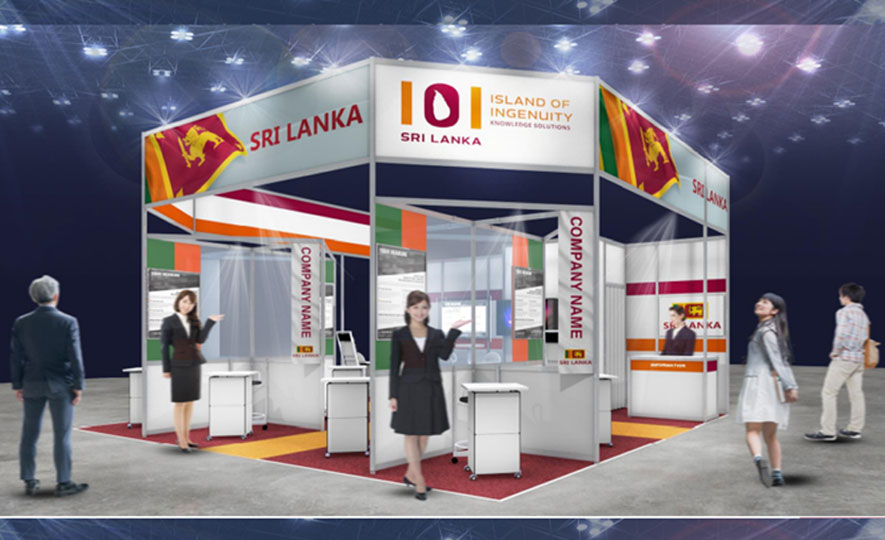 Japan IT Week Osaka is considered as the largest IT trade show in Western and Central Japan covering a wide range of IT fields with 10 specialized exhibition areas for Embedded & Edge Computing, IoT & 5G Solutions, Information Security, Cloud & BPR, Web & Digital Marketing, AI & Business Automation, Advanced E-Commerce & Retail, Sales Automation & CRM, Software & Apps Development and Automated System Operations.
The participation at the above fair will provide opportunities to strengthen the existing collaborations and build new contacts in a win win situation with the ICT companies in Japan, Sri Lanka and South East Asia.