Meet Sri Lankan Tech Exporters at Retail Technology 2023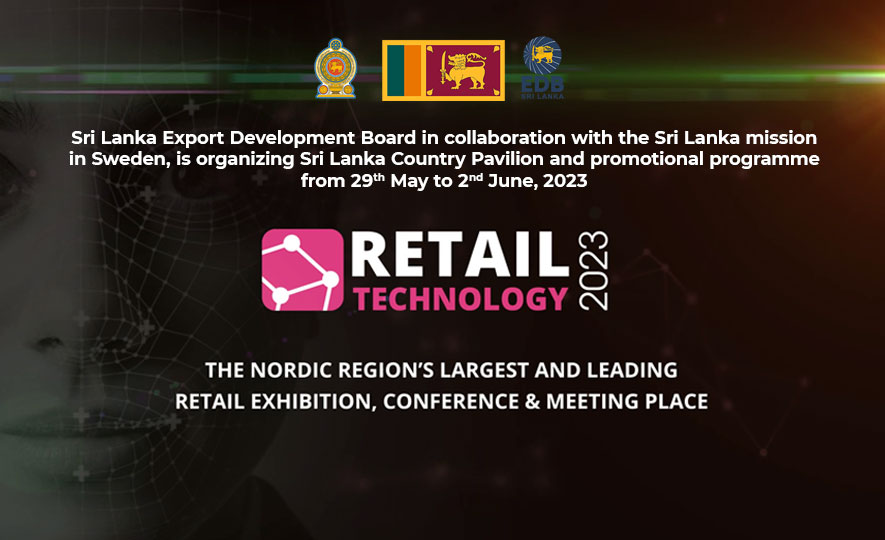 2023-05-19
Sri Lanka Export Development Board in collaboration with the Sri Lanka mission in Sweden, is organizing Sri Lanka Country Pavilion and promotional programme at RETAIL TECHNOLOGY 2023 for the ICT/BPM sector in Nordic Market from 29th May to 2nd June, 2023.
The Retail Technology 2023 in Stockholm provides an opportunity for 09 sri lankan companies in the verticals of Food tech, Retail tech, E-commerce, AI, Blockchain, Fintech etc. The event comprises an Exhibition, workshops, matchmaking, retail talk and mingle etc.
The Programme will include following activities.
09 Companies Participating at Retail Technology 2023 from 31st May to 1st June, 2023 in Stockholm
Country promotional event – Sri lanka country report release event and business meetings on 30th of May, 2023 in Copenhagen , Denmark
Business meetings and networking event on 2nd June, 2023 in Stockholm, Sweden.
List of Companies participating at Sri Lanka Country Pavilion Retail Technology 2023
Company Name & Address
Company Profile
IT products (Brands)/Services
Contact Details
Arimac Lanka Pvt Ltd
No 02,
6th Lane,
Colombo 03,
Sri Lanka.
Arimac is a premier global Technology solutions provider with a pool of highly qualified engineers and creative professionals aiming on digital transformation in industries such as Telecommunications (TELCO), BFSI, FMCG, Aviation and government institutions.

Arimac's solution suite ranges from web and mobile enterprise deployments, immersive technologies, human-centered automation ergonomics, gamification and loyalty platforms to enhance long-term customer engagement and user experience to gain a competitive advantage.

With its HQ in Sri Lanka and offices in UAE and Fiji, Arimac's partner network spreads across the Maldives, Australia, South Africa, Singapore and the Caribbean.

Since its inception in 2011, Arimac has services over 100 clients with 90% repeat referral standing testimony to the solution quality and partner integrity of longstanding customer relationships with some of the leading organizations in their respective industries such as VISA, Etihad, Ooredoo and United Nations to name a few.

Arimac envisions to expand its regional growth across the Europe region with special focus in expert resource augmentation and enterprise deployments that help innovation and digital acceleration.
Products
Arimac Customer Experience Suite for user engagement through digital transformation in Retail, FMCG, BFSI, Telco.

Arimac FinSpace – The customer experiential fintech suite encompassing Fully Fledged Mobile wallet, Arimac pay aggregator, merchant modules, smart banking and related BFSI functions.

Arimac TelcoSpace – Telco Selfcare experiential suite to enhance ARPU generation and customer engagement among Telco customer segments

Loyalty Management – for Retail revenue generation and user management

Arimac AirSpace – Customer engagement suite for airlines

IMI Games – Gamification for business use cases

Services
Resource Augmentation for expert tech skillsets

Immersive Technology based business enhancements for Retail, FMCG, BFSI, Telco

Mr. Chamira Jayasinghe


Founder CEO



Ms. Ayanthi Matarage


Vice President Growth


+94 011 521 9554


[email protected]




www.arimac.digital
Azend Technologies (Pvt) Ltd
No 65,
Jethawana Road,
Colombo 01,
Sri Lanka.
Azend Technologies is a collaboration of experienced ideators and technologists from a diverse set of industries including fintech, agriculture, automotive, power solutions, industrial engineering, retail, logistics and more. Taking advantage of the latest cloud, IoT, blockchain, and machine learning technologies, Azend Technologies enables businesses to realise their true potential using next generation digital infrastructure and solutions.

Azend Technologies is backed by one of Sri Lanka's leading corporates in the automotive, agriculture, and engineering sectors, DIMO.
Govi.ai – agritech platform for farmers and cultivators

Enterprise Software Services
• Product Development
• Staff Augmentation
• Digital Transformation Services

Mr. Rajive Silva


Chief Executive Officer



Mr. Janith Wimaladasa


Head of Business Development


+94 077 417 4753


[email protected]




www.azendtech.com
Blue Lotus 360 (Pvt) Ltd
No 4-1/1,
Bambalapitiya Drive,
Colombo 04,
Sri Lanka.
We are a cloud-based company providing ERP and HRM solutions, with operations in six different countries and empowering 200+ brands. Our company was funded and accelerated by John Keells Holdings under the JohnkeellsX program, and we have also received funding through the Microsoft 100 unicorn startup program. We take pride in being a local company that has successfully expanded overseas.
ERP – Enterprise Resource Planning

WMS – Warehouse Management Solution

SFA – Sales Force Automation

HRIS – Human Resource Information System

POS – Point of Sale

Mr. Nithushan Uthayakumar


Director/COO


+94 011 486 2520


[email protected]




www.bluelotus360.com
F Code Labs (Private) Limited
No 50,
Dhammodaya Mawatha,
Bataramulla,
Sri Lanka.
Established in 2018, Fcode Labs is based in Sri Lanka and Singapore and services clients across industries and continents, including the Ministry of Health, Singapore; University of Auckland; startups in Germany, USA, Australia, Canada and Sri Lankan companies such as MAS and Brandix. A multidisciplinary firm with proven expertise in software engineering, Blockchain, AI, machine learning, and gaming we provide the breadth of digital solutions to enable organisations to deliver the best service to their customers while empowering their employees. With over 60 engineers who are graduated from top universities in Sri Lanka we offer the best of Sri Lankan talent and quality.
Software Development Remote Teams

Blockchain Development

AI-first Digital transformation solutions

Mr. Tharindu Malawaraarachchi


Co-CEO



Mr. Buddhishan Manamperi


Co-CEO


+94 076 121 8800


[email protected]




www.fcodelabs.com
Grabmi/QR Meals
No.237/13,
Makandana,
Madapatha,
Piliyandala,
Sri Lanka.
QRmeals is a cutting-edge digital platform founded in New Zealand that has rapidly expanded to Australia and Sri Lanka. Our platform offers a unique and modern solution for restaurant menu display, benefiting both restaurant owners and customers. With multilingual menu support and video showcasing of food items, QRmeals is perfect for tourist hotels and diverse restaurants. Restaurant owners can expect a significant reduction in workload and a 30% increase in sales. For customers, QRmeals offers a hassle-free way to view menus, order food, and make online payments.
We are a QR code video, multilingual ordering system for hotels and restaurants. Some of our key features, We are providing services to New Zealand and Australian restaurant and hotel at the moment such as

⦁ Showcase food in a beautiful photo or video.
⦁ Direct QR code and tablet ordering and takeaways.
⦁ Showcase restaurant menus in more than 140 languages.
⦁ Guests can review TRIP ADVISOR through QR meals ordering.
⦁ AI-Powerd menu description generator ( restaurant owners can create compelling descriptions for their dishes, eliminating the need to hire a professional copywriter or spend countless hours crafting the perfect description )
⦁ Can integrate with any POS.

Mr. Senrath Dewage Udaya Krishantha


Director


+94 076 109 6791


[email protected]




www.qrmeals.com
GUI Solutions Lanka Pvt Ltd
Level 4,
No 5E/67,
Kandy Road,
Kadawatha,
Sri Lanka.
GUI Solutions Lanka (Pvt) Ltd. is a global Software Development company in Sri Lanka, providing software solutions to enterprises worldwide since 2011. Company entered the international software industry as a partner company of GUI Solutions Pte Ltd Singapore.
eCommerce development
Mobile Application development
Web design & development
Software Application Development

Mr. Sudath Arangala


Managing Director


+94 011 292 2420


+94 077 253 0845


[email protected]




www.guisrilanka.com
Mickiesoft (Pvt) Ltd
No 112,
Kaldemulla Road,
Agulana,
Moratuwa,
Sri Lanka.
Mickiesoft is a software development company that specializes in providing a wide range of software products and services to its clients. Their focus is on delivering high-quality outcomes that help clients achieve their aspirations and maximize productivity. They offer specialized services such as mobile app development for iOS and Android platforms, enterprise applications, and Office Add-ins.

Their team of experts works closely with clients to understand their specific requirements and develop bespoke software solutions that perfectly match their actual business needs.
Mobile App Development for iOS and Android platforms
Enterprise Applications
Office Add-ins

Mr. R K Shanuka Gayashan


Director


+94 077 229 6180


[email protected]




www.mickiesoft.com
OREL IT (Private) Ltd
No 34,
Old Road,
Nawinna,
Maharagama,
Sri Lanka.
OREL IT is a global technology company that specializes in Artificial Intelligence Services and Machine Vision Technology. The company is making big waves across the globe in the spheres of software development along with Al-based research and development, Data Science Solutions, IT Service Desk, Web design and development, and Cloud services. It's inspiring the next generation and changing futures through a unique approach to knowledge delivery and skills enhancement. OREL IT has the distinction of being the largest IT employer in Sri Lanka.
⦁ Artificial intelligence (AI) solutions
⦁ Internet of Things (IoT) solutions
⦁ Data science and analytics
⦁ Data Services
⦁ Software development
⦁ E-commerce platforms
⦁ Mobile app and web development services
⦁ Staff Augmentation
⦁ Digital marketing services
⦁ Virhral and augmented reality (VR/AR) solution

Dr. Upendra Pieris


Chief Executive Officer



Mr. Sameera Abeysinghe


Chief Technology Officer


+94 0ll 570 6706


[email protected]




www.orelit.com
Prime One Global (Pvt) Ltd (SL)
No 146B,
Goodshed Road,
Thonikkal, Vavuniya,
Sri Lanka.
Prime One Global is a globally recognized award winning Performance marketing agency helping brands and startups to grow their digital sales through innovative Business intelligence data analytics, omni channel marketing and Brand activation channels.
⦁ Business Intelligence and Analytics
⦁ Brand activation and Brand Management
⦁ Performance Marketing and Omni Channel Marketing

Mr. Sharanyan Sharma


Chief Executive


+94 024 222 5992


[email protected]




www.primeone.global