Meet with Sri Lankan Food & Beverages Product Producers & Exporters at ANUGA 2023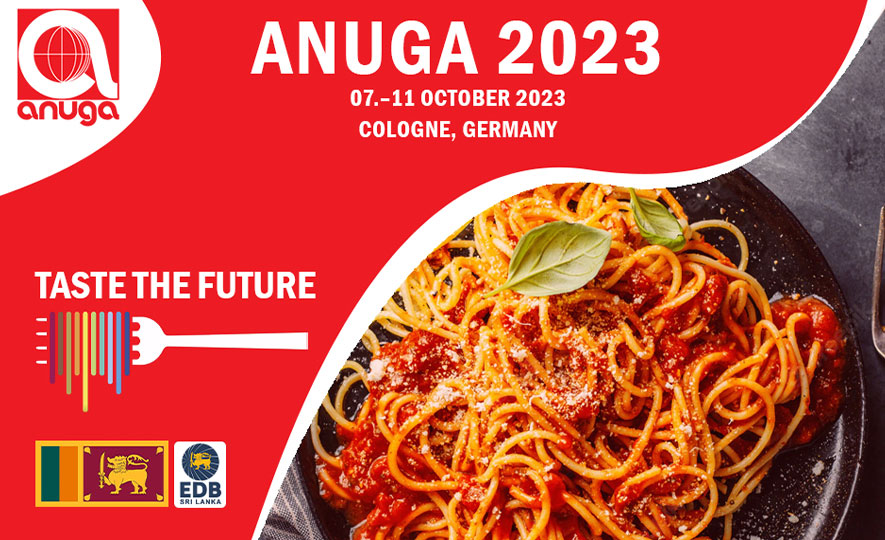 2023-08-24
Food & Beverage (F & B) industry is a dynamic & continuously evolving industry to meet changing consumer demands, technological advancement and societal trends while ensuring the food safety, availability and enjoyment of food & drink for people around the world.
Sri Lanka's Food & Beverage (F & B) export market continues to expand, driven by the intrinsic qualities of locally available raw materials, high-quality & unique food products and the quality standards maintained during value addition. The product basket of Food & Beverage sector in Sri Lanka consists of a diverse range of value-added products such as confectioneries, bakery products, processed fruits & vegetables, beverages (alcoholic /nonalcoholic), ready-to-eat frozen products and health & wellness products.
Anuga 2023 Food & Beverage Trade Fair is one of the world's leading shows held bi-annually in Germany which offers an extensive range of Food & Beverage products from raw materials to ready-to-eat dishes. The EDB has organized Sri Lanka pavilions at this event continuously since 1997.
Sri Lanka Pavilion at Anuga 2023 will house 25 Sri Lankan Food & Beverage companies to promote their products to the EU market.
| | | |
| --- | --- | --- |
| Location | : | Hall No. 01.2 dedicated to Fine Food |
| Stand Number | : | D010g – D028g |
| Area | : | 185.5 sqm |
List of Companies participating at Sri Lanka Country Pavilion at ANUGA 2023
Stall
Company
Product Details
Contact Details
COCONUT
012D016a
Cocotana Coconut Products
No.10,
Batapaththala Junction,
Katana,
Sri Lanka.


www.cocotana.com
Organic - VCO, Coconut milk in aseptic filling/packing, Coconut flour, DC, Organic creamed coconut, Coconut smiles, Organic flavored coconut milk, Organic toasted sweetened coconut chips

Mr. Suresh Fernando


Managing Director


+94 71 272 6758


[email protected]




[email protected]





Mr. Keith Paulusz


Manager


+94 71 158 1715


+94 76 768 0830


[email protected]

012E015
Adamjee Lukmanjee Exports Pvt Ltd
No 310,
Elabodagama Kuliyapitiya Road,
Pannala,
Sri Lanka.


www.adamjeelukmanjee.com
Organic - VCO, DC, coconut Oil, coconut milk, Creamed coconut, Jack fruit Banana Blossoms , Dried Fruits, Coconut spreads, Spices, fruits in juices

Mr. Murtaza Lukmanjee


Managing Director


+94 11 244 5421


[email protected]





Mr. Minosh Dewapura


Manager Dept of Exports


+94 11 244 5421


+94 77 734 0798


[email protected]

012D018
Waguruwela Oil Mills (Pvt) Ltd
Waguruwela,
Welpalla,
Pannala,
Sri Lanka.


www.waguruwelamills.com
Organic -Coconut Milk and cream, VCO, Coconut Flour, Law fat DC, DC (fine & medium)

Mr. Roshan Perera


Managing Director


+94 77 046 7811


+94 71 576 1818


[email protected]

012E017a
Kandetiya Agro Products (Pvt) Ltd
No.01,
Industrial Park,
Makandura,
Gonawila,
Sri Lanka.


https://kaplk.com/
Aseptic coconut cream, Aseptic coconut milk, Aseptic coconut water, DC

Mr. Lalitha Rathnayake


Managing Director


+94 77 778 7400


+94 74 361 9618


[email protected]

;

[email protected]





Mr. Buddhima Dissanayake


Manager Dept of Marketing/Sales


+94 71 340 9546


+94 71 340 9546


[email protected]

012D014a
Jaindi Exports Pvt Ltd
No.47,
Industrial Estate,
Dankotuwa,
Sri Lanka.


https://www.econutrena.com/
Organic - Coconut Milk, Coconut Cream, VCO, creamed Coconut, Coconut Flour , king coconut water

Mr. Sampath Anuruddha


Managing Director


+94 31 226 5607


[email protected]




[email protected]

SPICES
012D028a
Imperial Spices
121A,
Biyagama Road,
Kelaniya,
Sri Lanka.


https://www.imperialspices.lk
Organic/ conventional - Value added packs and Seasoning packs, Dehydrated foods, herbal items & Essential Oils, White Pepper, Dehydrated Green Pepper

Mr. Jayantha Karunaratne


Managing Director


+94 11 290 4000


+94 77 732 3319


[email protected]




[email protected]





Mr. Champika Perera


Director Dept of Management


+94 77 673 7500


[email protected]

012E023
Malwatta Valley Plantations PLC
No. 280,
Dam Street,
Colombo,
Sri Lanka.


www.malwatte.lk
Organic/ conventional - Value added spices, tea, Avocado

Mr. Lucas Bogtstra


Managing Director


+94 77 041 2156


[email protected]





Mr. Frits Bogtstra


Managing Director


+43 699 1904 7994


[email protected]

012E017
Samagi Organic Pvt Ltd
No 42A,
Matara Road,
Akuressa,
Sri Lanka.


www.samagispice.com
Organic/ conventional - Cinnamon, value added products of spices, Essential Oils

Mr. Janaka Abeyrathna


Managing Director


+94 77 772 8787


[email protected]





Mr. Nanda Kohona


Director Dept Of Marketing


+94 76 028 4461


[email protected]

012D014
New Lanka Cinnamon Pvt Ltd
260/1,
Weralu Anduwawa,
Maha Edanda,
Karandeniya,
Sri Lanka.


www.newlankacinnamon.lk
Organic/ conventional - Cinnamon, Spices, essential oils, cinnamon beverage and other spices.

Mr. Amila Siriwardena


Managing Director


+94 77 262 2196


[email protected]

TEA /COFFEE
012E021
Venture Tea (Pvt) Ltd
No 144,
Veediya Bandara Mawatha,
Mulleriyawa North,
Sri Lanka.


https://venturetea.com
Value added tea with company brand, Herbal Tea bag range and Assortment

Mr. Stephen Thuring


Managing Director


+94 77 732 7528


[email protected]





Mr. Supun Nanayakkara


Manager Dept pf Marketing


+94 11 256 7350


+94 76 919 8870


[email protected]

012E019
ADAMEXPO
No 370,
Sedawatta Road,
Wellampitiya,
Sri Lanka.


www.adamexpo.net
Value added Tea & Coffee , Spices, Coconut products

Mr. Idris Shabbir


Managing Director


+94 77 734 5069


[email protected]

012D028
Elpitiya Plantations PLC
Aitken Spence Tower 1,
305, Vauxhall Street,
Colombo 02,
Sri Lanka.


www.elpitiya.com
Ceylon Tea, Value added tropical fruit products, Value added berry products Organic Ceylon Cinnamon

Dr. Rohan Fernando (Mr)


Managing Director


+94 11 469 3000


[email protected]





Mr. Dharsha Pathirana


Head Dept of Marketing/Sales


+94 76 768 9230


[email protected]

PROCESSED FOOD
012E013a
Cargills Ceylon PLC
No. 40,
York Street,
Colombo 01,
Sri Lanka.


www.cargillsceylon.com
Tea, Spices, Coconut Milk and natural Cinnamon leaf tea, kithul Treacle, Kist Branded Sweet biscuits, chocolate coated biscuits, beverages, processed food

Mr.Abdul Basit Abdul Azeez


+94 11 242 7500


+94 76 399 3787


[email protected]




[email protected]

012D012
Tropical Life International (Pvt) Ltd
No 10,
Mile Post Avenue,
Colombo,
Sri Lanka.


www.tropikal.life
Dehydrated /canned fruits, coconut water

Mr. Muhammad Imdadh Marikar


Managing Director


+94 11 240 1575


+94 77 753 0060


[email protected]




[email protected]





Mr. Mohomed Mafaz Munaz


Manager Dept of Marketing/Sales


+94 77 362 3791


[email protected]

012D016
Global Trading Services
No 7A,
Seethagama,
Awissawella,
Sri Lanka.


www.gtssuppliers.com
Ready to eat products , FMCG Sri Lankan curry powders/ mixtures,

Mr. Danuka Perera


Managing Director


+94 77 365 3652


[email protected]

012E029
Norfolk Foods (Pvt) Ltd
No.142,
Katuwana Industrial Estate,
Katuwana Road,
Homagama,
Sri Lanka.


www.crescentfoods.lk
Jackfruit Nugget, Tender Jackfruit Burgers & Cutlet, Vegan Mini Kives, Nugget and Chilli Cheese Burger, Spicy Caramelized Onion Pancake, Sweetened Coconut Pancake

Ms. Mohamed Ziauddin


Managing Director


+94 77 294 7755


[email protected]




[email protected]





Ms. Ameena Ziauddin


Director Dept of Corporate Development


+94 11 285 7340


+94 77 294 7768


[email protected]

012D022
Ceylon Biscuits Limited
No.555, High Level Road,
Makumbura,
Pannipitiya,
Sri Lanka.


www.cbllk.com
Chocolate, Cakes, Biscuits, Soya products, Cereal and porridge

Ms. Shea Wickramasinghe


Managing Director


+94 77 731 8318


[email protected]





Ms. Dayangani Perera


Manager of Exports


+94 77 201 7705


[email protected]

012E013
Enrich Tea and Food Exports Pvt Ltd
No, 50/12, Attidiya Road,
Kawdana,
Dehiwala,
Sri Lanka.


www.enrichtea.com
Ready to eat products, Process vegetable, Dehydrated fruits, Nutrition supplements, Tea, spices, dry fish products

Mr. Harshana Wayaman


Managing Director


+94 77 735 9500


+94 77 758 6685


[email protected]




[email protected]





Mr. Saman Kankanamge


Director Dept of Exports


+94 77 735 9500


[email protected]

012D010
Finch Trading Pvt Ltd
No. 181/7,
W. A. Silva Mawatha,
Colombo 06,
Sri Lanka.


https://finchfoods.com/
Ceylon Hot sauce, Tamarind sauce, Exotic flours, Natural food coloring Value added Spices

Mr. Fawaz Fassi


Managing Director


+94 77 738 6666


+94 77 704 3333


[email protected]




[email protected]

BEVERAGES
012D010a
Ceylon Exports & Trading Pvt Ltd
No. 146,
Nattandiya Road,
Dankotuwa,
Sri Lanka.


www.export-lanka.com
Ready-to-drink coconut beverage (coconut smoothy)

Mr. Dulara de Alwis


Managing Director/Owner


+94 77 978 8346


+94 77 697 0551


[email protected]




[email protected]

HERBAL PRODUCTS
012D026
HVA FOODS
No 118,
Braybrooke Place,
Colombo 02,
Sri Lanka.


www.heladiv.com
Heladiv ayuruvedic range, Ice tea concentrate, Heladiv spice tea range

Mr. Sarva Ameresekere


Managing Director


+94 77 775 7532


[email protected]





Mr. Cheran Olagasekara


Head Dept of Marketing


+94 11 442 7621


+94 77 355 7280


[email protected]

012E011a
Heritage Agri Pvt Ltd
Valaithoddam,
Muhavil,
Iyakkachchi,
Sri Lanka.
Organic Moringa Leaf powder in sachets, capsules and tablets

Mr. Sivakumaran Navaratnam


Managing Director/Owner


+94 77 742 7568


[email protected]





Ms. Anuja sivakumaran


Director Dept of Marketing/Sales


+94 77 742 7568


[email protected]

OTHER PRODUCTS - Fresh or Dried Fruits /Vegetables/ Nuts/Pulses/ Biscuits/ Extracts etc
012D020
Rancrisp Marketing (Pvt) Ltd
No 41/3A,
Archbishop lane,
Thudella,
Ja-ela,
Sri Lanka.


https://www.rancrisp.lk/
Cashew nuts, Cassava chips, Potato chips,Taro Chips, Jack Fries, Banana Fries, Canned Fruits, Fruit Nectar, Dehydarated Fruits and Vegetables, SL Arabic coffee

Ms. Samantha Thamel


Managing Director


+94 11 223 1093


+94 71 402 6378


[email protected]

012D024
Ceylon Plant Food (Pvt) Ltd
Bujjampola,
Lihiriyagama,
Sri Lanka.


www.ceylonplantfood.com
Fruit powders, Spice Infusions, Flours and Fruits colours

Mr. Annes Junaid


Managing Director


+94 77 789 4411


[email protected]





Mr. Nawas Jaleel


Manager Dept pf Exports


+94 31 226 0744


+94 76 096 3090


[email protected]

012E011
Tropica Organic Foods (Pvt) Ltd
Kithmini Ranjith Mawatha,
Thalahena,
Loluwagoda,
Mirigama,
Sri Lanka.


https://tropicaorganic.lk/
Young jack fruit in Brine, Banana Blossom in Brine, King Coconut Water, Desiccated Coconut

Mr. Sashe Presly Mel Appuhami


Managing Director/Owner


+94 33 221 0500


+94 77 735 4790


[email protected]