Floriculture and Ornamental Foliage Exports from Sri Lanka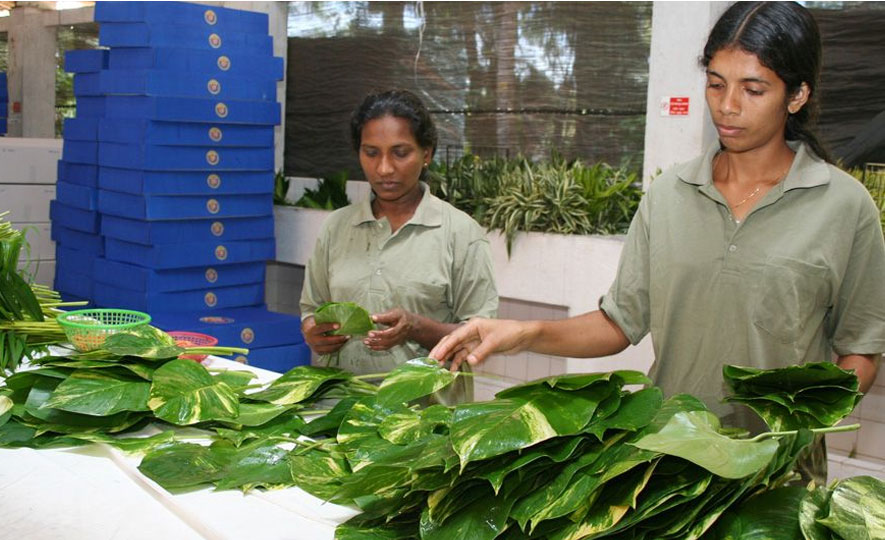 2020-11-17
Floriculture can be defined as the management of flowering plants, while foliage refers to the plant leaves. The practice of cultivating flowers and foliage for exports officially started in Sri Lanka back in the 1970s when it was identified as a potent export sector.
The Sri Lankan floriculture industry has gradually developed over the years passing many milestones. Today, it is considered a high-income generating agribusiness with its main activities being the production of cut foliage, rooted cuttings, and potted plants for the export market. In 2013, the industry was able to generate USD 9.5 million, and USD 14.1 million in 2014 respectively, marking its position in the local export sector.
Foliage products from Sri Lanka
Sri Lanka is well-known for its rich biodiversity. The country has the most suitable climatic and geographical conditions to produce a range of tropical and temperate flora. As a result, Sri Lanka is known as one of the best flora and fauna production centres of the world due to its ability to produce plants that grow in lowland tropical climatic areas and cool hill-country areas. The two main foliage product categories of Sri Lanka are Ornamental foliage and Cut Decorative foliage.
Ornamental foliage represents a set of tropical plant varieties. These plants are subjected to export in the forms of rooted cuttings, un-rooted cuttings, and canes. These exported plant-based products are then used as mother plants to grow indoor and outdoor plants in nurseries.
Cut Decorative varieties include plant materials that are used for decorative purposes. These varieties do not meet any seasonal limitations since they are available throughout the year. Both exotic and native plant types fall under this category. They are used for multiple decorative purposes across the world.
The Industry and Landscape
The Netherlands has been able to position itself as the largest floriculture in the world with the help of its skilled and specialized industry. The USA is also a renowned floriculture producer. Its industry follows a dual structure which includes large scale producers and small scale producers. The reliability of the Sri Lankan floriculture industry is amazing since it comprises aspects that qualify it to compete with these global market leaders.
The agricultural sector of Sri Lanka is powered by women. This can be seen in every category that falls under the scope of agriculture including major crops such as tea, rubber, and paddy. Floriculture marks its position when it comes to women empowerment within an industry. This has helped a network that promotes leadership qualities and new management structures within the industry.
The potential of the Sri Lankan Floricultural and Foliage industry
Sri Lanka currently supplies foliage to foreign markets including Netherlands, Germany, Japan, UK, UAE, Saudi Arabia, USA, Kuwait, Maldives, France, and Australia. Government institutions have arranged systems that support out-growers. The Netherlands is recorded as the top buyer of Sri Lankan products in the year 2019.
There are perfectly managed plant nurseries present in Sri Lanka. These facilities are often monitored by government officials who supervise and provide advice regarding pest management and disease control. Bi-products of coconut ( A large-scale industry in Sri Lanka) such as coco peat are often used as a growing medium for these plants. Well established facilities provide these plants with the finest micro-climatic conditions to grow.
Supporting infrastructure also plays a major role in this Agribusiness. The customs at Bandaranayake International airport has facilitated the transportation of floriculture by providing a separate passage by the name of " The Green Channel". Other infrastructures including roads and highways are also well established providing further benefit to the industry's operations.
Under state support and private sector involvement, Floriculture in Sri Lanka continues to grow as a successful export-oriented industry, supplying products that comply with international quality standards such as GLOBALGAP, MPS, and FAIR TRADE.