Participation of Sri Lankan Companies at Productronica 2019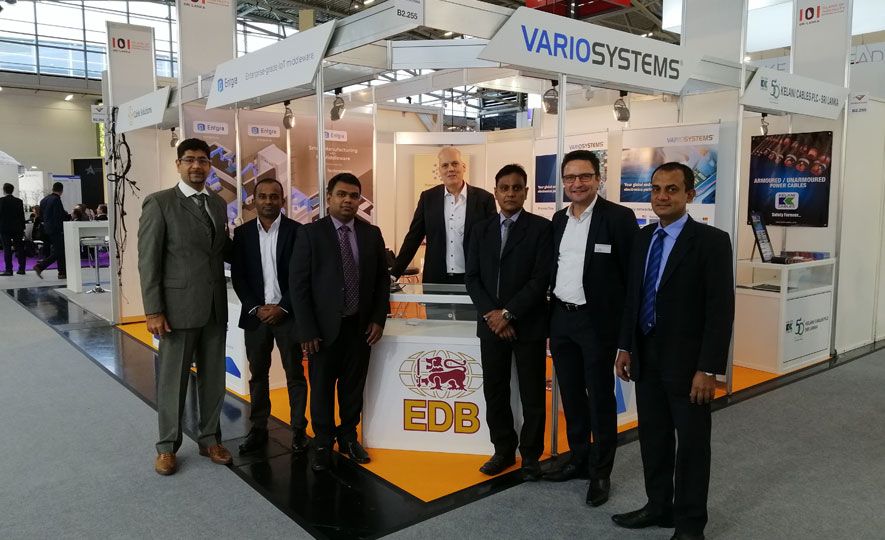 2019-11-14
The Sri Lanka Export Development Board (EDB) has organized a Sri Lanka pavilion at "PRODUCTRONICA 2019" from 12th – 15th November 2019 at MESSE MÜNCHEN, Germany with the assistance of Embassy of Sri Lanka in Germany and Consulate General of Sri Lanka in Frankfurt.
"Productronica 2019" MesseMünchen and "SEMICON Europa" are World's largest biannual Trade Fairs with Innovative Solutions and products for the entire value chain in Electronics and Electrical Manufacturing. This time, 1560 exhibitors participated from all over the world in an 88.000 m² of exhibition space and around 45,000 competent trade visitors from 96 countries. The products and services include Semiconductors, Printed Circuit Boards (PCB) & Electronics Manufacturing Services (EMS), Surface Mount Technology (SMT), Cables, Coils & Hybrids, Future Markets and Overall Production Support.
Four (4) Sri Lankan medium to large scale Electronics and Electrical sector companies namely, Cables Solutions Pvt Ltd, Entgra Pvt Ltd, Kelani Cables PLC, and Vario Systems Pvt Ltd have participated as exhibitors at this event with the aim of promoting Electronic & Electrical sector , which has been identified as one of the focused sector in the National Export Strategy (NES).
Sri Lankan exhibitors Cables Solutions Pvt Ltd and VarioSystems Pvt Ltd in a joint statement said "it has been a pleasure to be a part of the Sri Lankan pavillion at Productronica for the first time, it has been a very positive learning experience where we have come in contact with some potential customers and also met with some of our important suppliers."
Sri Lanka's top exporting destinations of Electronics and Electrical sector products are also to EU countries like Germany, Switzerland, United Kingdom, and Belgium. In 2018, total Electronics & Electrical Sector exports from Sri Lanka to EU Region was at US$ 112 Mn.
The main aim of this programme was to create business linkages through B2B meetings, to enhance business relations with new contacts as well as the existing contacts, explore new trends in technology and innovations in Electronic Manufacturing Sector, and to explore the strategies of electronics and electrical companies used for entering to Global Value Chains (GVCs) for Sri Lankan Electronic & Electrical sector companies.
The Sri Lankan exhibitors was welcomed by Mr.U. Ahamed Razee, Counsellor/ Head of Chancery, Embassy of Sri Lanka, Berlin, Germany, who visited the Sri Lanka pavilion at "PRODUCTRONICA 2019" on the opening day.
The Sri Lankan exhibitors at Productronica 2019 has also showcased their products and services at SEMICON Europa, the largest European electronics platform connecting Industry Leaders across the entire Manufacturing Supply Chain from every segment and sector of the European microelectronics industries including Semiconductors, LEDs, MEMS, Printed/ Organic/ Flexible, and other adjacent markets.
Moreover, the EDB is hoping to organize a Sri Lanka Pavillion at Electronica 2020 in the same venue for the betterment of the Sri Lankan Electronics and Electrical Sector.