Powering Ahead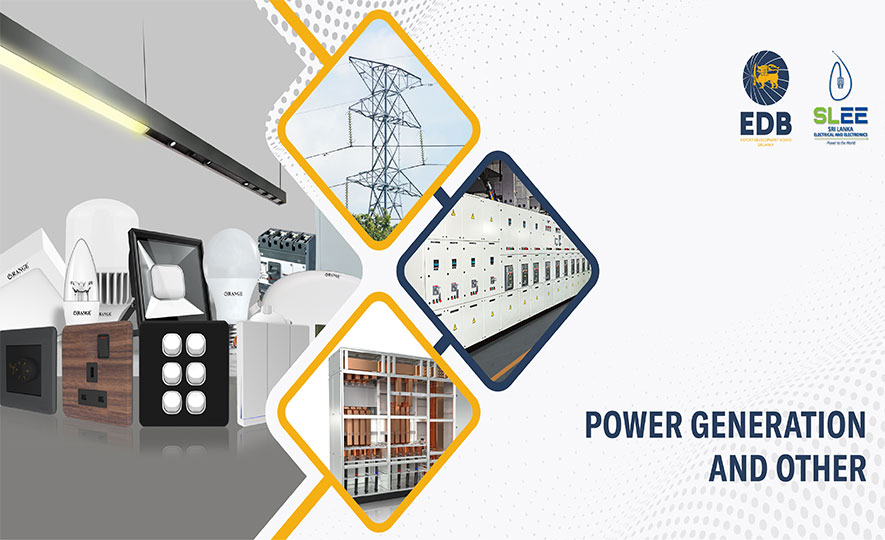 2023-03-21
While Sri Lanka may be struggling to keep the nation's lights burning, our involvement in the export of Power Generation and Distribution components has not dimmed. Local companies are involved in the development and production of a range of products and services to meet the power needs of international clients. In addition, there are several other sectors that fall under the purview of supporting the Power Industry such as the production of cables, switches, and cooling systems.
Our exporters are able to manufacture and supply materials for a range of purposes from electricity generation to transmission and distribution. To this end the physical products we manufacture include, high/low voltage transformers, inductors, steel accessories and steel fabrications. The transformer-related products are utilised in many locations around the world: from ships and trains to wind turbines, lifts, escalators, cranes, solar panels, refrigerators and medical devices. In relation to steel our export products extend to the design, fabrication, galvanizing and installation of such power structures as telecommunication and radio towers, power transmission towers, television masts, cellular communication installations, substation structures and antenna and feeder installations.
Our skilled workforce is able to customise and develop reliable, high-quality, high-performance products to meet varying customer requirements.
Going one step further, the Sri Lankan Power Generation industry is qualified in the establishment of Power Plants overseas. We are able to offer comprehensive services including the design, engineering, procurement, construction, installation, testing and commissioning of a range of plants including hydro power plants.
In line with the urgent need to conserve the planet and develop alternate sources of energy, the industry is also involved in the development of renewable energy systems and solutions that can serve residential, commercial, and industrial requirements. In particular the manufacture of solar power and hydro power equipment.
In order to be able to transmit, distribute and utilise power, Sri Lankan exporters also offer the manufacturing of insulated wires and cables to meet a range of power distribution needs. They use a range of materials from copper, aluminium, and plastic to fibre optic as well as varying voltage capabilities from low and medium to high. The installation locations also vary from overhead and underground to submarine. Using the most advanced technology, these cables can be configured to hybrid designs and even custom-made to the buyers' specification. To ensure the highest quality and safety the products possess built-in test equipment that enables continuous monitoring, measuring and control of the properties and tolerance of the cables and conductors produced.
The ease of controlling power supply with a flick of your fingertips is easily achieved through the manufacture and export of switches, panels boards and lighting. Ability to control power distribution is a basic infrastructure needed by all members of society and economies from transportation networks to health and education facilities to places to live and places to work. Control equipment allows users to regulate access to heat, light, power, and water. To this end, our exporters design and manufacture a range of control and protection systems. These include, power distribution boards, circuit breakers, semiconductors, rods, cables, switches, sockets, and fittings.
We understand the need to protect the planet and conserve energy and have now progressed to developing and manufacturing energy saving products such as lighting solutions, modular switches and sockets, low voltage switchgear, wires, batteries, home appliances, power generators, elevators, and solar power equipment for domestic and commercial use.
In a steadily heating-up planet, the need for air conditioning, refrigeration, freezing, and cooling systems is rapidly growing, thus giving Sri Lankan manufacturers a vast market to export these products and their components to. This sector has a whole host of products available for manufacture including chillers, deep freezers, water coolers, display chiller cabinets, bottle coolers, modular cold-rooms, air conditioners as well as related equipment, and components. We are involved not just in the manufacturing but also in the planning, designing, and implementing of high-quality products in a cost effective and efficient manner. We are also ever mindful of the environment and strive towards producing energy efficient, eco-friendly equipment for domestic and commercial use.
Finally, we firmly believe in conservation. To ensure a sustainable planet our sector is also involved in the recycling and export of e-waste. Currently, we are involved in the recycling of all types of wires and waste plastic materials. As the global dependence on electronics grows, so does the accompanying waste thus giving Sri Lankan exporters a great opportunity to export and profit while preserving the planet.