Reviving Ancient Trading Routes to Refresh Export Growth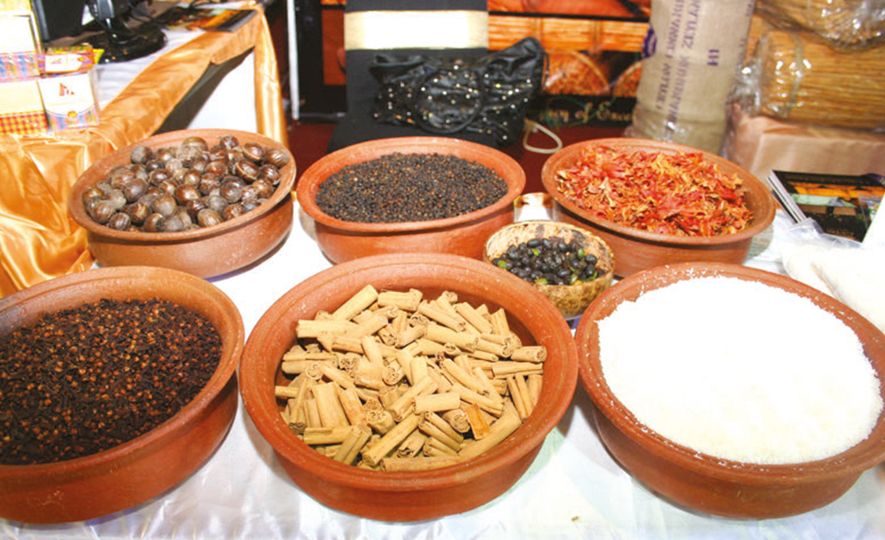 2019-01-03
Sri Lanka will endeavour afresh to put its spices back on the global trading map with a comprehensive new plan launched in July 2018. The National Export Strategy (NES) is a coherent action plan developed by public and private sector stakeholders to elevate Sri Lanka's spice trade from a mere commodity supplier to a centre of value addition and excellence.
Sri Lanka has a long history in the spice trade, with the first references of cinnamon dating back as far back as 1,500 B.C. in Egyptian hieroglyphs. Unsurprisingly, cinnamon has, throughout the years been coveted more than gold and gems. The Spice Island as it was known, has been blessed with nutrient rich soil and agro-climatic conditions, producing a range of spices that have a very distinct and unmatched flavour and aroma.
At present, Sri Lanka is the ninth most important exporter of spices (namely cinnamon, pepper, cloves, cardamom and nutmeg) in the world, with total spice exports touching US$ 273 million in 2016. Sri Lanka is the largest producer and exporter of 'true cinnamon' in the world. The sector is dominated by smallholders, and over 70% of cultivated land is small holdings and home gardens. Sri Lanka exports around 30,000 tons of various kinds of spices annually.
In an interview with Business Lanka Magazine, Mr. Sarada De Silva, Chairman of Cinnamon Training Academy, elaborated on the Spice and Concentrates Strategy under the NES.
Changing Markets
The global spices market is growing at an annual rate of about 5% (by value) and is projected to exceed USS 10 billion by 2020. The Asia-Pacific region alone is projected to grow at an annual rate of 7% between 2015 and 2020. This upward trend in the spice trade can be explained by the increasing demand for spices, both by the food service sector and by home cooks, and the growing consumer fascination with different cuisines; the overall flavouring market has maintained an upward trend in both volume and value. Globalization has improved the spice trade across the world. Rapid growth of online marketing campaigns and accessibility through e-commerce platforms are expected to drive industry growth soon.
However, the market is expected to change due to the stringent government regulations related to food additives in countries such as Canada, the United Kingdom of Great Britain and North Ireland, France, Italy and the United States of America. Several food safety organizations, such as the United States Food and Drug Administration, have set high standards regarding the safety of a spice intended for use by consumers. Consumers in the EU, United States and Canadian markets are paying more attention to aroma, health, flavour, hygienic packaging and product innovation rather than price. Availability of a wide variety of ready-to-use spice mixes will soon be a key driver in the global spice market. Organic spices are another strongly expanding segment. Especially in the European, Middle Eastern and Asia Pacific markets, lately there has been a growing consumer preference for certified organic and fair trade spices.
The demand for spice-based cosmetics and medicinal products also is growing fast. Such products are generally more popular in Asia and specifically in South Asia. The market for cosmetics in India alone is US$ 950 million, indicating a growth of 15% to 20% per annum. Nutraceuticals, a relatively new and emerging category of products derived from spices, is also slated to witness growth in Asia Pacific and European markets.
Expansion Strategy
The spice sector is tipped to grow to over US$ 1.5 Billion in exports by 2022. While increasing production is the most immediate step, the sector has also identified the need to expand its product basket to include a wider range of commercially-viable spices and herbs and putting in a place quality certification process that will allow for each commodity to be traced back to its source.
Ceylon Cinnamon dominates Sri Lanka's spice exports, followed by pepper, cloves, nutmeg and mace. The volume of other spices remains small but have the potential to grow. The NES has identified the need to expand the basket to also include a range of herbs and medicinal plants already grown in Sri Lanka.
The basis for this basket expansion is to steer the industry towards more value addition as opposed to export as a raw material. The second phase of this expansion entails putting in place a quality certification process running right down to the growing and harvesting process to ensure international standards are met through the entire supply chain. This will enable Sri Lankan products, especially value-added products to fulfil stringent Sanitary and Phytosanitary Measures in place for international trade.
The value addition process will significantly increase the revenue potential and help Sri Lanka establish itself as a centre of excellence for high quality spice and herb extracts.
The spice sector is also exploring the potential to fully utilise Sri Lanka's bi-lateral Free Trade Agreements (FTA) to grow its exports. Already the FTA with India has provided a shot in the arm for the sector. There is a push to review all other current FTAs and make recommendations for further FTAs to include spice exports in the tariff excluded list. The sector also recognises that as a collective, it needs to manage exports to ensure quality and that FTAs are not exploited or abused.
Building A Name
The NES provides a comprehensive and actionable plan for the sectors development in the short terms, while also identifying long term goals that will help sustain the growth momentum and increase export revenue.
In the interim, the sector is also looking to brand spices from Sri Lanka, leveraging its intrinsic qualities that are the result of the island's soil and climatic conditions. A Geographic Indicator (GI) register, which will record the unique conditions and properties derived as a result will need to be developed at a national level, providing the basis for Sri Lanka to push for international recognition for the intrinsic properties of its spices and herbs. This is a process is similar to how Champagne has been established as a product which originates from the Champagne region of France. A process is already underway to brand Ceylon Cinnamon and Pepper based on these principles and will aid the sector growth in the medium term.
In the long term, the sector will look to push the value addition process up the value chain, with products and services that build on the intrinsic qualities of Sri Lankan spices and herbs.