Sri Lanka Pavilion at the Apparel Sourcing Paris – 17th to 20th September 2018, Paris, France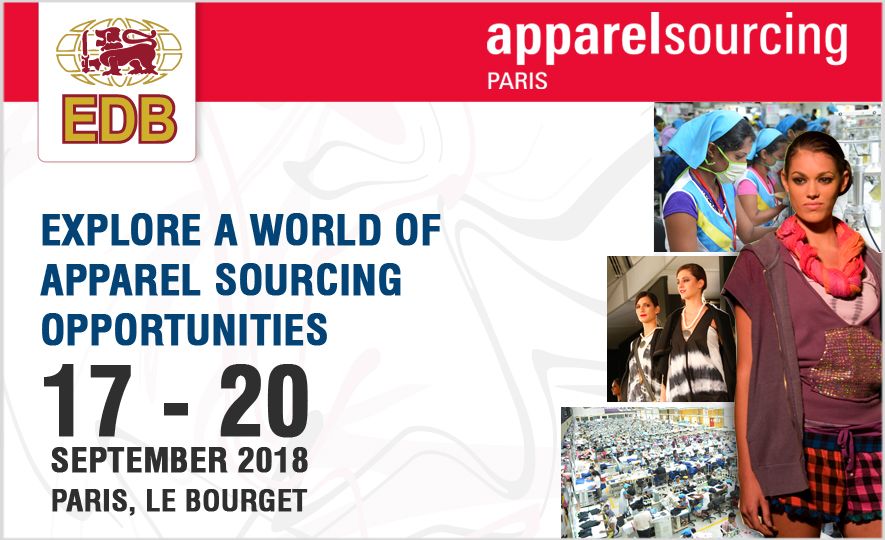 2018-09-07
The EDB with the assistance of the Sri Lanka Embassy in France organizes Sri Lanka's participation at the "Apparel Sourcing Paris" to be held in Paris from 17th to 20th September 2018, with the participation of 6 Sri Lankan apparel manufacturing/exporting companies and 2 fashion designers. A "Sri Lanka Catwalk" is also organized to display products of the participating companies including designer clothing made out of Handloom & Batik to give a true Sri Lankan flavor.
Apparel Sourcing Paris is the Europe's leading sourcing trade fair with more than 600 exhibitors from all over the world, offering a wide and consistent supplying possibilities for clothing: knitwear, casualwear, sportswear, outerwear, corporate wear, children wear and fashion accessories. The event is open for strong marketing and networking opportunities to all the exhibitors and presents a wide variety of collection to the visitors. In September 2017, Apparel Sourcing hosted more than 500 exhibitors from 15 countries. The fair was well attended by a number of international buyers. In addition to French buyers, the fair was visited by more than 12000 trade buyers from countries such as UK, Turkey, Spain, Italy, Germany etc.
The presence of a "Small Order Itinerary" which lists the exhibitors who can sell small quantities to designers is an excellent asset for small brands and capsule collections. That apart, Apparel Sourcing showcases around 50 garment suppliers certified ecofriendly and sustainable. It's also a hotbed for discovering the trends of tomorrow for a sourcing closer to Fashion
The fair organizer has offered a special package to Sri Lanka this year including seven (7) 9Sq m constructed booths with basic fittings and fixtures, organizing a fashion show free of charge. The other services offered free of charge include the services of a Merchandiser to arrange the Sri Lanka product display, Digital Communication campaign, one page advertisement in visitor's guide, press conference and press box and use of the VIP Club.
List of Sri Lankan Exhibitors at the Apparel Sourcing Paris -2018
Company Name
Participants
Products Range
Address
Contact Information

Stylish Garments (Pvt) Ltd

Mr. Pradeep Suranjana

Ms. Samantha Pindeniya

Ladies Casual Jersey Knits, Jersey School Uniforms, T-Shirts, Jersey Pull Over Pants, Cami, Tank, Polo Shirt, School Wear, Skirt , Legging , Briefs with Value Additions of Embroidery & Printing

No 5\4, 1st Lane, Station Road, Homagama, Sri Lanka

Telephone :
+94112855027
Fax :
+94112855747
Mobile:
+94777723447
Email :
[email protected]/ [email protected]

EL Holding (Pvt) Ltd

Mr. Lalantha Watudura

Ms. Erosha NilanthiWatudura

Men's Shirt & Men's Jeans

883/10, Flower Road, Ethul Kotte, Kotte, Sri Lanka

Telephone :
94112633533
Mobile:
+94777670992
Email :
[email protected]
Web :
www.ekkomen.com

JIA Moda (Pvt) Ltd.

Mr. Romesh De Silva

Ladies tops, skirts, t-shirts, dresses, pants, blouses

No.63, UpanandaMawatha, Aththidiya, Dehiwala, Sri Lanka

Telephone:
+94115554150
Fax:
+94115920636
Mobile:
+94777560776
Email :
[email protected]

Bernard Botejue Industries (Pvt) Ltd

Mr. Chandana Janaka Botejue

Mr. UdayaSuriyahewage

Knitted Casual Sportswear, Ladies and Kids Knit tops

106, Dutugamunu Street, Kohuwela, Dehiwela, Sri Lanka

Telephone:
+94117548780/1
Mobile:
+94777394476
Fax:
+94112856126
Email :
[email protected]
Web:
bernardbotejue.com

Kuga Holding Pvt Ltd

Mr. Gajan Vinothan

Mr. KalanaJayasuriya

Woven ladies & gents, formal & casual shirts, wicking/ Moisture repelling semi- casual sport shirts

19/4, Swarna Road, Colombo 06, Sri Lanka

Telephone:
+94112500866
Mobile:
+94777287370
Email :
[email protected]
Web:
www.kugaholdings.com

Screenline Private Limited

Mr. NishanthaBakmeege

Mr. Dimuthu Piyum Perera

Screen printing & Embellishment

18/4, Thalwatta, Gonawala, Kelaniya, Sri Lanka

Telephone:
+94114822900
Fax :
+94112917211
Mobile:
+94777712888
Email :
[email protected]
Web:
www.screenlineholdings.com

Buddhi Batiks & Handicrafts Ltd

Ms. Darshani Keerthisena

Ms. Bihari Samarakoon

Resort Wear

Cine City Building, 301, Maradana Road, Colombo 10, Sri Lanka

Telephone:
+94115219500
Mobile:
+94777418178
Email :
[email protected]/
[email protected]
Web:
www.buddhibatiks.com

Conscience Design Pvt. Ltd

Mr. Ajai Vir Singh

Mr. FathimaRajabdeen

Men's shirts, trousers, shorts, tee-shirts, socks, bags. Ladies swimwear, resort wear.

6, Don Carolis Road, Colombo 05, Sri Lanka

Mobile:
+94777347252
Email :
[email protected]/
[email protected]
Web:
wearconscience.com
We cordially invite you to visit our stalls and meet with the representatives from Sri Lankan Apparel Exporting and Fashion Design companies at the Sri Lanka country pavilion in order to explore potential business opportunities.