Visit Sri Lanka Country Pavilion at productronica, India - 2018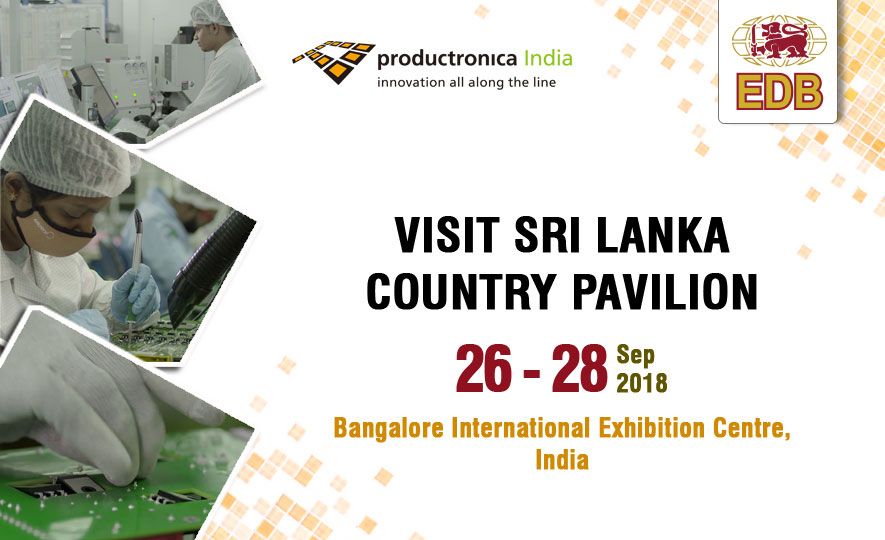 2018-09-20
productronica India, international Exhibition and Conference for Electronic Production Technologies is the most important event for the electronics industry in India and South Asia. The fair will unveil a world of production technologies for the electronics industry. The trade fair is aimed primarily at specialists in the following areas: Information Technology, Communications, Medical Engineering, Electrical Engineering, Electronics, Mechanical Engineering, Plant Construction, Automotive, Aerospace, Quality Assurance and Consumer Electronics. productronica India is considered a major industry gathering, and an ideal platform for knowledge transfer and networking.
The productronica India will take place for 3 days from Wednesday 26th September to Friday 28th September 2018 at Bangalore International Exhibition Centre (BIEC). productronica 2017 saw over 20,000 square meters of exhibition space (gross), 19,028 trade visitor, and 453 exhibitors from 16 countries representing 650 companies. The global players attended included: Accurex Technologies, ASM, Bergen Systems, Humiseal India, Juki India, Komax Automation India, Leaptech Corporation, Maxim SMT Technologies, Mycronic, NMTronics India, and Panasonic India. Explore productronica factsheet for more details on productronica India 2018.
The EDB to organize a Sri Lanka Country Pavilion at this fair to enhance Sri Lanka's Electronic & Electrical export to the world. Sri Lankan exhibitors will also explore the new technology of the EEM sector and will understand different strategies used by their competitors to enter the global value chain.
Accordingly, arrangements are being made for 4 Sri Lankan companies to exhibit their products in an area of 36 Sqm. at the Sri Lanka Pavilion at the "productronica" India 2018 as follows.
Company Details
Products/Services offered

Hitech Solutions (Pvt) Ltd
No:542/10/B, Samurdhi Mawatha, Biyagama.
Contact person: Eng. Buddhika Marasinghe - Director
Contact No: 0714964141/0113059058
Email Address: [email protected]
Website: www.hitech.lk

Automated Guided Vehicles, Fabric Relaxing Machine, Camera based Dimension Measuring system, Fabric Inspection Machines, Ribbon Winding & Unwinding machine, Production Monitoring System.

TOS Lanka Co. (Pvt) Ltd
Block "B", Biyagama Export Processing Zone, Biyagama, Sri Lanka.
Contact person: Mr. Merrick Gooneratne - Executive Director
Contact No: 0777751851 / 0115558592 / 0112465160
Email Address:[email protected]


Surface Mounted Printed Circuit Boards, Automotive Harnessing

Sanota (Pvt) Ltd
441/2C, Wackwella Road, Galle.
Contact person: Sahan C. Ranasinghe
Contact No: 0766154665/ 0716834335 / 0912224656
Email Address: [email protected]
Website: www.sanota.lk

Automated Guided Vehicles, SME machinery, Remote monitoring systems, waste management machinery,

Jinasena (Pvt) Ltd
186, Elvitigala Mawatha, Colombo 08.
Contact person: Dhanushka Wijepala - Executive Director
Contact No:0718 757 000 / 0112 684 917/11
Email Address: [email protected]
Website: www.jinasena.com

Solar powered water pumps
We invite the prospective visitors to meet with Sri Lankan exhibitors at the productronica 2018 and open up a number of new trade avenues.