Visit Sri Lanka Country Pavillion at ANUGA Iinternational Food Fair 2017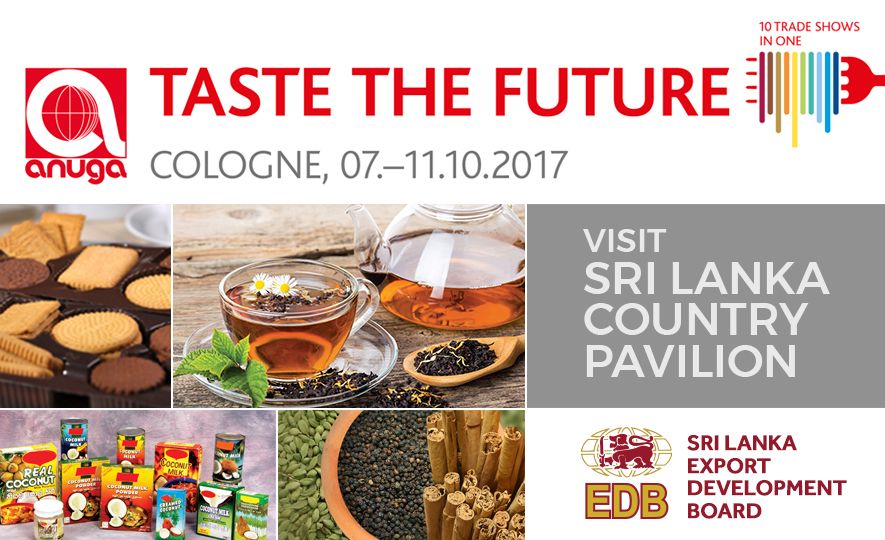 2017-10-06
The Sri Lanka Export Development Board (EDB) in collaboration with the Sri Lanka Embassy in Germany is organizing Sri Lanka's participation at the Anuga International Food Fair to be held in Cologne, Germany from 07th – 11th, October 2017 to exhibit products of the Sri Lankan Food & Beverage manufacturers/ processors/ exporters.
Sri Lanka exports a wide range of food & beverage related products in fresh, processed / value added forms such as tea, spices & allied products, fresh fruits & vegetables, coconut kernel based products, confectionery, health & wellness products and organic food. Sri Lankan food & beverage products have captured high demand in foreign markets due to the intrinsic quality of raw material used by the industry, special taste of the product and quality standards maintained during value addition.
Sri Lanka Country Pavilion will be located at the hall No. 01.1 (Stall number: C-040g – D-049g) On behalf of the Sri Lankan exhibitors at Anuga International Food Fair, Sri Lanka Export Development Board would like to extend an open invitation to the aspiring visitors to call over at the Sri Lanka country pavilion to explore this broad range of Sri Lankan food and beverage and meet with representatives from these major food & beverage exporters from Sri Lanka.