Sri Lanka's Participation at GULFOOD 2017, the Largest Annual Food and Beverage Exhibition in the Middle East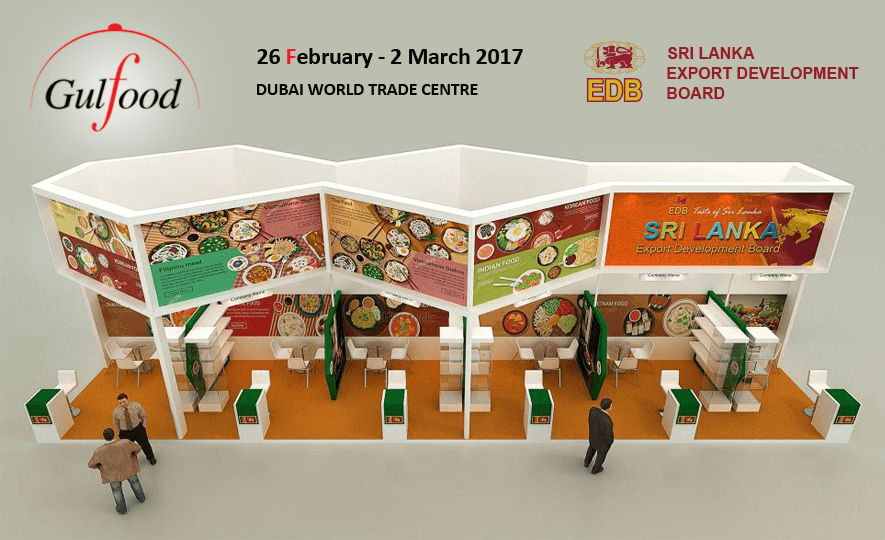 2017-02-20
The 22nd edition of the GULFOOD 2017, the largest annual food and beverage trade show in the Middle East will kick off on February 26, 2017, at Dubai World Trade Center, with the participation of over 95,000 stakeholders including food and beverage manufacturers, suppliers and professionals as well as customers from across the world.
The Sri Lanka Export Development Board in collaboration with the Sri Lanka Consulate General in Dubai will organize a Sri Lanka Country Pavilion which would feature twenty-three (23) reputed Sri Lankan exporting companies comprising of Food and Beverage, Tea, Spices, Rice, Coconut products, Cashew, Confectionery items, Oats, Pulses etc.
To increase the accessibility and trading potential, GULFOOD 2017 will focus solely on finished food and beverages belonging to eight components including; Beverages, Dairy, Fats & Oils, Heath, Wellness & Free-From; Pulses, Grains & Cereals; Meat & Poultry, Power Brands, and World Food.
With 120 country pavilions on offer in 2017 event, EDB was able to acquire 206sqm. area of space for two Sri Lanka country pavilions in the World Food and the Beverage sections due to the high demand from the Sri Lankan food and beverage exporters.
Among the over 95.000 anticipated visitors to the event there will be more than 5,000 local, regional and international companies from 90 countries displaying thousands of finished food and beverage products reflecting the latest taste trends and food innovations from around the world.
Moreover, F&B professionals from more than 160 countries will visit the show to discover new trends, source the latest products and promote a wide selection of food and beverage choice from their home countries.
The main objective of Sri Lanka's participation at the event is to promote Sri Lankan food and beverages in the Middle East and North African regions and surrounding markets to consolidate, strengthen and cultivate existing client relations and to meet new buyers to obtain new orders.
Opportunities for Participants
Continuous participation at the exhibition will strengthen the relationship with the existing buyers, showcase competencies and capabilities of Sri Lankan food and beverage industry especially with regard to product quality and enhance Sri Lanka's image among the trade visitors.
The participants will also be able to identify new technology used in the industry, identify new value-added products, obtain first-hand market intelligence, current market trends, view the products offered by our competitors and their product presentations.
Opportunities for the visitors
The international buyers will have an opportunity to view a cross section of the Sri Lankan Food & Beverage products and meet the best manufacturer exporters at one place.
Fair Organizer
Ms. Goli Vossough
Senior Project Manager – GULFOOD & GULFOOD Manufacturing
Exhibitions and Events Management
Dubai World Trade Centre (DWTC)
P O Box 9292, Dubai
UAE.
Tel: + 971 4 332 1000.
Direct: +971 4 318 8607.
Fax: +971 4 318 8607
Email : [email protected].
Web : www.gulfoodmanufaturing.com
Contact person -EDB
Srimathie Narandeniya
Deputy Director - Sri Lanka Export Development Board
NDB-EDB Building
42, Nawam Mawatha
Colombo 02
Tel: +94-11-2300732 .
Fax: +94-11-2304879
E-mail: [email protected].
Web: www.srilankabusiness.com
List of Exhibitors at Sri Lanka Pavilions
Beverage Sector
Stand No.

Company Name

Products on Offer

Contact Person

Email

Website

Z4-B71

Ceylon Tea Marketing (Pvt) Ltd

Tea

Malinda Abeykoon

Z4-B72

Shan Teas (Pvt) Ltd

Tea

Dilan Boudewyn

Z4 - B68

ADAMEPXO

Tea, Desiccated coconut. Spices

Z4-B70

Ceylon Tenny Tea (Pvt) Ltd.

Tea- Bulk, packets, and bags

Isuri Shamalka

Z4 - C62

Crescent International (Pvt) Ltd

Tea

Rifaz Razik

Z4-C69

Fresh Tea Exports (Pvt) Ltd

Tea

Mahinda
Wanniarachchi

Z4 - C67

Green Horizon Enterprises (Pvt) Ltd

Tea
Desiccated coconut, and Spices

Dhammika Obeysekere

Z4-C65

Suncrest Teas (Pvt.) Ltd.

Tea, tea bags, pyramid bags, tea in packets, metal tents, wooden boxes, tea in bulk

Mr. Ramesh P. Perera

Z4-C61

M E H Industries (Pvt) Ltd

Value added tea

Hassanally Mohamed Esufally

Z4 - B66

Zakir Sha Exports (Pvt) Ltd

Tea, Desiccated coconut

M.N.M.Nafeez
Food Sector
Stand No.

Company Name

Products on Offer

Contact Person

Email

Website

Z1-B13

Expolanka (Pvt) Limited

Desiccated coconut,
Fresh coconut
Fresh fruits & vegetables,
Coconut water
VCO
Dried fruits,
dry lemon
Spices,
Pulses,
Herbal food supplements,
Essential oils,
Health Food

Imdadh Marikar

Z1-B15

Bio Extracts (Pvt) Ltd

Black seed oil, VCO
Herbal supplements

Mohamed Shafraz

Z1-B17

Maliban Biscuit Manufacturers (Pvt) Ltd

Biscuits
Cookies
Crackers

Asoka Perera

Z1-A12

Lanka Canneries (Pvt) Ltd

Jams
Juices
Sauces
Sambols
Chutneys
Pickles
Deserts
Bakery Items
Treacle
Fruits in Syrup
Processed Vegetables

Asiri Silva

Z1-A14

Mufaddal Traders

Tea-Bulk & Packets,
Organic Virgin Coconut Oil,
Desiccated Coconut,
Coconut Water,
Coconut Milk,
Coconut Cream,
Creamed Coconut,
Spices,
Black pepper,
Cinnamon &
Cloves.

Murtaza Abidali

Z1-A16

H J S Condiments Limited

Processed Fruit
Vegetables

A. C. Pathirage

Z1-A18

Wichy Plantation Company (Pvt) Ltd

Coconut kernel,
Coconut water-based value added products,
Moringa leaf powder.

Kushan Perera

Z1-A20

Adamjee Lukmanjee And Sons Pvt Ltd

Desiccated Coconut,
VCO,
Coconut Oil,
Creamed Coconut,
Coconut Milk,
Coconut Milk powder,
Spices

Hashini Kalansuriya

Z1 - B9

Tradlanka Agricultural Enterprises (Pvt) Limited

Red Rice Varieties,
White Rice Varieties,
Spices,
Coconut Products

Prasad Vithanage

Z1-B11

Aussee Oats Milling Pvt Ltd

Oats,
Oats related products & beverage.

Raghav Gupta
Vinod Gupta

Z1-B19

Rancrisp Cashew

Cashew,
Potato Chips,
Cassava Chips,
Processed Fruits

Harsha Wickramaratne

Z1-B21

Pulses Splitting & Processing Industry (Pvt) Ltd.

Red split lentils,
Husk
Chana dhal
Chickpeas
Mung dhal,
Whole red lentils,
Toor dal,
Yellow split peas

Mohamed Muddassir Mahmud

Z1-A10

Spicing Lives (Pvt) Ltd

Value added spices

Helen Brohier