The Natural Rubber Industry of Sri Lanka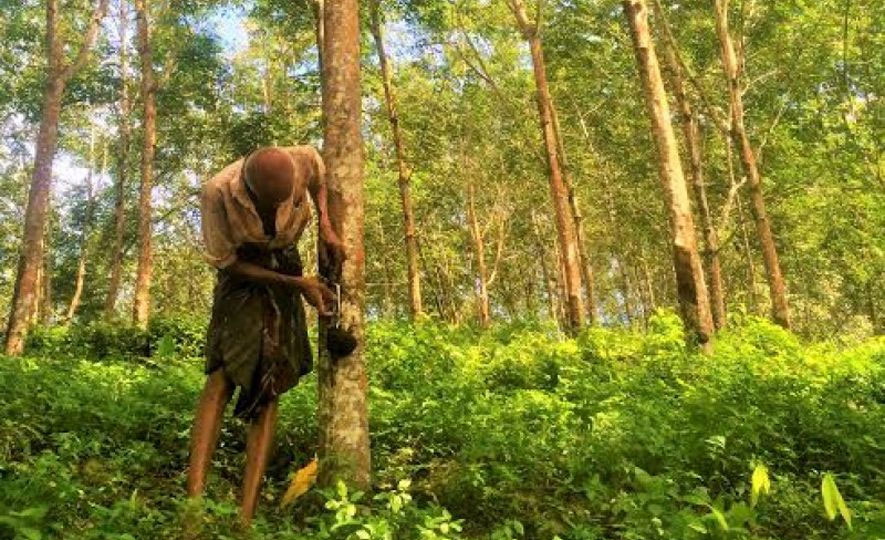 2015-07-27
Started in 1876, with the planting of 1,919 rubber seedlings at the Henerathgoda Botanical Gardens in Gampaha, Sri Lankan that became the origin of an uninterrupted and profitable supply chain of an agricultural commodity, Sri Lankan natural rubber has since acquired the status of an industrial raw material with a global significance.
The rubber industry links the traditional tree crop agriculture with sophisticated industrial manufacturing in a strongly interdependent manner that has made both the sectors more stable and competitive in the global market place.
Sri Lanka has a well established natural rubber industry with a well organized infrastructure comprising of all supporting institutes in public and private sector. Rubber Research Institute (RRI) of Sri Lanka is one of the oldest research institute for rubber in the world. Moreover Sri Lankan rubber sector is the third largest export earner of the country providing over 300,000 direct and indirect job opportunities to Sri Lankans across various professions and walks of life.
Rubber trees are grown systematically and re-planting programmes are carried out continuously in keeping with the recommendations of RRI. Sri Lankan rubber plantations mainly consist of many small holders as well as bigger rubber plantations that are managed by well established companies. There are already a number of international rubber manufacturers with state of art manufacturing units utilising the availability of premium quality rubber, in Sri Lanka.
The traditional rubber growing areas of Sri Lanka is located mainly in the wet zone in a land extent of 127,500 hectares. The country's traditional rubber growing districts include Colombo, Gampaha, Kalutara, Kandy, Matale, Galle, Matara, Kurunegala, Rathnapura, and Kegalle.
Yet with the introduction of a series of new rubber clones by RRI, that can withstand the dry weather, dry non – traditional regions of Sri Lanka too have become locations of interest to local rubber growers.
The International Fund for Agriculture Development (IFAD) too financed 5000 hectares of rubber small holder plantations in Monaragala district while the Sri Lankan Government has taken the initiative to expand rubber cultivation in to Hambanthota , Ampara, Vauniya and Multhivu Districts.
Today, the rubber plantations have expanded to nearly 133,668 hectares out of which 85,442 hectares (64%) are contributed by rubber small holder sector. A further, 46,635 hectares (35%) are owned by 20 Regional Plantation Companies and 1,591 hectares (1%) are managed by government Institutions.
By mid 1970s Sri Lanka reached the peak of raw rubber production with an annual output of over 155,000 metric tons to become the fourth largest rubber producer in the world. By the year 2011 rubber production recorded 158,000 metric tons although many rubber producing countries increased their production volume during the same period excluding Malaysia and few African Countries.
In 2014, Sri Lanka was in the sixth position among the global natural rubber producers and exported almost all types of natural rubber available in the market including ribbed smoked sheet rubber, latex crepe rubber, scrap crepe, all grades of technically specified rubber, centrifuged latex and speciality rubbers.
Rubber Products manufacturing is done in locations where main factors of production including value added raw material, technological inputs, necessary logistics, and export facilities can be easily accessed. Industrial Zones in Katunayake, Ekala, Biyagama, and Sapugaskanda have attracted many rubber related industries including large Foreign Direct Investments. (FDIs) into rubber sector.
While Gampaha and Kalutara districts too have large factories set up by local firms, recent years have seen the expansion of large rubber manufacturing facilities to Southern Sri Lanka, specially in Galle and Matara District and the increasing availability of rubber and the new infrastructure development is expected to extend rubber manufacturing facilities up to Hambanthota and Monaragala districts. Meanwhile Ampara and Trincomalee districts too have potential to attract direct investments for rubber manufacturing facilities.
Sri Lanka prides itself in manufacturing a number of value added rubber products by processing raw rubber. These products include extrusion products like rubber bands, beadings, rubber latex products such as medical, industrial and household gloves, industrial products like hoses, auto parts, industrial components, tyres, tubes, automotive and aviation tyres and general rubber products like rubber flooring, floor mats, carpets, sports goods, footwear, hot water bottles and related components.
Although a gradual growth of rubber sector in Sri Lanka was reported during the last decade, Sri Lanka's Rubber Industry Master Plan, a comprehensive strategic plan validated by all the related industry stake holders needs to be implemented, to ensure the growth of the rubber industry during the period of 2015- 2024. This plan combines programmes, projects and initiatives that requires to be implemented during next ten year period beginning from the year 2015.
The world rubber industry grows at a rate of 4% - 6% per year and the growth potential for Sri Lanka stands very high. Considering the growth potential, the long history of the industry and the distinctive competencies accumulated over the years, the government and the private sector stake holders of the Sri Lankan rubber industry has set a high target to increase the share of rubber & rubber product export earnings by 15% and the total exports of the sector to exceed US$ 3bn by the year 2020.