Sri Lankan tea exporters enjoy a great slice of the global tea market.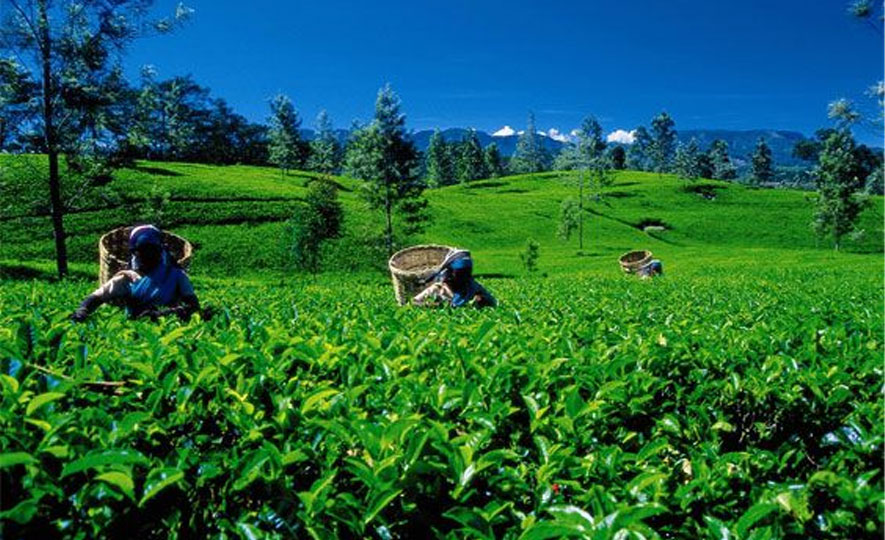 2015-02-23
The past three years from 2012-2014 saw a renaissance in Ceylon Tea with the year 2013 breaking all records and the 2014 figures just released surpassing even that of 2013, recording the highest ever export earnings of $ 1.61 billion (Rs. 210.2 billion) which is a 5.43 % growth over 2013 and a FOB price of US$ 4.95 per kg, which is a 3.1 % growth over 2013 which were all records for the 147 year old history of the Sri Lankan tea industry.
The positive performance of Tea exports during year 2014 was driven by growth in export earnings from value added tea products such as Tea Bags (118.6%), Green Tea (49%) and Tea Packets (9.24).Export earnings from Tea Bags have contributed for 48.5% of the total Tea exports. With these high export volumes and values, Sri Lankan tea exports reached the number 2 rank among global tea exporters by mid-2014 surpassing China.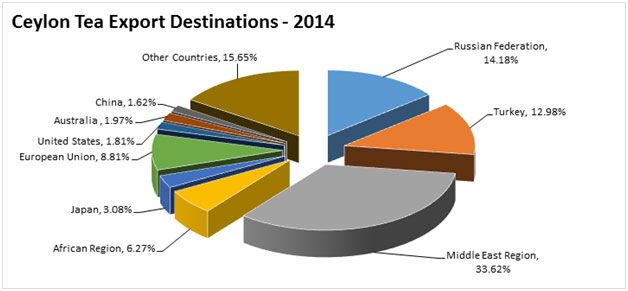 Russian Federation, Turkey, the Middle East, Europe, African Region, United states, Japan, Australia and China are recorded as the main destinations for Ceylon tea. The Russian Federation, being the number one single country destination for Ceylon Tea, accounts for 14% (US$ 228.3 Mn) of Sri Lankan Tea exports. Turkey has become the second biggest market absorbing nearly 13% of total tea exports (US$ 209 Mn) in year 2014 recording an annual growth of 40% compared to year 2013.
In year 2014, around 34% of the total Sri Lankan Tea exports were destined to the Middle East region. The main export destinations were Iran, Iraq, UAE, Syria, Kuwait, Jordan & Lebanon. The European and African regions respectively have accounted for 8.8% and 6.3 % of the total tea exports. The main markets were Germany, Netherlands, Poland, Finland, Belgium, UK, Italy & France within the Europe and countries such as Libya, Egypt, South Africa and Angola in the African region.
Tea exporters in Sri Lankan were also able to earn significant amount of foreign exchange by catering to the single export markets such as Japan (3.1%), Australia (2%), USA (2.0%) and China (1.6%).