Trade for success: Connect, Compete, Change - 16th edition of the WEDF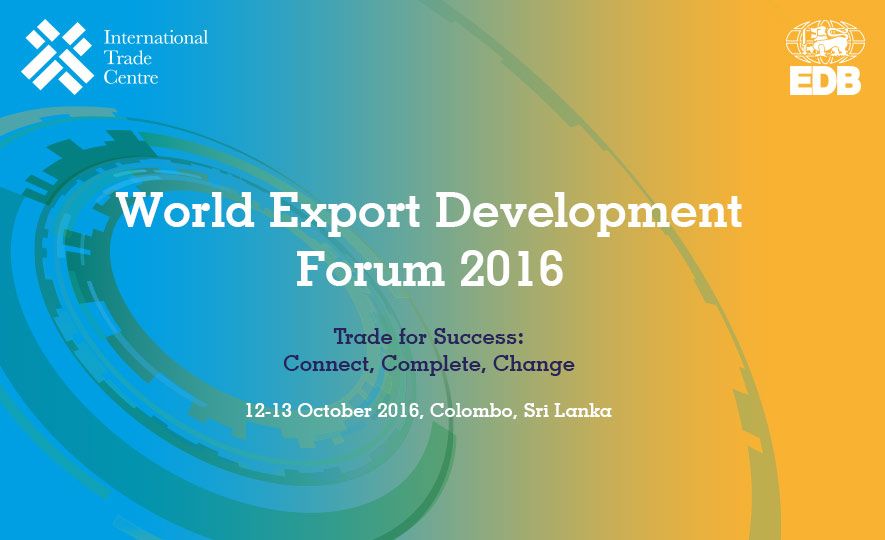 2016-12-14
The 16th edition of the globally represented World Export Development Forum 2016 (WEDF 2016) was hosted for the first time in Colombo, Sri Lanka on the 12th and 13th of October, marking the rapidly developing nation's irreplaceable role in the advancing regional economy as a logistics hub. The two-day event annually organized by the International Trade Centre (ITC) was co-hosted this year by the Ministry of Development Strategies and International Trade of Sri Lanka through the Sri Lanka Export Development Board (EDB), and was timely themed 'Trade for Success: Connect, Compete, Change'.
Each year, the two-day forum facilitates international trade and provides a platform for open discussions on the most pressing trade issues and challenges faced across the world, especially in developing nations. WEDF 2016 saw the participation of over 600 business leaders, policymakers, heads of trade, investment support institutions and international trade officials from more than 50 countries, gathered at the Bandaranaike Memorial International Conference Hall (BMICH) in Colombo to discuss trade-led development strategies and open markets.
His Excellency, President of Sri Lanka Maithripala Sirisena, Hon. Prime Minister of Sri Lanka Ranil Wickremesinghe, Minister of Development and International Trade of Sri Lanka, Malik Samarawickrama led the line-up of high-profile speakers from the host nation. They were joined by an impressive list of international delegates led by Mrs. Arancha Gonzalez - Executive Director of the ITC, Hon. Mr. Wang Shouwen – Vice Minister of the Ministry of Commerce of China, Mr. Vikrom Kromadit, Thailand's biggest industrial-park developer and CEO of Amata, Mr. Eben Sermon – Vice President for Greater Europe, Middle East and Africa (EMEA) at eBay Inc. and many more.
Other notable dignitaries and business leaders included Hon. Mr. Péter Szijjártó - Minister of Foreign Affiars & Trade and Dr. Petra Pana - Deputy State Secretary for Foreign Economic Affairs, both representing Hungary's Ministry of Foreign Affairs & Trade, Dr. Mrs. Shamshad Akhtar, Executive Secretary of The United Nations Economic and Social Commission for Asia and the Pacific (ESCAP), Dr. Mukisha Kituyi – Secretary General for the United Nations Conference on Trade & Development (CTAD), Mr. Tony Nash – CEO and Chief Economist of Complete Intelligence Singapore, Dr. Naushad Forbes – President of the Confederation of Indian Industry (CII), Mr. Stefano Arganese - CEO of Central Eastern Europe and Middle Europe for DHL, Mr. Hongbing Gao - VP of Alibaba Group and Director of AliResearch, Mr. D. J. Pandian – Vice President and Chief Investment Officer of the Asian Infrastructure and Investment Bank (AIIB) and Mr. Wabuyele Matanda – CEO of the Kenya National Chamber of Commerce and Industry.
The conference holds a number of plenary sessions annually, which enables discussions on pressings as well as trending trade policies, industry changing debates and decisions. This year's event staged four key plenary sessions; 'When Regional Blocs Cross Oceans' - discussed the significance of driving global connectivity through improved and well-governed trade facilitation, 'Digital Doors to Trade' - took on the competitiveness of today's digital economy, 'Standards: A Gateway to Global Markets' - focused on changing consumer mind-sets and standards required to regulate resulting dynamic supply chains, and 'Authenticity: The New Tourism Destination' touched on tourism, one of the biggest potentials in export investment and development. The speakers and the findings of the plenary sessions are as follows.
PLENARY 1: WHEN REGIONAL BLOCS CROSS OCEANS
Speakers:
Mr. Deodat Maharaj, Deputy Secretary-General, Economic and Social development, Commonwealth Secretariat, UK
Dr. Susan Stone, Chief of Division, Trade and Investment Division, UNESCAP, Thailand
Mr. Shreekant Somany, Chairman & Managing Director, Somany Ceramics Ltd
Mr. Mahesh Dayalal Amalean, Chairman, MAS Holdings, Sri Lanka
Rt. Hon. Patricia Scotland, Secretary-General, Commonwealth Secretariat, UK (Video message)
Moderato :
Mr. Tony Nash, Chief Economist and Managing Partner, Complete Intelligence, Singapore
This plenary session discussed the merits and challenges of regional trading blocs from the perspectives of policy makers and businesses. The discussion spent notable time on the recent multi-lateral agreement of the TPP and the impact such agreements are having on particularly Commonwealth "small economies" and SMEs. The plenary session incorporated a message from Rt. Hon. Patricia Scotland who although unable to attend, was represented by Mr. Deodat Maharaj.
Mr. Deodat Maharaj also stated that Commonwealth have set up an initiative for these smaller economies to assist with navigating these changes and remaining connected with international markets – Commonwealth Trade Financing Facility (CTFF). It will provide member countries facing trade challenges with the finance they need to increase their trade capacity.
Dr. Susan Stone made an interesting comment that measurement of services trade is getting better over time and services trade is key to the fragmentation of production processes to create Global Value Chains (GVCs). Services contribute up to 70% of the value of manufacturing trade. He also comment Sri Lanka has specialized in niche markets. India targets mass market whilst Sri Lank is more niche-market.
PLENARY 2: DIGITAL DOORS TO TRADE
Special Address by: H.E. PÉTER SZIJJÁRTÓ, Minister of Foreign Affairs and Trade, Hungary
Launch of the joint ITC-Alibaba Publication 'E-Commerce in China: Opportunities for Asian Firms'
Ms. Arancha González, Executive Director, International Trade Centre
Mr. Gao Hongbing, Vice President and Director, Alibaba Group and AliResearch
Speakers:
Mr. Kurt Cavano, President, GT Nexus
Mr. Gao Hongbing, Vice President and Director, Alibaba Group and AliResearch
Mr. Sabur Khan, Chairman, Daffodil International University & Daffodil Group
Mr. Mano Sekaram, CEO & Founder, Sri Lanka Association of Software and Service Companies
Ms. Sally Buberman, Co-founder, Wormhole IT
Ms. Shinto Nugroho, Head of Public Policy and Governmental Relations, Google Inc.
Mr. Eben Sermon, Vice President, Greater Europe, Middle East and Africa, eBay
This session focused on the importance of digitalization as a key to business competitiveness, particularly as an equalizer for SMEs. Lessons from success stories in Asia, Europe and Latin America were discussed to uncover how countries have succeeded in this new era of trade and industry influenced by digital developments.
H.E. Peter Szijjarto highlighted how "Digital Hungary" is aiming to provide better quality and more reasonably priced internet services to SMEs and households; Mr. Eben Sermon of eBay highlighted how policies aimed at simplification of export administration, managing VAT etc. are important policy priorities that can aid business competitiveness in the digital era. Mr. Gao Hongbing stressed on the need for Governments to provide an enabling policy landscape for enhancing e-commerce.
PLENARY 3: STANDARDS, A GATEWAY TO GLOBAL MARKETS
Launch of the ITC Flagship Report 'SME Competitiveness Outlook: Meeting the Standards for Trade
The report argues that Standards and regulations are pervasive and diverse.
Special Address by: Mr. Upul Jayasooriya, Chairman, Board of Investment of Sri Lanka
Speakers:
Mr. Jagdish Singla, Vice President, Nestlé Sri Lanka
Ms. Marion Jansen, Chief Economist, International Trade Centre
Mr. Malik Fernando, Director, Dilmah Tea
Mr. Kolin Low, Regional Manager, International Organization for Standardization
Ms. Ursula Wynhoven, Chief, Social Sustainability, Governance and Legal, UN Global Compact
Mr. Matanda Wabuyele, Chief Executive Officer, Kenya National Chamber of Commerce and Industry.
Standards and regulations are essential to international trade and value chains and are much in demand by consumers and are here to stay because of their positive impact on sustainability, compatibility and consumer protection.
Data finds that more voluntary sustainability standards are now being set in emerging economies compared to the OECD.
Standards are known to impact every aspect of business operations. They are found to impact small firms' export value twice as hard compared to large firms. The report finds that when there is a 10% increase in the frequency of regulatory or procedural trade obstacles encountered, the value of exports decreases by 1.6% for large firms. For small firms, however, the value of exports declines by 3.2%. Therefore, standards can create a differentiation between large firms and small firms if not managed systematically.
Some of the possible ways of overcoming these challenges include making information on standards and technical regulations accessible to firms, encouraging and enable firms to adopt standards and proactively comply with technical regulations, strengthening technical infrastructure, etc.
Standards can be considered as a business development tool that provides a gateway to international markets and are business enablers. As well as standards are an effective tool for plugging into both domestic and global value chains and play a crucial role in export development strategies of countries and internationalization strategies of businesses.
ITC and UN Compact representatives pointed to the launch of the ITC Standards Map which is a freely available resource dedicated to informing companies and makes staying compliant easier by increasing transparency.
Mr. Fernando (Dilmah Tea) asserted that the best way to navigate the standards requirement was to over-meet them. For Dilmah, the implications for their intellectual property value and brand value would be enormous if they were found to be deficient.
International Standards Organization (ISO) representative, Mr. Low also explained that ISO have done a lot of work to make these accessible to SMEs.
Dedicated SME page on the website with all the guides and publications for SMEs to help implements ISO standards of particular importance.
Interactive browsing platform for the key sections of the standards to help SMEs interpret the standards
Range of case studies provided on the benefits of standards for SMEs
Urge SMEs to be involved in the development of standards i.e. make it a two way interaction with national standards bodies.
Standards should also be viewed in the context of Sustainability whereby the world is increasing looking for sustainability standards. Important to be an early mover here rather than a latecomer.
PLENARY 4: AUTHENTICITY - THE NEW TOURISM DESTINATION
Speakers:
Mr. Hiran Cooray, Chairman, Jetwing Sri Lanka
Mr. Pascal Khoo, Writer / Tourism Expert, Myanmar
Dr. Wolfgang Arlt, Director, China Outbound Tourism Research Institute, Germany
Ms. Zoritsa Urosevic, Representative of the World Tourism Organization to the United Nations in Geneva
Mr. Vikrom Kromadit, Chairman & Vice-Chairman, Amata Foundation & China-Thailand Business Council
Mr. P.M. Withana, Chairman, Sri Lanka Tourist Promotion Bureau
Mr. Hiran Cooray, Chairman, Jetwing Sri Lanka attributes Jetwing's survival during the civil war down to authenticity of the experience of coming to Sri Lanka. Tourists continued to come during the last thirty years despite the negative travel advisory because of that expectation of authenticity and chance to experience local life in Sri Lanka.
A significant challenge lies in becoming a bigger tourist destination, as through mass-market tourism, Sri Lanka could lose this appeal.
The informal market has a role to play in providing authentic experiences such as homestays. However, they should be done well and therefore regulated as well. From the hotel industry perspective, the mix of the formal and informal sector should be encouraged – go hand in hand.
Jetwing has done its part to recreate and promote authentic experiences e.g. by re-cultivating paddy land, providing water buffalo, giving training to cultivate the land and recreating 'authentic' Sri Lankan experiences.
Food is also another key part of authenticity – string hoppers, curry, Indian ocean fish etc. It is important that these are not undervalued and provided to tourists in abundance.
Ms. Urosevic : Attempts to add tourism under the trade radar , Sri Lanka's uptake: After civil war from 1 million 3 million tourists per annum; Tourism yield has increased due to USP in crafts, food etc.
Policy should focus on different portfolios – Education, ITC etc. Not only increase the 'value added' for people visiting, but to simulate and retain wealth coming in to benefit all local stakeholders; Stimulate a new kind of demand ; Beginning a dialogue, especially at a country level Joint intervention can definitely increase authenticity.
The first day of the conference also hosted two 'In-focus' sessions presented by highly successful business entrepreneurs in the region, offering the audience valuable insight into practical business cases, the first session discussing Trade Facilitation and Logistics in Regional Integration, while the second focusing on how Young Entrepreneurs Enable Innovation.
Day two of the conference presented 'How-to' workshops, taking on timely and beneficial trade topics for Small and Medium Scale Enterprises (SMEs). The sessions were categorized across the main focus groups, Young Entrepreneurs – From Ideas to Markets for the millennials that are venturing out on their own, Services for Women Entrepreneurs targeted at the growing number of females who are exploring new business avenues, a workshop on How to go Digital focused on the importance of digital marketing and awareness for new businesses, and Managing Logistics in the Supply Chain for efficient and lean business processes. ITC's very own trade experts presented these sessions.
The culmination of the conference was the highly anticipated Business-to-Business (B2B) Meetings set to expedite business opportunities and partnerships across borders. A total of 136 Sri Lankan companies registered for the B2B meetings, with a total of 116 international high-potential buyers registered to participate across sectors such as tourism, information and communication technology (ICT), apparel and manufacturing. Almost 1000 B2B meetings were facilitated at WEDF 2016, resulting in beneficial trade-led ties and export opportunities for Sri Lanka and the region. Field and factory visits were facilitated to Sri Lanka's Export Processing Zones in Katunayake and Biyagama, as well as Colombo's progressive IT Park – Orion City for interested foreign delegates.
An exhibition the theme of "Best of Sri Lanka" was held parallel to the main conference at the same venue, with 35 of the most elite brands in Sri Lanka displaying the best of local products and services from apparel to rubber, from ICT / BPO to Gem & Jewellery. Sri Lankan enterprises such as Brandix Apparel Ltd, MAS Holdings, Akbar Brothers, Ceylon Tea Services, Camso Loadstar, Virtusa, 99X Technology, Gem Paradise and H.D. De Silva & Sons demonstrated local capabilities on a global platform.
WEDF 2016 also paved way for Sri Lanka to affirm its commitment to 'SheTrades' – the ITC's initiative that aims at linking one million women entrepreneurs to the market by 2020. ITC Executive Director Mrs. Arancha González accepted the pledge from EDB Chairperson Mrs. Indira Malwatte and Women's Chamber of Industry of Commerce (WCIC) Chairperson Rifa Mustafa at the Colombo Stock Exchange.
Adding a touch of Sri Lanka to the conference, the country hosted the delegates to a 'Sri Lankan Night', demonstrating the nation's rich culture and heritage to the participants. A grand boat show at Dikkowita was also organized to entertain visiting dignitaries.
Having for the first time initiated a powerful collaboration between the public and private sectors of Sri Lanka, WEDF 2016 became one of the benchmark events of the country's history, concluding successfully on October 13th, 2016. The 17th edition of WEDF will be hosted in Hungary in October 2017.