Turkey Industrialists Businesswomen and Businessmen Confederation visits EDB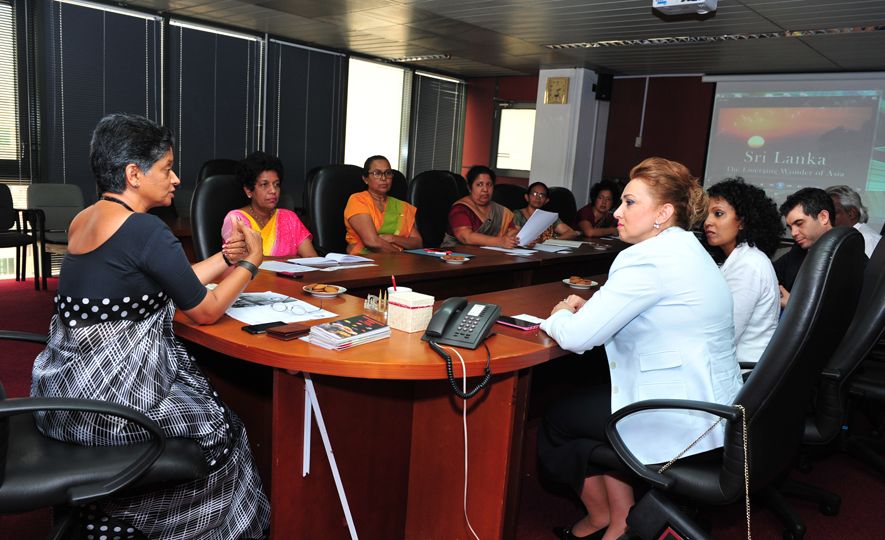 2016-11-25
The General President of Turkey Industrialists Businesswomen and Businessmen Confederation, Nezaket Emine Atsoy met Mrs. Indira Malwatte, the Chairperson & Chief Executive and the Directors of the Sri Lanka Export Development Board (EDB) during their visit to Sri Lanka from 7th to 11th November 2016. Ms. Astoy is the Chairperson of the Confederation which has got a worldwide network consisting of key leaders in various sectors and decision makers of the concerned countries.
At the meeting the Chairperson of the EDB explained that Sri Lanka is a country with developing industries and investing in such an environment would excel more benefits to the investors. She also drew attention on the sectors such as agriculture, construction, infrastructure development, renewable energy and apparel which provides more opportunities for investors. Mrs. Malwatte further mentioned that there is a valuable contribution and support from Sri Lankan women to the development of the industry sector.
Talking about the international trade exhibitions organized by the Turkey Industrialists Businesswomen and Businessmen Confederation, Mrs. Astoy, the Head of the Turkey delegation mentioned that the Confederation will invite the EDB to participate in their next exhibition in Turkey.
The Turkey delegation has visited various important places during their stay in Sri Lanka. The delegation visited Sri Lanka on the invitation of Hon. State Minister of Fisheries and Aquatic Resources Development Mr. Dilip Wedaarachchi.