CHAIRPERSON EDB INDIRA MALWATTE – THE FIRST SRI LANKAN WOMAN TO RECEIVE THEWIFTS LIFETIME ACHIEVEMENT AWARD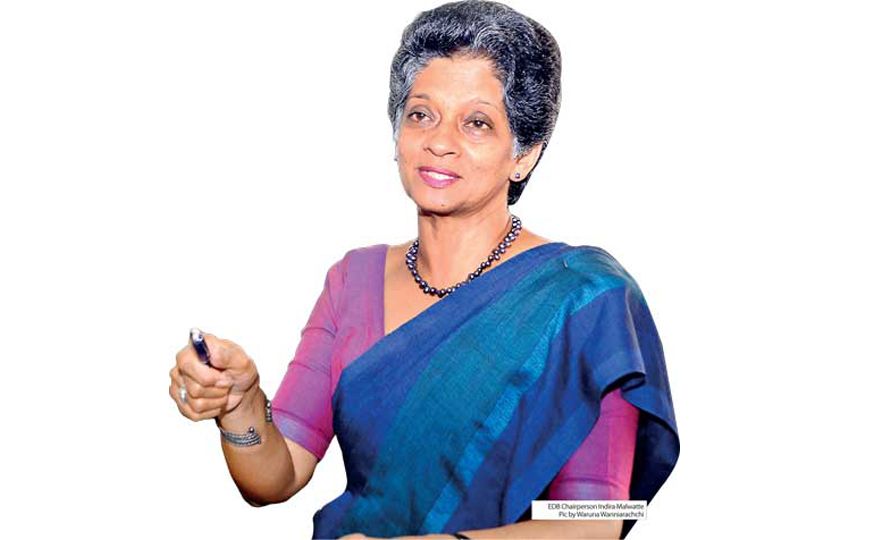 2016-07-05
TheWIFTS Foundation International Visionary Awards 2016 was held at the Millennium Hotel in London UK among a distinguished gathering of international women achievers on the 2nd of July. The Women's International Film and Television Showcase (TheWIFTS) is an organization dedicated to bringing women together from all walks of life through the art form of film and television, business, the humanities and the environment.
In 2016 TheWIFTS Lifetime Award for Business and Economics was awarded to Indira Malwatte who holds the key post of Chairperson and Chief Executive of the Sri Lanka Export Development Board (EDB), a vital role in the world business stage. Indira has committed nearly 40 years of her life to export development and promotions both in the state and private sector locally and internationally, with many achievements to her career. The Government of Sri Lanka, considering her unique talents and hands-on experience in the state and private sectors, appointed her as the first female to hold EDB's top position and to lead Sri Lanka's export drive in very challenging times.
Elspeth Tavares, Founder and Executive Director of TheWIFTS, speaking on the award stated that this the organizers consider is of special importance in the context of Sri Lanka and the world, where increasingly emphasis is placed on the governing bodies countries to embrace and bring women to the forefront of decision making. "The Sri Lankan government's appointment of Indira Malwatte to this crucial role as the country expands its horizons on trade is commendatory" stated Tavares.
Indira was among 30 other outstanding women from all over the world who were considered by the WIFTS selection committee as possessing and promoting the qualities of Commerce and Creativity-Passion and Integrity-Equality and not Hierarchy who attended the Honoree Luncheon in celebration of "Raising the Bar" in their respective fields and as outstanding examples of "individuality" so that others can be inspired.
TheWIFTS Foundation firmly believes that until global society recognizes equality in gender, that it is important to "celebrate individuality" so that the issue of gender will be of no consequence.
In her Acceptance Speech which was followed by a trailer of her accomplishments she stated that she owes this Award to all those who had the confidence to appoint a woman to this post and to the export community and her EDB staff who have always stood by her as a very supportive Team.
As a result of the link forged with TheWIFTS, the EDB is to collaborate with TheWIFTS on SME businesses run by women to be taken internationally through their website and other social platforms. EDB will also make use of this opportunity to seek advice from TheWIFTS to formulate a strategy to further the Sri Lanka Tourist Board and EDB's desire to promote Sri Lanka as a film location on the international canvas as part of Sri Lanka's drive of export of services.