Health benefits of Seafood Consumption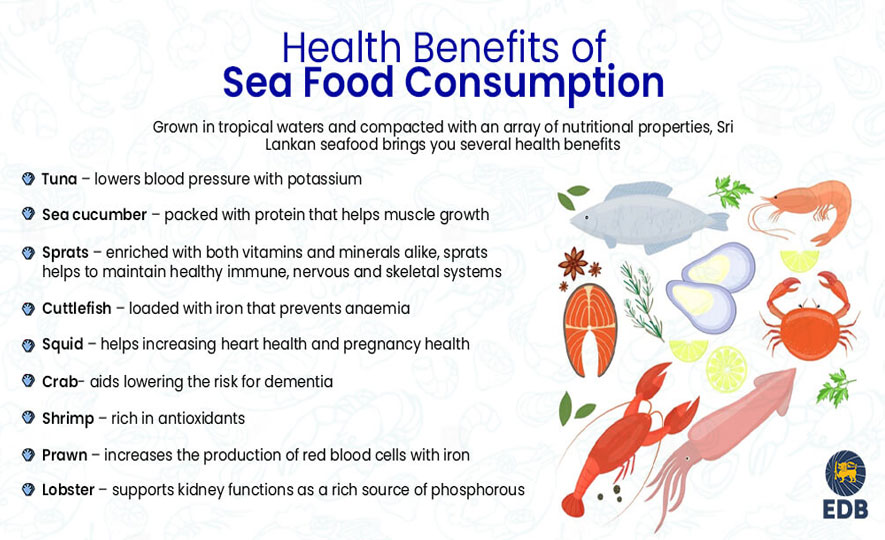 2021-10-15
Blessed with murmuring ocean waves and rich marine life, Sri Lanka is a dream-come-true for seafood lovers. Ethically harvested by a fleet of 4500 fishing boats operating on the blue waters surrounding the exotic island, Sri Lankan seafood production uses traditional craftsmanship in conjunction with state-of-the-art modern technology.
A fresh catch from Sri Lanka is always an enthralling treat to the taste buds, be it a crab curry cooked with local spices in Sri Lanka or a sushi roll topped with tuna served in a Japanese sushi bar. Sri Lanka has emerged as a widely sought-after seafood supplier with several types of seafood exported to countries across the continents. As of now, Sri Lanka exports fish, mollusks, and crustaceans, among others. One of the major reasons behind the high demand for Sri Lankan seafood is its freshness. The other, and perhaps the most important, is the manifold health benefits they bring to consumers.
Fish
In terms of fish, the Sri Lankan seafood industry exports several species. Occupying a special position among them is Yellowfin Tuna. Exported in fresh, chilled, and frozen forms, Sri Lankan tuna is a true delicacy coming from tropical waters. Among the other varieties of fish exported are beach-de-Mer aka sea cucumber, sprats, seer, and parrotfish, all having various health benefits. For instance, tuna is packed with Omega-3 fatty acids, which means that tuna consumption is heart-friendly as Omega-3 fatty acids help reduce cholesterol in arteries.
Tuna is also known for containing Potassium which effectively lowers blood pressure. Containing a significantly lesser number of calories and therefore considered a staple in weight-loss diets, tuna is also rich in iron, magnesium, Vitamin A, B6, and B12. Just like tuna, sea cucumber is also a powerhouse containing an array of nutrients. Compacted with functional ingredients, it has both nutritional and medicinal values.
For example, scientific research conducted on sea cucumber found in tropical regions, especially Asia, suggest that widely consumed commercial sea cucumbers such as T. ananas and T. anax have high levels of protein and Eicosapentaenoic acid (EPA) that is "associated with decreased risk of coronary heart disease, cancer and wound healing activity."
Rich in Chondroitin sulphate, consumption of sea cucumber prevent the development of Anaemia and is believed to have healing properties and used to treat ailments like arthritis, cancer, frequent urination, and joint pain Although significantly smaller in size when compared to sea cucumber, sprats, with their nutritional properties and health benefits, can rival the famous beche-de-mer. In fact, sprats are loaded with a multitude of vitamins and minerals such as vitamin B12, D, A, C, E, phosphorus, zinc, magnesium, copper and manganese. Consumption of this 'all-in-one' food is highly beneficial as it helps to maintain healthy skeletal, nervous and immune systems.
Molluscs
The main varieties of mollusc exported by Sri Lanka are cuttlefish and squid. Mainly found in the warm waters off the coast of Puttalam and Kalpitiya, cuttlefish are low in fat content and rich in vitamins, minerals and healthy fats like Omega-3. Just like tuna, cuttlefish is also heart-friendly. Minerals like selenium, iron and copper function as potential antioxidants, prevent anaemia and encourage the utilization of iron by the body, respectively. Similarly, squid is also a source of protein, vitamin C, iron and calcium, which are beneficial not only for heart health but also for pregnancy health.
Crustaceans
Various types of crustaceans are found in Sri Lanka in abundance, with crab, shrimp, prawns and lobsters being the most widely exported among them. Thriving in shallow waters, these shellfish are packed with nutrients. Research shows that the consumption of seafood like crabs at least once a week helps to lower the risk for dementia and Alzheimer's disease.
In addition, they share the health benefits of other seafood varieties, having high levels of omega-3 fatty acids, antioxidants that also cause the red colour in shrimp, vitamins and minerals. With so many health benefits, seafood is not just a treat for the mouth; it is a treat for the body in its entirety as the consumption of seafood increases overall health. Sri Lankan seafood occupies a dominant position on this front since the industrial expertise displayed from harvesting to packaging to exporting ensures that the quality of the products remain intact as it reaches international markets.