The Rising Market Potential for Cinnamon Oil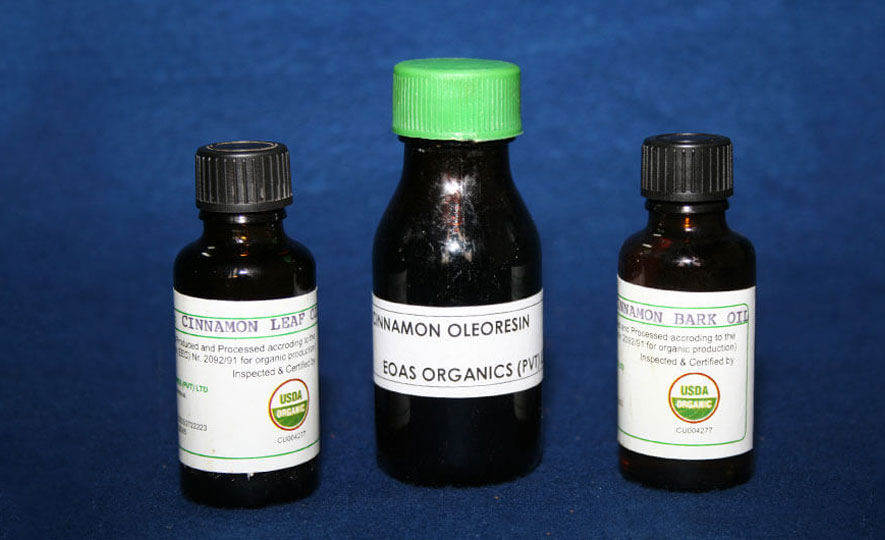 2020-06-15
Obtained from the barks and leaves of trees that are scientifically known as Cinnamomum zeylanicum, Cinnamon oil is known for its numerous uses and health benefits.
Cinnamon oil of the highest quality is manufactured in Sri Lanka, using Ceylon Cinnamon the finest of the cinnamon in the world. Ceylon Cinnamon oil is admired for its unique fragrance when compared to other essential oils.
Cinnamon oil is made from the leaves or the bark of the plant. Cinnamon leaf oil carries a musky and spicy aroma along with a light-yellow tinge that differentiates it from the red-brown colour of the cinnamon bark oil. Extracted from the outer bark of the tree, cinnamon bark oil is considered to be expensive for day to day use since they are extremely refined.
Benefits of Cinnamon Oil
Cinnamon leaf and bark oil provide a multitude of benefits across many industries mainly due to its strong antibacterial, antifungal, antidiabetic, and antioxidant properties (1)
Health Benefits of Cinnamon Oil
The antibacterial qualities of cinnamon oil help to control some of the drug-resistant bacteria that affects plants, people, and other animals. (2) It's antibacterial and antifungal properties also makes it a potent medication against microbial agents that cause tooth decay and cavity.(3)
In addition, Cinnamon bark oil has been proven to be a safe, effective, and non-chemical additive alternative that can be used to preserve products and increase their shelf life.(4)
Antioxidants in cinnamon help in reducing the risks of cancer, diabetes, and many other conditions as it lowers oxidative stress.(5)
Nutritional benefits of Cinnamon Oil
The major compounds present in the cinnamon essential oil are cinnamaldehyde, camphor, cinnamyl-acetate, caryophyllene, trans-α-bergamotene, caryophyllene oxide, linalool, geraniol, bornyl acetate, α-cubebene, γ-elemene, α-copaene, guaiol, and eugenol, among others.(6)
The nutrients get to play a small role in a regular diet as only a small amount is added to the food. The antiviral and antifungal properties of cinnamon oil are a result of Cinnamyl acetate, Cinnamyl alcohol, and Cinnamaldehyde found in the oil.
Benefits of Cinnamon for Mental Health
Cinnamon oil is often used in aromatherapy to relieve stress and to improve alertness and positive perception. The oil supports improved concentration. Cinnamon oil can stimulate relaxation of mind and reduce depression caused by general debility and weakness, mental fatigue, and tension.
Cosmetic benefits of Cinnamon
Cinnamon oil reduces the development of certain protein biomarkers on the skin that are caused by inflammation and tissue remodelling. Moreover, the anti-inflammatory properties of cinnamon oil reduce rashes and acne. When mixed with a carrier oil cinnamon oil can reduce the occurrence of dandruff, thinning of hair, and hair fall.
Industrial uses of Cinnamon Oil
Cinnamon essential oil is widely used in many industries including alternative medicine, pharmaceuticals, cosmetics, aromatherapy, and food and beverages.
Use of Cinnamon Oil in the Alternative Medicine Industry
Over the years, cinnamon oil has been identified to be an effective ingredient to treat various conditions. Medications that relieve hay fever symptoms include cinnamon bark oil extracts as well as over the counter medication for irritable bowel syndrome.
Cinnamon oil mixed with carrier oils is used as a massage oil and liniment. Due to its analgesic, antiseptic, antibiotic, and astringent qualities, cinnamon oil is used in the production of medicine that treats conditions such as infections, arthritis, and general aches and pains.
Use of Cinnamon Oil in the Cosmetic Industry
Cinnamon oil is widely used in the production of soaps, lotions, liniments, face washes, toothpaste, and mouthwashes. The anti-bacterial quality of Cinnamon oil refreshes the breath, making it an often-used ingredient in the production of chewing gum and other dental products.
Used in the production of perfumes, the oil is known to blend perfectly with the oriental woody notes and sits well with frankincense aromatic resins creating sweet and diffusive radiation. It gives the perfumes a touch of spice, warmth, and sweetness.
Cinnamon oil is also a highly recommended ingredient used in the production of soap. Its antibacterial properties and the undeniable spicy aroma make it a popular ingredient used in most soaps found in the market.
Cinnamon Oil and Aromatherapy
Cinnamon oil is an essential ingredient in aromatic oil preparations. The oil has the ability to accelerate the treatment process in various herbal remedies and enhances the effectiveness of the other herbs and oils in the mixture, by increasing the blood circulation in the body. The antibacterial properties of the oil help to remove bacteria in the atmosphere.
Cinnamon oil reduces depression, faintness, and exhaustion. It also strengthens immunity and stimulates libido. Its warm, relaxing and uplifting fragrance freshens and deodorizes the indoor environments when diffused. It is used to reduce irritability, lethargy, unhealthy cravings, and any tendency to overindulge when eating. Cinnamon oil can also be diluted with water and used for a sweet and spicy scented aromatic bath.
Use of Cinnamon Oil on Food and Beverages
Cinnamon oil is also widely used in the food and beverage industry as a food grading oil, especially to add flavour to sugar-free items such as gum, tea, candy, and baked goods. It is widely used as an addition to hot beverages such as tea due to its ability to delay gastric emptying and to maintain a healthy digestive system. Therefore, Cinnamon oil can be considered as a healthy food additive. The addition will also help in further preservation of the food according to certain studies. This also motivates the use of natural antifungal food additives instead of chemical-based additives.
The connection between Cinnamon Oil and Pharmaceutical Products
Cinnamon essential oil is also used as an ingredient in manufacturing pharmaceutical products mainly due to its proven antioxidant, anti-inflammatory property and its ability to inhibit platelet aggregation. Cinnamon oil improves blood circulation and enhances immune function by reducing oxidative stress in the body. It also has the ability to battle the root causes of many diseases such as radical damage and inflammation since it boosts iNOS, which is an enzyme that produces Nitric acid. Cinnamon oil itself is named as an official drug in certain countries. Medicine that includes cinnamon oil as an ingredient is mostly consumed for the treatment of gastrointestinal disorders and conditions such as diarrhoea, nausea, flatulence, and vomiting.
Production and Distribution
Cinnamon oil can be extracted from either the leaves or the bark of the Cinnamon plant. Cinnamon leaf oil is extracted using steam distillation and water distillation. The leaves harvested from the trees are left to be dried for several days, before being water steam distilled to extract the oil from the leaves.
Cinnamon bark oil is best extracted in the soxhlet extraction method, where cinnamon sticks are crushed into small pieces and stuffed into the main chamber of the soxhlet extractor. Ethanol is the solvent used in this process, where it is heated at a temperature above 100°C for 5 to 10 hours. After this, the extracted oil is collected and purified.
Producers of Cinnamon Oil
Cinnamon is a plant that is native to Sri Lanka. Ceylon Cinnamon is the type that is widely sought after in the global market. There are a large number of cinnamon and other spice exporters found in Sri Lanka where around 350,000 families engage in this industry. Sri Lanka produces 26.9% of the international cinnamon production and output. Other countries that engage in Cinnamon production include India, Nepal, Bhutan, and Pakistan. Out of this context, the plant is also grown commercially in Brazil, Java, Madagascar, Vietnam, West Indies, and Zanzibar.
Target markets for Cinnamon Oil
Globally, cinnamon products are mainly distributed in the South Eastern Hemisphere. The main buyers for Ceylon Cinnamon are Mexico, USA, and Peru In these discussed contexts, more attention has to be given to the industries that require the product of Cinnamon essential oil. Medicine manufacturers, Food additive manufacturers, and manufacturers of Cosmetic products can be considered as frequent buyers of the product.
The Potential of The Market
The market for cinnamon oil shows great potential when considering the product benefits derived from many industries. Seeing the foreseen potential, manufacturers in countries such as China have started to put in advanced technology and financial assets in order to gain the maximum benefit of the product.
During the past years, there has been a significant increase in the demand for spices globally including an increase in usage of cinnamon oil in the Pharmaceutical and Cosmetic industry. Taking this as an opportunity, there has been a parallel increase in production by producing countries such as Sri Lanka, Indonesia, and China.
The European region is a major buyer of cinnamon, out of which the United Kingdom, Italy, and Belgium import larger quantities of Ceylon cinnamon. This market opportunity is aided by rising import levels and favourable prices. Just like any other market, the product quality is highly examined in this context. The rate of rejection is high for any product which is identified as unsafe. (7)
Other than cinnamon oil, Sri Lanka also exports cinnamon powder and tablets in large quantities. In order to maintain the quality of Ceylon cinnamon, quality standards have been introduced to local producers. This has resulted in the improvement of production, storage facilities, transport, and other support services that are involved in the production and distribution of cinnamon resulting in higher quality in the output of the Ceylon Cinnamon Product line.