EDB organized a Tech Pavilion for INFOTEL – 2019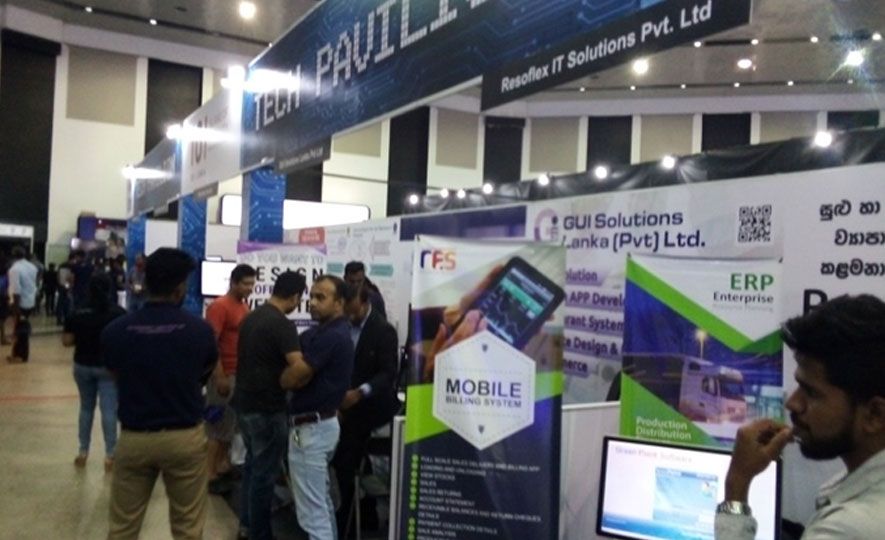 2019-08-11
The Export Development Board organized a Tech Pavilion for the 4th consecutive year at the INFOTEL exhibition with the intention of providing an opportunity for ICT companies & startups to promote their services/technologies and to meet both local and foreign clients. The companies/startups who exhibited at the exhibition commended on EDB efforts and said that they were able to gain exposure in the ICT/BPM industry and that experience can be leveraged to develop their business models.
Five ICT/BPM companies namely, Resoflex IT Solutions (Pvt) Ltd, Somro BPO Services (Pvt) Ltd, FIDA Global (Pvt) Ltd, GUI Solutions Lanka Pvt Ltd, Data One Solutions (Pvt) Ltd and 06 ICT start-up companies namely, Xeptogon Pvt Ltd, Enhanzer (Pvt ) Ltd, RN Innovations, Effective solutions, Thingerbits (pvt) Ltd, Directpay (Pvt) Ltd. exhibited in the EDB Tech Pavilion. It was a great pitch to showcase their technologies to a wide audience and the outcome was satisfied. The exhibitors were able to meet potential buyers for joint venture opportunities, to generate more local and foreign leads, as well as to do brand awareness & product marketing.
GUI Solutions Lanka (Pvt) Ltd. Managing Director Mr. Sudath Arangala stated: "That was very exceptional as EDB provided greater assistance and create possibilities for small and medium-sized businesses to expand their business locally and internationally. Further, without help and guidance of EDB, we would not be participating there as we are not in a position to afford it."
Data One Solutions (Pvt) Ltd. Head of Operations Mr. Santhosh Jayasinghe stated: "We have successfully participated at the INFOTEL, under the EDB Tech Pavilion organized by the Export Development Board of Sri Lanka. We received few inquiries from overseas and many local visitors at the Exhibition. I'd like to take this opportunity to thank EDB for their support."
Also they explored the new technology of the ICT sector and gained market intelligence on the cutting edge strategies used by their competitors to be a part of the Global Value Chain.
Moreover, according to the INFOTEL exhibition organizer FITIS, the exhibition was visited by over 50,000 visitors, over 10 million reached via mass media and over 4 million reached via social media.
INFOTEL 2019, the biggest and most prestigious Information and Communication Technology (ICT) exhibition in Sri Lanka and the South Asia organized by FITIS (Federation of Information Technology Industry Sri Lanka), successfully was held from 01st to 03rd November, at the Bandaranaike Memorial International Conference Hall (BMICH) in Colombo for the 27th consecutive year under the theme "Towards a Digital Nation".
The scope of the INFOTEL has grown over the years and also features ICT education and training, software solutions, hardware and digital devices, mobile computing, systems integration, computer gaming, cloud computing and emerging technologies which are conducive to economic development of Sri Lanka have been added in the exhibition.