Visit Sri Lanka Country Pavilion at Japan IT Week from May 10 -12, 2017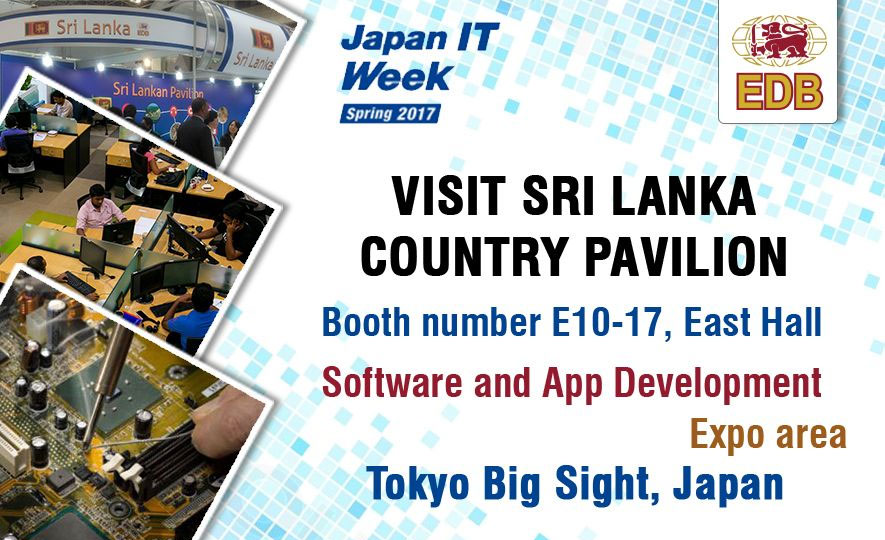 2017-05-05
Japan IT Week, the largest IT trade show in Japan, is a single location solution offering latest IT technologies and solutions. Organized by Reed Exhibitions Japan Ltd and to be held from May 10 to 12, 2017 at Tokyo Big Sight, an International Exhibition Center in Tokyo, Japan, the Japan IT Week will see the gathering of a great number of IT professionals of various disciplines.
The exhibition will provide a large number of opportunities for professionals, vendors, service providers and customers to meet the exhibitors from across the world in person and develop profitable business relations, making it an ideal platform to showcase technological innovations which Japan is synonymous with.
The Sri Lanka Export Development Board (EDB) with the collaboration of the Sri Lanka Embassy in Japan is organizing Sri Lanka pavilion at the Japan IT week at the Booth number E10-17, East Hall at the 26th Software and App Development Expo area.
In Addition, a seminar organized by the EDB in partnership with the Japan Information Technology Services Industry Association [JISA] and JETRO – Japan on 9th May at the TJK Plaza, Chiyoda-ku, Tokyo is designed to enhance the awareness about Sri Lankan IT sector in Japan. This will be followed by B2B meeting session. More than 20 Japanese companies are already obtained registrations for the Sri Lanka IT seminar and registrations are catching up according to services of JISA and JETRO.
Currently Sri Lankan ICT sector innovate business solutions using RPA technology and achieved great progress. Sri Lankan ICT sector is confident how a well-defined automation journey driven by RPA enhances Customer Service while maximizing the returns on automation investments.
Sri Lankan IT Industry Solution providers are no strangers to the Japanese IT sector with many companies providing software, mobile, big data solutions for leading Japanese companies such as Hitachi, FUJITSU, CANNON IT Solutions Inc. Those lines of businesses have generated considerable contribution for the export earnings of Sri Lankan ICT sector and expected to inject more revenue to the country. ICT exports are now close to one billion rupees and targeted to reach 5 billion rupees in 2022 with 200,000 ICT professional employees
Eight Sri Lankan ICT companies are exhibiting their software products and services at Japan IT Week 2017.
Company

Services

HSenid Software International Pvt. Ltd

Mobile Solutions
Business Solutions and Outsourcing Services
IoT products for the Japanese market.

Brandix i3 Pvt. Ltd.

ERP Consulting,
Business intelligence,
Managed Services,
Enterprise Software Development, Enterprise integration & Mobility

Eyepax IT Consulting Pvt. Ltd.

Software Development Services
Web Development
Mobile Development
Quality assurance services
Dedicated Offshore Teams.

S.A Knowledge Services Pvt. Ltd.
(Subsidiary of Orion Development Pvt. Ltd.)

Finance and Accounting/Bookkeeping services
Research & Analytics and Contact Center Services
Software Development

Pixel Clear Pvt. Ltd.

Web Designing,
Search engine, optimization(SEO),
Social media marketing(SMM),
Pay per click marketing(PPC),
Content Marketing,
Strategic Email marketing,
E-Commerce

zMessenger Pvt. Ltd.

Mobile App Development Services-IOS/Android
Mobile Value-added services
Virtual Reality products-Immersive experiences in Construction and Gaming,

Synergy Technology Labs Pvt. Ltd.

System development (hardware devices, embedded
firmware, backend and server software) for the
customer requirements in the IoT market
Scio Cardio ECG Monitor- wearable device
Patient and Staff tracker for Hospitals)

Talliance (Pvt.) Ltd.

Magento Ecommerce development (theme, extensions, integration, migration)
iOS and Android mobile development
Conceptualization, development of MVP, product engineering for Start-ups
Download here the Japan IT Week Brochure prepared by EDB