Meet Sri Lankan ICT Exporters at ICT Spring 2023 Luxembourg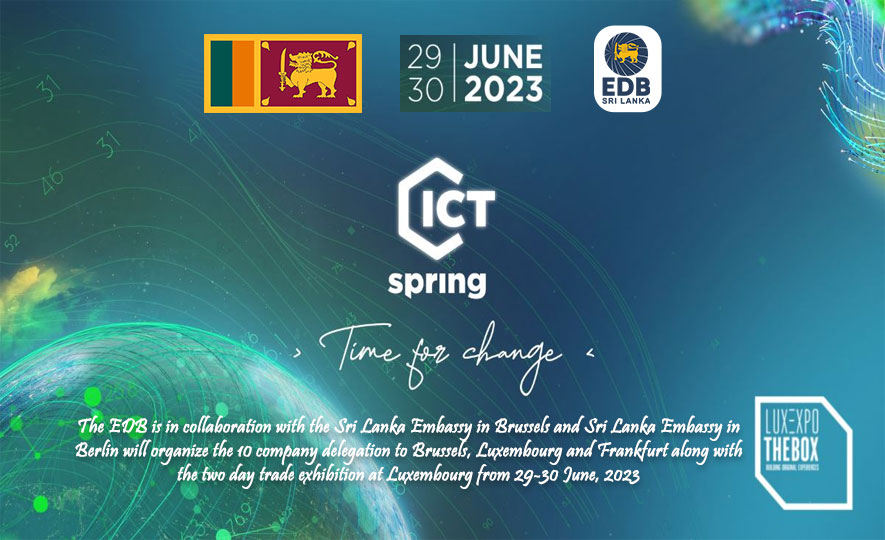 2023-06-16
The EDB is in collaboration with the Sri Lanka Embassy in Brussels and Sri Lanka Embassy in Berlin will organize the 10 company delegation to Brussels, Luxembourg and Frankfurt along with the two day trade exhibition at Luxembourg from 29th- 30th June, 2023. https://www.ictspring.com/
About ICT Spring
ICT Spring creates networking between business decision-makers, innovation managers, startups, researchers and venture capitalists on a European scale. ICT Spring is a centre piece of Luxembourg's event calendar and one of the top European tech conferences inspiring delegates across a variety of important topics. Key areas of focus are the growth of sustainability to catalyze transformation, Finance & Technology, Cyber & Quantum computing, Big Data & Cloud, Health Technologies, Web3, AI.
The event consists of two days of dense program, an exhibition area, workshops, specific happenings and the ICT Spring party the first evening. The exhibition area hosts startups, companies focused on new and innovative ideas, tech giants and international pavilions.
Sri Lanka Pavilion will locate at B 23 of the ICT Spring.
| | | |
| --- | --- | --- |
| 27th June | – | Business meetings in Brussels |
| 28th June | – | Business meetings in Luxembourg and company visits |
| 29th - 30th June | – | ICT Spring exhibition in Luxembourg, B2B meetings and tech conference |
| 01st July | – | Networking meetings in Frankfurt with the assistance of SL mission Germany |
Further the Luxembourg Chamber of Commerce will provide plethora of opportunities for the Sri Lankan delegates.
Meeting at the Luxembourg Chamber of Commerce with other visiting delegates around the world & Welcome @ Luxinnovation and tour of Innovation area followed by a presentation of Luxembourg's flagship sectors, visit to Startup Luxembourg @ the House of Startups.
List of Companies participating at Sri Lanka Country Pavilion ICT Spring 2023
Company Name & Address
IT products (Brands)/Services
Contact Details
Arimac Lanka Pvt Ltd
No 02,
6th Lane,
Colombo 03,
Sri Lanka.
- Enterprise software Development
• Web and mobile bespoke solutions to fulfil business needs
• Product Suites
- Arimac Customer experience suite
• Arimac eCom Suite
- Immersive Technology Deployment
• Augmented Reality solutions
• Virtual Reality solutions
- Process Automation
• Identifying manual process deficiencies through design research and automating end to end business processes
- Robotics
• Humanoid Robot for front end concierge services
- Chatbot as Service
• Providing AI enabled chatbot services for seamless communication
- Gamification
• Applying gamification mechanisms to marketing and business propositions.
- Design Anthropology Services
• Providing end to design and UX research to formulate ergonomically and functionally seamless user experience in software solutions

Mr. Chamira Jayasinghe


Founder CEO


+94 077 139 2306


[email protected]




www.arimaclanka.com
Enhanzer
No 114 3/A,
2nd Lane,
Battaramulla,
Sri Lanka.
- EZuite – modern Cloud ERP platform for digital process automation
• 100% cloud based modern, modular designed platform, specially designed for supply chain automation with local language support along with the subscription based pricing model

Mr. Lashan Silva


Founder & CEO


+94 071 257 0902


[email protected]




www.enhanzer.com
IronOne Technologies Pvt. Ltd
11th Floor DHPL Building,
No 42, Nawam Mawatha,
Colombo 02,
Sri Lanka.
- AI enabled Stock trading product modules
• Artificial Intelligence (AI) powered ESG, Carbon Netzero promotor of Stock Trading – ATrad ESG Carbon neutral stock Trading platform
• Artificial Intelligence (AI) powered modules as stock pickers in emerging markets for the stock Trading platform
• Artificial Intelligence (AI), Machine Learning (ML), Deep Learning (DL) and Data Science product for ESG and Carbon Netzero promotion of stock picks.
• This is a highly differentiated stock trading module to promote country wide, companywide Carbon netzero and sustainability drives. Other trading solutions have only generic trading offerings and do not 'dedicatedly' focus on the importance of carbon and sustainability.
• Artificial Intelligence (AI), Machine Learning (ML), Deep Learning (DL) and Data Science product to be an enabler for picking stocks for trading based on profitability and other measures of the company's overall stand and behavior which includes non-financial aspects. This is unique as the standard stock products purely only look into the financial models and do not pay a high attention to the non-financial and environmental aspects.

- AI enabled Netzero and sustainability executive and board level dashboards
• Artificial Intelligence (AI) powered ESG Carbon Netzero Board and Executive Analysis dashboards
• Artificial Intelligence (AI), Machine Learning (ML), Deep Learning (DL) and Data Science product for executives and Board members with summarized powerful clear analytics to make decisions at the right time.
• Artificial Intelligence (AI), Machine Learning (ML), Deep Learning (DL) and Data Science
• IronOne Technologies AI labs are in a strong position to venture in to providing our service in the Ai sphere. With experience through our ongoing services and projects to global banking/Financing service needs with our US partner we have garnered the expertise to move to other capabilities in the AI space in Machine Learning, Deep Date Learnings, Data Science, Natural Language Learning in areas such as Transportation and Logistics, HealthCare Tech, Agri Tech, Insurance to name a few.
• Highly skilled experienced team of AI professionals and an AI lab environment for European Companies to use in a plug and play environment.
• Cost competitive, highly skilled AI professionals.
• Industries covered have a wide range including Fintech, Manufacturing, Retail, Marketing, Energy, Agritech, Spacetech, Robotics, Hardware and chip manufacturing and more.
• Business and Technical consulting in the field of Artificial Intelligence (AI), Machine Learning (ML), Deep Learning (DL) and Data Science
• Highly skilled experienced team of AI professionals and an AI lab environment for European Companies to use in a plug and play environment.
• Cost competitive, highly skilled AI professionals.
• Industries covered have a wide range including Fintech, Manufacturing, Retail, Marketing, Energy, Agritech, Spacetech, Robotics, Hardware and chip manufacturing and more.

Ms. Lakmini Wijesundera


Founder & Executive Director


+94 077 739 5325


[email protected]




www.irononetech.com
L G O Technologies (Pvt) Limited
No. 58/45 L,
Makandana,
Ananda Balika Mawatha,
Pitakotte,
Kotte,
Sri Lanka.
- LgoYouShop
• Retail POS Solution for merchants to efficiently operate their business and compete against aggregates
- LgoYouRestp
• Restourent POS Solution for managing tables, menus, orders and payment from one single dashboard
- LgoYouVas
• Agent marketplace to make financial services more accessible to people in deep rural regions
- Excellence beyond the Cloud
• Tech based on-line training platform
- On-line training sessions
• A complete POS system for Retail with Integrated Market place
- All above products would be the B2C products only
• Solutions enables on-line and in-store retail business management , Accounting and Marketing from a single dashboard

Mr. Lalith Gangewatte


Chairman/Managing Director


+94 070 233 8866


[email protected]




www.lgotech.com
Softcodeit Solutions (Pvt) Ltd
No. 48/7,
Rajamalwatta Road,
Battaramulla,
Sri Lanka.
- Temenos Infinity Digital Banking Platform
• Q2 Digital Banking Platform
• Customization services for Banks and Financial Institute with Temenos Digital Banking and Q2 platforms
• Dedicated Offshore Teams
- Custom Software Development
- Software Quality Assurance
- Mobile App Development
- Cloud Solutions
• Cloud application, Software Application, AR/VR Mobile Games, Native and Hybrid Mobile App development, Software QA services
- Data Analytics Services
• Data Analytics and Big Data Services for Retail and Consumer areas
- PodCastLister BoatLister
• Pod cast listing application Boat Selling platform

Mr. Damitha Jayarathna


CEO


+94 077 734 2529


[email protected]




www.softcodeit.com
Sri Lanka Telecom PLC
Lotus Road,
Colombo 01,
Sri Lanka.
- mCash Fintec platform
• Mobile Money Platform. Developed & deployed in Sri Lanka in 2015.
- Call Centre platform
• BPO services with Call Center, Network Operations Center, Security Operations Center outsourcing facilities
- Consultancy on following areas
• Digital Transformation
• Information Security Management
• Telco Softwarization
• Data Center Implementation
- Telco Infrastructure Planning and Development
- ERP System with following facilities
• PoS (Point of Sale) system
• Financial Accounting module
• Restaurant management module
• Kitchen management module
• HR & Payroll module
- Telecom Infrastructure planning and deployment
• As SLT who has experience in planning and developing more than 65000 km in fiber and copper, more than 2000 base stations in LTE can offer expert knowledge in similar capacity developments
- ICT Infrastructure Projects
• With the experience of developing own Tier-3 Data center on its own, country wide surveillance systems and etc. SLT can offer technical expertise in similar capacity projects

Ms. Dhanushka Medagama


Deputy General Manager – Global Business


+94 071 533 4853


[email protected]




www.slt.lk
Start ups
Huex Pvt Ltd.
No 1/2,
25 Lauries Road,
Colombo 04,
Sri Lanka.
- Liima
• Liima is a Smart Digital Business card that an individual or business can use to share contact information and get meaningful insights to improve their marketing.
- huex
• huex offers a comprehensive range of services, including User Experience Design (UX), Web Application Development, iOS Application Development, and Android Application Development. Our engagement models include the Build & Scale Elastic Teams model, Hourly Rate Model, and Fixed Cost Model, allowing you to choose the option that best fits your specific needs. The Build & Scale Elastic Teams model enables you to build a custom team of experienced experts with the right skills and attitude for your project and easily adjust the size as needed. All administrative tasks are handled by huex, ensuring a seamless flow for a hassle-free experience. With huex, you can expect top-notch design and development services combined with flexible engagement options to suit your requirements.

Mr. Gobinthiran Kulendran


CEO


+94 077 151 6186


[email protected]




www.huex.io
Prime One Global (Pvt) Ltd (SL)
No 146B,
Goodshed Road,
Thonikkal, Vavuniya,
Sri Lanka.
- Performance marketing, Business Intelligence and data analytics
• Mainly focusing on Europe and USA market

Mr. Sharanyan Sharma


Managing Director


+94 077 137 9653


[email protected]




www.primeone.global
Xeptagon (Private) Limited
Colombo Innovation Tower (CIT),
No. 477,
R. A. De Mel Mawatha
Colombo 04,
Sri Lanka.
- Scheduling (IPS) System
• The Xeptagon IPS system is a real-time production scheduling system for the manufacturing industry. The system uses AI to optimize various resources available in a factory such as machines, manpower and raw materials. The system uses IoT devices for real-time feedback, remote monitoring of the machines and efficiency audits.
• The system will actively monitor machine vibrations and identify machine faults at a very early stage before it is too late for predictive maintenance.
• Apart from cost savings through optimization, the system also enables factories to easily schedule rush orders, schedule machine maintenance and handle unforeseen scenarios such as machine breakdowns.
• Xeptagon IPS was selected for the Berlin Landing Pad 2022 Program, which is funded by the European Union as a response to the Covid-19 pandemic and supported by the Berlin Senate. Xeptagon was also one of the top 10 finalists out of 300 participants in the Asia Berlin Summit Start-up pitch competition 2022. The IPS system is currently deployed in a Factory with operations in Sri Lanka, Kenya and Fiji.
- Block chain-based Carbon Registry
• Xeptagon is currently developing a blockchain-based Carbon Registry. This advanced system leverages private blockchain technology for improved transparency. It will facilitate the issuance, transfer, certification, tracking and other required tasks of the carbon credit lifecycle. The system is currently deployed for an Inter-governmental organization headquartered in New York, USA. A National MRV (Measurement, Reporting, and Verification) system will also be deployed for multiple countries in the second phase of the project.
- Advanced Software Development Services
• Xeptagon also provides full-stack software development services to various clients. The Xeptagon development team possesses core R&D skills in developing state-of-the-art software solutions with development exposure and know-how in Low Latency Solutions, Scalable Distributed Systems, Artificial Intelligence, Machine learning, and Data Science along with Full Stack Development. Our innovative state-of-the-art software solutions have enabled business enterprises, inter- governmental organizations, global universities and start-ups to achieve a competitive advantage. Our current clients span across the globe with clients from Hong Kong, Hungary, Norway, Singapore, Sri Lanka and the USA.

Dr. Sapumal Ahangama


CDirector & Co-Founder


+94 071 825 3487


[email protected]




www.xeptagon.com
Visitor
Sterling BPO Solutions Pvt Ltd
No 12A/005, .
Church Road,
Liyanagemualla,
Seeduwa,
11410,
Sri Lanka.
- Web Application Development
- Cloud Application Development
• Microsoft Dynamics
• WordPress
• Wagtail - Custom Software Development
- Mobile Application Development
- Call Centre Solutions
• Inbound
• Outbound
- Helpdesk Support ( 24/7 )
• Desktop support
• Microsoft 365 support
• Remote working support
• Backup and recovery management
- Email security and phishing defence

Mr. Prasad Siriwardena


CEO


+94 077 766 6988


[email protected]




www.sterlinglanka.com