Meet With Sri Lankan Food & Beverage Product Exporters at Seoul Food and Hotel Show 2023 in South Korea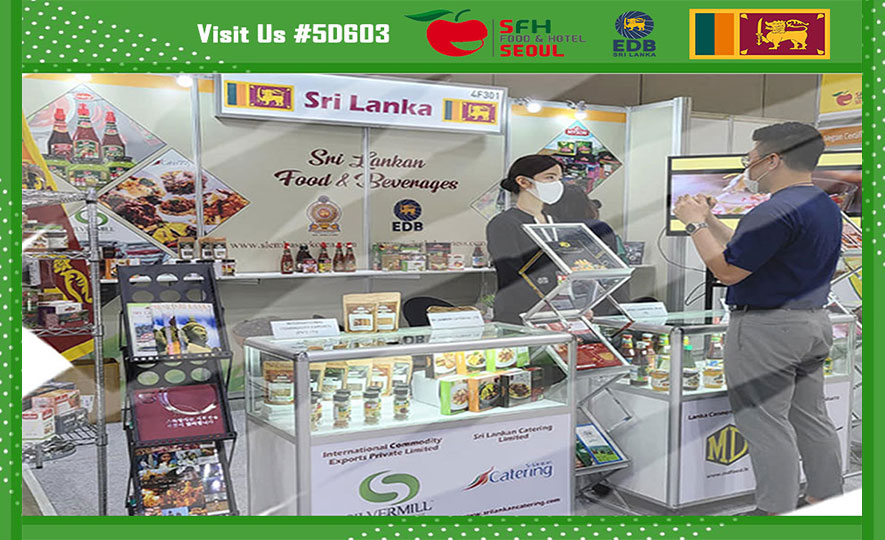 2023-05-10
EDB is organizing the Sri Lanka country pavilion at "Seoul Food & Hotel Show 2023", to be held from 29th May to 2nd June, 2023 in Seoul, South Korea in collaboration with Sri Lanka Embassy in South Korea with the presence of 6 Sri Lankan export companies to promote Coconut based products, Essential oils, Process food & beverages, Spices & concentrates & Fisheries products.
The 16th Seoul Food & Hotel Show 2023 (SFH), is organized by the Korea Trade-Investment Promotion Agency (KOTRA) in partnership with an exhibition organizer "Informa Markets", to promote Food and beverage sector, including Tea, seafood, dairy, processed foods, food ingredients, snacks & confectionaries and beverages.
SFH 2023 will not only create opportunities to connect suppliers with business partners, but also provide industry orientation with new products and innovations. SFH 2022 was organized with a scale of 1,743 booths, 966 exhibitors from 28 countries & territories and more than 38,000 trade visitors from all over the world.
The event will be held in Korea International Exhibition Center (KINTEX). Sri Lanka will be showcasing their products at Sri Lanka Country Pavilion, which will be located housed at Food International, Hall No. 05 and Pavilion No. "5D603".
List of Companies participating at Sri Lanka Country Pavilion at SFH South Korea 2023.
Stall
Company
Product Details
Contact Details
01
Abey Marine (Private) Limited
No. 341 B,
Mahawatta Road,
Arawwala,
Pannipitiya,
Sri Lanka.


+94 011 709 0222


www.sunrich.org
Coconut based products, spices and canned fish

Mr.Vinodhini Navarathne


Manager


+94 077 077 9787


[email protected]

02
Gain Holdings Lanka (Pvt) Ltd
No. 632/1c,
Thunadahena,
Kaduwela,
Sri Lanka.


+94 077 772 7860
Kithul Treacle/ Kithul Jaggery

Mr.Gayan Hettiarachchi


Director


+94 077 772 7860


[email protected]

03
Southern Cinnamon
No.395/A,
Parakrama Road,
Madakubura,
Karandeniya,
Sri Lanka.


+94 076 287 1875
Value added Cinnamon

Mr. T. Peiris Thushara Sampath


Manager


+94 076 287 1875


[email protected]

04
New Lanka Cinnamon (Pvt) Ltd
260/1, Weralu Anduwawa,
Mahaedanda,
Karandeniya,
Sri Lanka.


+94 091 229 1854


www.newlankacinnamon.lk
Cinnamon, Products of Cinnamon (Cinnamon Tea, Powder) Pepper

Mr. Amila R. Siriwardena


Managing Director


+94 077 262 2196


+94 091 229 1854


[email protected]

05
Worldwide Commodities (Pvt) Ltd
No. 35/03,
Athurugiriya Road,
Rukmale,
Pannipitiya,
Sri Lanka.


+94 011 218 9555


www.wwc.world
Essential Oils (Black Pepper, Ceylon Cinnamon)

Mr. R.N. Samarawickrama


Director


+94 071 201 4535


[email protected]

06
Jayalanka Suppliers
No. 212/49,
Bodhiraja Mawatha,
Colombo 11,
Sri Lanka.


+94 077 602 0001


www.jayalankasuppliers.lk
Dry Fish, Spices, Kithul Products (Sri Lankan Grocery Items)

Mr. Ganidu Ishara


Managing Partner


+94 077 602 0001


[email protected]