SL Embassy in Dubai to host road show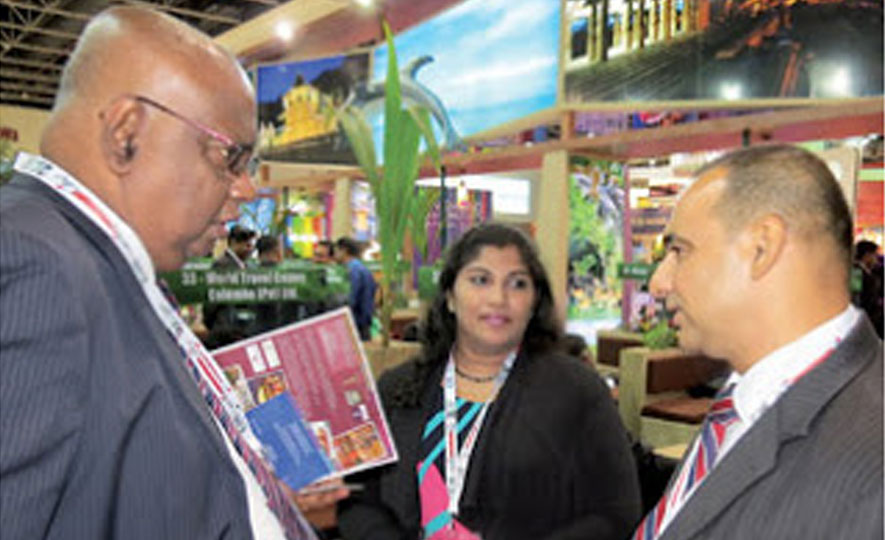 2013-05-08
Ambassador of Sri Lanka in UAE, Dr. Mahinda Balasuriya with Head of Marketing, Airport Aviation Services of Sri Lanka and new Chief Executive Officer, Mattala Rajapaksa International Airport, Derick Karunaratne at the ATM, Sri Lanka stand. Picture by Shirajiv Sirimane
The Sri Lankan Embassy in Dubai would organize a mega three day Road Show in UAE in September to promote tourism and draw more investments to Sri Lanka. The new Ambassador of Sri Lanka in UAE, Dr Mahinda Balasuriya, speaking to Daily News Business said that this Road Show would be conducted in three main states in UAE, Dubai, Abu Dhabi and Fujairah.
He said that he had already contacted the main Chamber in UAE and they had pledged support for the event.
"We will conduct this event with the assistance of the Foreign Ministry of Sri Lanka and would also seek assistance of the Ministry of Tourism, Export Development Board, National Gem and Jewellery Authority and relevant government bodies." Former Inspector General of Police, Ambassador Dr Balasuriya said, that he was using the ongoing Arabian Travel Mart to woo local travel companies to visit this three day event and showcase their products.
Balasuriya said the UAE tourism sector was expanding rapidly and they were on the lookout for staff. "I am planning to have a Sri Lankan Job Bank where all the CVs could be stored and then offered to companies as and when there are vacancies. I have also spoken to some of the leading hotel chains who are ready to employ Sri Lankan hotel school graduates for one year, on a training basis and then absorb them to their permanent cardre."
During training, they would be offered food and accommodation and an allowance. "Similarly, I am also looking for other employment opportunities for Sri Lankans, specially in the health, education and telecom sectors and I am currently working with the UAE chambers in this regard," he added.