Sri Lankan Solid Rubber Tyres -Steering the globe ahead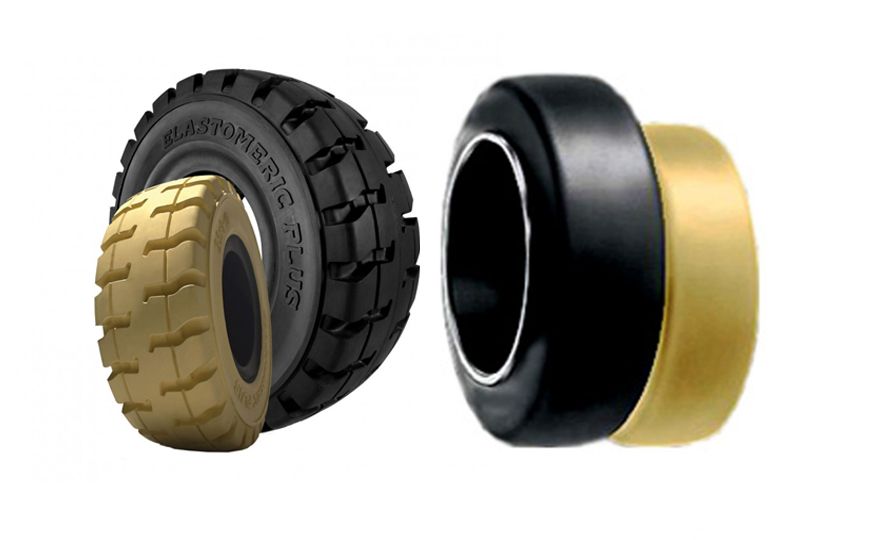 2015-07-27
Manufactured from advanced natural compounds through intricate moulding operations, solid rubber tyres include tyres used in forklifts, land mowers, skate boards, golf carts, scooters and many types of industrial vehicles including heavy trucks, carts and trailers. Unlike the pneumatic tyres, solid tyres are not filled with air and can endure high pressure and weight without bursting and are more durable for wear and tear, that occurs when handling industrial type weight.
Sri Lankan tyre manufacturers cater to nearly 20% of the global solid tyre demand, with many Sri Lankan producers developing specialised moulding methods and compounds to serve the growing technical specificities of the industrial world.
One of the most technically specified tyres made in Sri Lanka are the non-marking white solid rubber tyres, that does not makes black marks on the ground when in use. Specially designed to be used indoors for specified hygienic and industrial functions such as at pharmaceutical, food manufacturing, paper pulp manufacturing, textile manufacturing and aerospace facilities.
Suitable for forklift applications the value added qualities of non-marking white solid tyres include puncture and cut resistance, heavy load bearing capacity, heat resistance, superior shock absorption, reduced rolling resistance and minimum downtime.
Sri Lankan Solid Tyre Manufacturers also produce resilient white or black solid tyres with three layers, that provide extra high durability. With steel rings in the base section to ensure extreme grip and skid prevention, resilient solid tyres allow extra heavy loads to be carried over longer distance at high speeds, while providing high abrasion resistance.
High quality raw material and meticulously developed natural rubber compounds form the base of Sri Lanka's solid tyres, that are being exported across the globe for cargo and heavy load handling under extreme conditions.
Among the other specialised Sri Lankan made solid tyres are the skid steer tyres that are used in heavy vehicles like loaders and excavators. These premium and standard wide solid tyres and two layer press on band tyres are designed to perform high level operation at most demanding environments.
Produced to meet the technical guidelines of the European Tire and Rim Technical Organisation (ETRTO) on capacity, geometry and design of the tyre, Sri Lankan industrial type solid rubber tyres are currently exported to a large number of importers in USA, Germany, France, UK, Belgium and Italy.
Sri Lanka is the market leader in manufacturing solid tyre for world renowned heavy vehicle brands like Toyota, Linde, Fenwick, Jungheinrich, Hyster, Yale, Crown, Komatsu, Liebherr, Sennebogen and Caterpillar among many other.
With supreme quality material and expert knowledge and skills, Sri Lankan solid tyres manufacturers drive the global industrial world literally single-handed.