Meet with leading Sri Lankan Food & Beverage Exporters In the Sri Lanka Country Pavilion at SIAL Paris 2018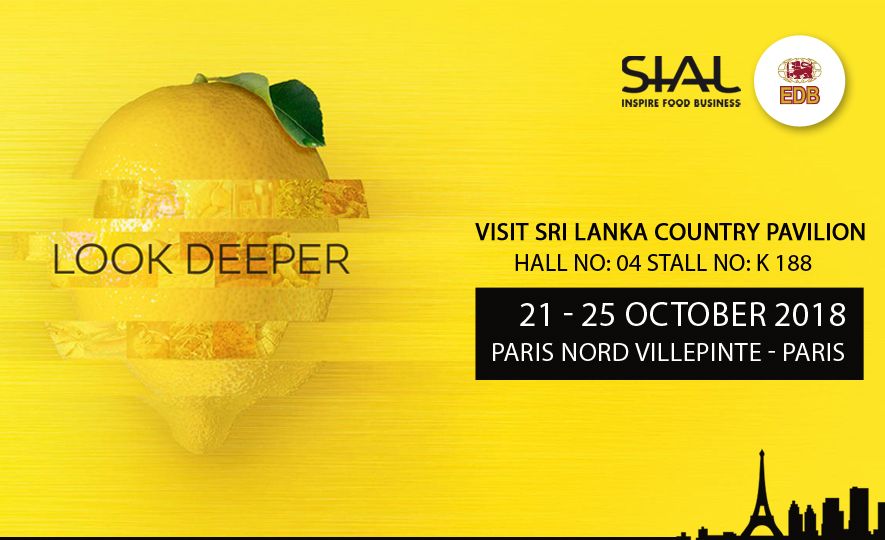 2018-10-17
Sri Lanka Export Development Board, Sri Lanka Tea Board and Coconut Development Authority are organizing pavilions at the Salon International de l'Agroalimentaire 2018 (SIAL 2018), the world's largest food innovation exhibition to be held from October 21 -25 at Paris Nord Villepinte, France. EDB pavilion will be located in the Hall No.4 Stall No. K 188 in the country pavilion section. EDB has organized participation of 14 export companies under the Sri Lanka Pavilion and two SME companies will participate as observers.
Download the list of Sri Lankan Exporters at SIAL 2018
SIAL is dedicated to the agri-food industry, food retail and institutional & commercial catering. SIAL not only provides the opportunity to pinpoint future commercial successes but also to meet with new business partners with a view to fruitful co-operation in the future. All sectors of activity are represented: grocery products, fresh produce and dry goods, frozen food, semi-processed food products and ingredients, seafood products, organic food, meats, and dairy products along with the wine exhibitors, producers and merchants who will enable one to explore a wide variety of wines, produced worldwide. SIAL also showcases the latest food trends in Europe. The exhibition consists of pavilions such as Beverages, Fruits & Vegetables, Organic, Confectionary, Wine & Spirit, Ingredients and Country Pavilion section.
SIAL Paris 2018 is estimated to draw in some 160, 000 enthusiastic visitors from 194 countries who will discover the latest and the most innovative products by some 7200 exhibitors from 105 countries. SIAL Paris 2016 saw 7000 exhibitors from 109 countries, 155,700 visitors from 194 countries. The visitor profile consisted of Retail (55%), Food manufacturing (23%), Food Services (16%), and services (6%). Visitors had come from EU (74%) Middle East (7%), Americas (7%), Africa (7%), and Asia (5%) Among the VIP Attendees were Mr Francois Hollande, President of French Republic, Mr Stephane Le Foll, Minister of Agriculture, Agri-food and Forestry, 16 Foreign Ministers, 70 Ambassadors, and 125 official delegations.
Objectives of Participation in the SIAL 2018
Explore market opportunities for new products
Identify Investment and joint venture opportunities for value added products
Find new buyers for existing products/new products and strengthen existing contacts
Networking with leading companies in F&B sector
Expected to achieve more than US$ 2 Mn business orders during the exhibition
Provide opportunities for new companies to enter to the export market
Promote Sri Lankan brands
Study the competitor price behaviour, packaging, marketing techniques, etc.
Benefits for the Visitors
Discover the latest food trends and innovations
After the major food crises of the '90s and early 2000's, consumers are turning towards food that is perceived as healthier and more ethical.
Eg: Plant based milks or yoghurts, "free-from" products, enriched with super fruits or super vegetables, natural energy drinks. SIAL Paris is therefore giving Alternative Food the space it deserves.
Visit the Alter'Native Food pavilion:
Over the 5 days of the exhibition, retail and food service professionals, along with manufacturers, will be able to exchange ideas and network with each other and find out about everything that Alternative Food has to offer them, in terms of both innovation and opportunity, by way of conferences and roundtables. The Alter'Native Food Forum is also planned to include bilingual guided visits to the sector from two perspectives: alternative ingredients (conducted by experts from NutriMarketing) and health (conducted by experts from Atlantic Santé). The topics proposed include an overview of superfoods, the "clean label", agriculture.
Visit Country pavilion section to see the food products offered and brand promotions done by more than 100 countries in the world
Study the latest technology in food processing, food packaging and labelling.
Identify supply sources for ingredients for value addition
On behalf of the Sri Lankan exhibitors at SIAL 2018, Sri Lanka Export Development Board would like to extend an open invitation to the prospective visitors to call over at the EDB pavilion located in the Hall No. 4 Stall No. K 188 to explore this broad range of Sri Lankan food and beverage, and meet with representatives from these leading food & beverage exporters from Sri Lanka.