Sri Lanka Participation at the Seafood Expo Global 2017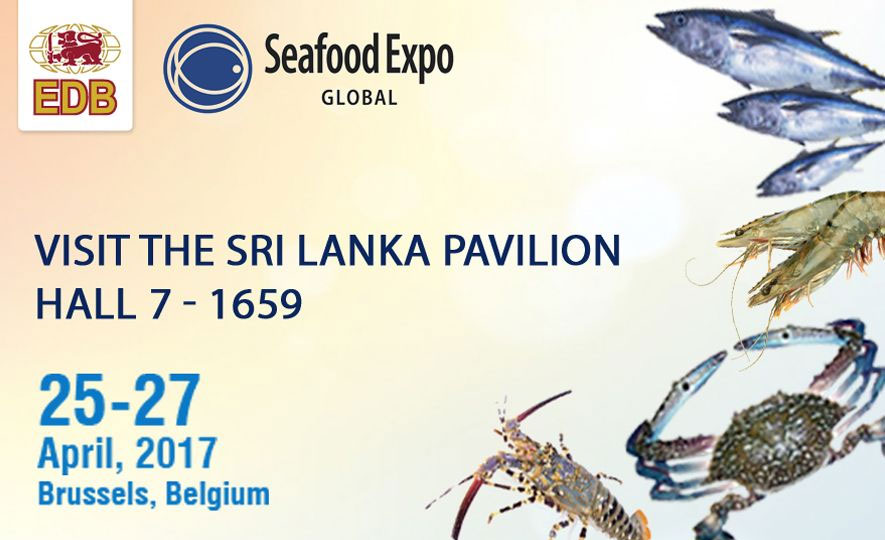 2017-04-19
Seafood Expo Global 2017, the world's largest seafood trade event will take place at Brussels Expo in Brussels, Belgium from April 25 – 27, 2017 with the participation of over 1700 exhibiting companies from over 80 countries and more than 26,000 buyers, suppliers, media and other seafood professionals from over 140 countries.
The three-day event is a bustling meeting and trading point for seafood exporters, seafood related service providers and buyers from various sectors including owners, proprietors, executive purchasing managers, category managers, private label program buyers and equipment and packaging buyers from retail, foodservice, and other categories in need of food and hospitality services.
The country pavilion organized by the Sri Lanka Export Development Board (SLEDB) will be one of the 68 country pavilions at the Seafood Expo Global 2017 (SEG 2017) with the participation of eight leading Sri Lankan seafood exporters specializing in fresh chilled, frozen and processed seafood.
The exposition provides a unique opportunity for exhibitors to meet buyers searching to purchase;
Fresh fish and seafood
Frozen fish and seafood
Value-added seafood
Processed and packaged fish and seafood
As well as meet international seafood industry service providers including processing and packaging equipment suppliers and freight forwarders and logistical service providers.
Opportunities for Participants
Continuous participation at the exhibition will strengthen the relationship with the existing buyers, showcase competencies and capabilities of Sri Lankan seafood industry especially with regard to product quality, enhancing Sri Lanka's image among the exposition visitors.
The participants will also be able to identify new technology used in the global seafood industry, identify new value-added products, obtain first-hand market intelligence, current market trends, view the products offered by our competitors and their product presentations.
The EU has lifted the ban on Sri Lanka and the Seafood exporters are looking forward to re-establish the contacts with their buyers in the EU. The SEG will be a platform for them to re-build the relationship & plan for future exports.
It is proposed to organize a press conference coincide with the SEG 2017 on 26th April 2017 at 16.00 hrs at Room No. 1125, Hall No.11 (Level 3) at Brussels Expo. This would be good opportunity to publicize Sri Lanka's re-entry to the EU market after a lapse of two years and also to enhance the awareness among the international seafood trade of the tangible measures taken by Sri Lanka over the last few years in creating a robust legal and policy framework to fight against illegal, unreported and unregulated (IUU) fishing activities at global level
List of Sri Lankan Participants at Seafood Expo Global 2017
Company Name

Products on Offer

Contact Person

Email

Website

Global Seafood (Pvt) Ltd.
No. 28, Josephs Lane, Colombo 4.
Tel: 2598831
Fax: 2503390

Frozen Loins/ Steaks
Fresh H & G and Loins
Tuna and other pelagic fish

Prabhash Subasinghe
Tilarni Amath

Jay Seafood Processing (Pvt) Ltd.
No. 86, Thimbirigasyaya Rd, Colombo 5.
Tel: 0112502102
Fax: 0112580508

Processed Fish

Viraj Balapitiya

Tess Agro Limited
87, New Nuge Road, Kelaniya.
Tel: 0112910859
Fax: 0112910615

Fresh Tuna

Dilshan Fernando

Tropic Fishery (Pvt) Ltd
No. 16/1,
Tammita Road, Negombo.
Tel: 0312233656
Fax:0312233348

Sword Fish, Tuna-like species

Roshan Fernando

Lihini Seafoods (Pvt) Ltd
St. Jude Mawatha, Katuneriya
Tel: 0312251100/ 0773866430
Fax: 0312251101

Fresh Chilled Tuna Fish,
Fresh Chilled Sword Fish, Fresh Chilled Reef Fish, and Crustaceans

Malintha Fernando

Rainbow Foods (Pvt) Ltd
70/S, Allan Avenue, Dehiwala.
Tel: 0112716992/ 077720879
Fax: 0112734060

Tuna GG,
Tuna H & G, Tuna Loin, Sword Loin

H.M. Jerome De Silva

Arrow seafood (Pvt) Ltd.
No. 96/B/1/1, Chilaw Road, Kochchikade.
Tel: 0312275899
Fax: 0314545070

Processed Fish

Wanusha S. K. Maragoda

Aloy Expo (Pvt) Ltd
98/14, Averiwaththa Road, Wattala.
Tel: 0112945777

Fresh fish

J.S Aloysius