Nutritious and delicious salads, pickles and desserts in jars from Sri Lanka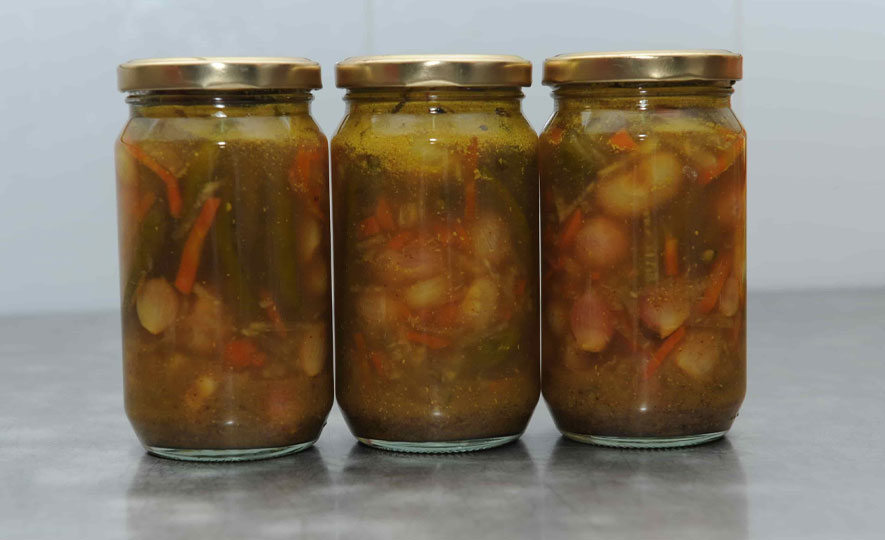 2015-07-16
Made with the freshest pick of Sri Lankan vegetable, meat, and seafood; salads in a jar serve the taste and health needs of a large range of consumers from young to old to sick to able. Packed into a palm size jar and chopped into bite sizes, a variety of fresh salads ranging from chicken caesar, chicken noodle, prawns, egg and bacon, soya beans and ham, shredded spring salad, sweet fruit salad and tomato salad are produced by a number of innovative Sri Lankan food producers.
Preserved with the use of traditional dressings and natural salad ingredients and made to time-tested recipes, salads in Jars can be consumed even by high-risk group consumers with food allergies and immune compromised individuals.
While salads in jars serve the need of the health-conscious and is a recent innovation by the global gourmets, pickles of various varieties have been jarred and preserved for times immemorial by generations of housewives and chefs alike.
Sri Lankans has developed an art around preserving local fruits and vegetable in pickles as a method of conserving them for the off season and that habit has endured into the 21st century as an essential part of the lifestyle.
Today, Sri Lankan food exporters produce a range of pickles from vegetables like gherkin, cucumber, lime, jalapeño, pepper and corn and also combine a few vegetables with green chillies and shallots to produce Sri Lankan mixed pickles and Malay pickle.
While most of the locally produced mix pickles are great side dishes to traditional meals like rice and curry, dosa and idli, single pickled vegetables could be added to a salad or a sandwich of your choice to add taste, colour and nutrition.
Sri Lankan pickled fruit varieties come in dozens and Sri Lankan pickled fruit mixes are a great favourite in local and foreign markets alike. Made with a range of seasonal fruit including mango, ambarella, pineapple, Ceylon olives, wood apple and jambu, Sri Lankan fruit pickles are preserved in traditional dressings made with salt, vinegar, mustard, chilies and pepper.
The most recent addition to the local cuisines are the range of scrumptious yet light desserts and cake varieties that have been baked into palm size jars. Designed to curb the sugar craving that pops in and out through the day ,desserts in a jar combine fruity goodness with mouth watering cakes, brownies, fudges and puddings.
Sri Lanka produces a range of dessert jars including traditional favourites like watalappan and western delicacies like brownies, red velvet cake, chocolate fudges topped with strawberries and black forest gateaux to satisfy the sugar craving of many dessert lovers around the world.
Made under the stringent quality control with fresh and natural ingredients, Sri Lankan food jars have a long way to travel in the global market.