Rubber footwear from Sri Lanka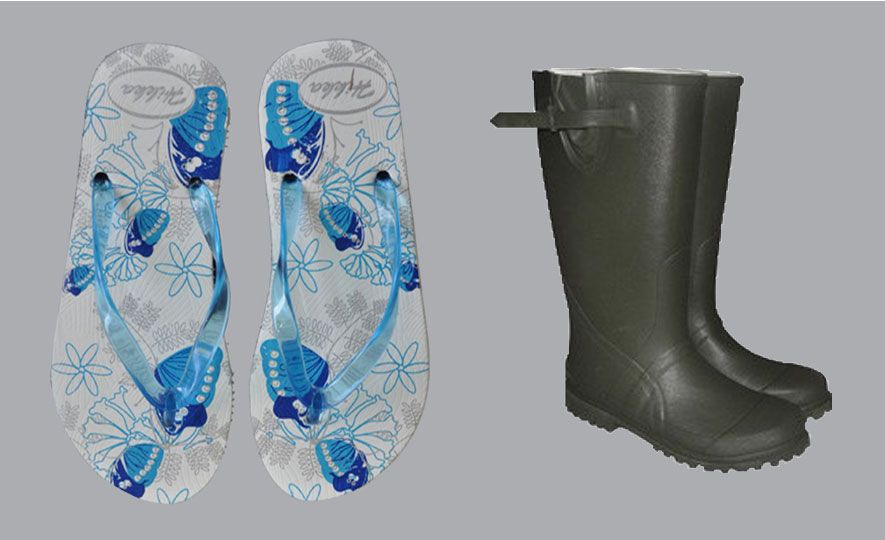 2015-07-23
The most popular rubber footwear of all are the rubber slippers, also known as flip-flops or thongs which are worn on many a feet, whether they are inside the house or outside.
Widely known as beach slippers across the globe, rubber slippers provide a basic protection to the feet and is the only footwear known to many of the under-privileged across the globe.
Made from Natural rubber sourced from Sri Lanka, Natural rubber flip flops provide a wide range of benefits including comfort, flexibility and strong grip in addition to being environment friendly and recyclable. They are also one of the most basic footwear products exported from Sri Lanka to many countries across the world.
While rubber flip flops are one of the most favourite summer wears in world, they also tend to have a shorter lifespan compared to other footwear. Yet natural rubber slippers are 100% recyclable and reusable, and do not contribute to landfills.
Another popular natural rubber footwear product made in Sri Lanka are the rubber rain boots, that are made of 100% natural rubber. Rain boots are the perfect commuter accessory for fall and winter. They keep your feet dry and can be quite a fashion statement.
While most of the rain boots are made of synthetic rubber, which can be a burden on environment as well as a health hazard to many wearers, a few global producers of natural rubber including Sri Lanka choose to produce rain boots from 100% natural rubber, which contains less chemicals and are good for your feet. Natural rubber rain boots would allow your feet to breath and will cleverly maintain right moisture and temperature while providing the right amount of traction to navigate the wet and slippery surfaces.
The rubber boots range, made in Sri Lanka, consists of children's boots in attractive colours and designs in addition to a variety of purpose-made boots including yachting boots, fishing boots, bean boots and military boots.
Being made from 100% natural rubber reduces each boots' weight on the environment as they can be easily recycled and reclaimed into other rubber products at the end of their life cycle. Consumption of natural rubber also helps to reduce climate change since natural rubber is made from the latex of the rubber tree and natural rubber production prompts the large scale plantation of rubber trees in tropical countries including Sri Lanka, increasing the tree coverage across the globe.
In addition to the production of rubber sippers, thongs and wellies, Sri Lanka also manufactures natural rubber shoe soles for international market. Made with 100% natural rubber, these rubber soles have a uniquely porous micro structure and provides more durability and consistency when paired with any pair of shoes.
Machine or hand-made, Sri Lanka follows an internationally recognized method of sole moulding, which takes a longer duration of production yet assures a quality end product through a hot and cold moulding method.
Celebrated across the world for consistency and durability, Sri Lankan rubber footwear products are a comfort to your feet as well as to the planet earth.