Meet with Sri Lankan Seafood Suppliers at the Seafood Expo Global(SEG) 2018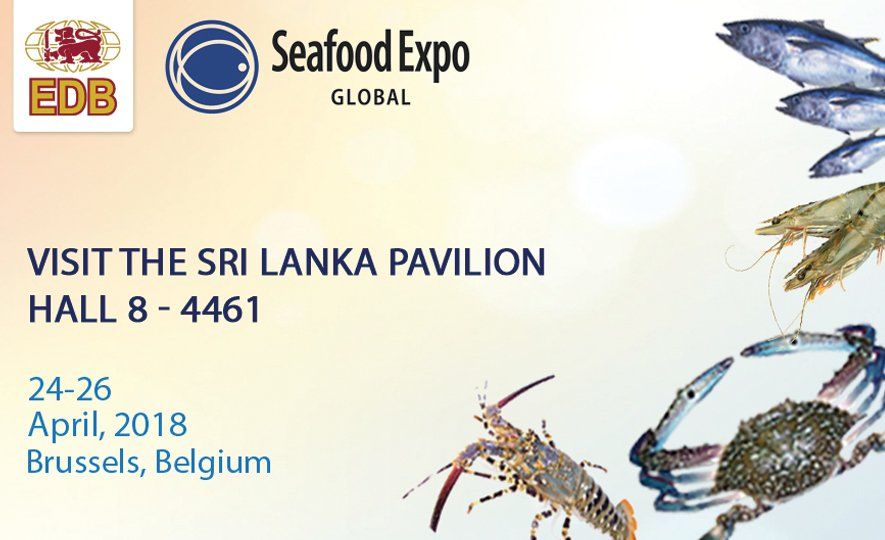 2018-04-12
In their unrelenting resolve to build a global customer base for Sri Lankan seafood, Sri Lanka Export Development Board (SLEDB) has organized Sri Lanka Country Pavilion at Seafood Expo Global 2018. The lifting of the ban on Sri Lankan seafood by the European Union in the mid 2016 saw a notable surge in seafood export revenue. Coming on top of that, Sri Lanka Country Pavilion at Seafood Expo Global 2018 promises to be an excellent booster of Sri Lankan seafood in the global marketplace. SEG 2018 will take place from April 24 to 26 at Brussels Expo, Brussels, Belgium. Sri Lanka Country Pavilion will be located at Hall 8 – 4461.
Seafood Expo Global 2018
Conveniently located in Brussels, Seafood Expo Global (SEG) is the world's largest seafood trade fair. The fair features more than 1,850 exhibiting companies from 79 countries. In 2017, the fair turned out to be a grand success having drawn in more than 28,500 seafood professionals. For exhibitors, SEG 2018 represents an excellent platform where they can put themselves in front of the top seafood buyers eager to network with the quality seafood suppliers.
The List of Sri Lankan Exhibitors at SEG 2018
Nine Sri Lankan Seafood Export companies will attend the Seafood Expo Global (SEG) 2018 and exhibit at the Sri Lanka Country Pavilion. The Sri Lankan Exhibitors' list goes as follows.
Name of the Company
Address
Products

Global Seafood (Pvt) Ltd.

No.28,
Josephs Lane,
Colombo 4.

Processed and value added
seafood products
Frozen fish products, Fresh
fish products, Frozen Loins/
Steaks, Fresh H & G and
Loins, Tuna and other
pelagic fish

Lihini Seafoods (Pvt) Ltd.

St. Jude Mawatha,
Katuneriya

Fresh Tuna Fish, Fresh
Sword Fish, Fresh Reef Fish
and Crustaceans

Rainbow Foods (Pvt) Ltd

70/S, Allan Avenue,
Dehiwala.
Tuna GG, Tuna H & G, Tuna
Loin, Sword Loin

Tess Agro PLC

87, New Nuge Road,
Kelaniya.
Fresh Tuna
Jay Sea Food (Pvt) Ltd
No. 86,
Thibirigasyaya Road,
Colombo 5.

Processed Fish

Tropic Fishery (Pvt) Ltd.

No., 16/1,
Tammita Road,
Negambo.

Fresh and Frozen Sword Fish,
Tuna like species

Oceanpick Pvt (Ltd)

20,
Shady Grove Avenue,
Colombo 08.
Barramundi/ Asian sea bass

Aloy Expo (Pvt) Ltd

98/14,
Averiwaththa Road,
Wattala.
Fresh fish

Ceylon Fresh Seafood (Pvt) Ltd

No.71,
Kudahakapola Road,
Thudella,
Ja-ela,

Tuna/Sword/Reef Fish
Visitor Profile
The visitors to the trade fair include owners, proprietors, executive purchasing managers, category managers, private label program buyers and equipment and packaging buyers from retail, food service, and other categories including the following:
Airlines
Bar/clubs
Cruise lines
Distributors
Fast food
Government/military
Groceries
High-volume catering
Hospitals
Hotels
Importers/exporters
Manufacturers
Processors
Resorts
Restaurants
Schools
Supermarkets
Wholesalers
In essence, with buyers from 150 countries, exhibitors from 79 countries and 73 national and regional country pavilions, Seafood Expo Global (SEG) 2018 will unleash tremendous trade opportunities for all involved. At Sri Lanka Export Development Board, we warmly invite the attendees to visit the Sri Lanka country pavilion and meet with Sri Lankan seafood suppliers.